Association News: AAMA 2015 National Summer Conference registration now open
Posted on May 7th, 2015 by heatherwestpr
Registration for the upcoming American Architectural Manufacturers Association (AAMA) 2015 National Summer Conference is now open. The conference will be held June 28-July 1 at the Grand Hyatt Seattle. The AAMA Western Region Summit will immediately follow, from July 1-2, in the same location. Whether attending for the networking opportunities, the panel of speakers, the architectural accomplishments of Seattle or just for the chance to see the beauty of the Pacific Northwest, there are things to see and do.

"Seattle is a beautiful city full of unique architecture and impressive natural assets," says Rich Walker, AAMA's president and CEO. "We are confident that our members will enjoy their time in the city for a summer conference filled with top-notch speakers and highly productive working sessions."


Register Now
Early bird registration ends June 4, and AAMA members receive a $50 discount by registering online, http://events.aamanet.org/. As usual, spouses may attend the conference free of charge, with a full-price paid registration. Stay an extra day for the Western Region Summer Summit for a registration fee of $250, which includes meals and a reception Wednesday night.


Networking
Several optional events will be offered during the conference, including a tour of a Boeing plant, a private Duck Tour of Seattle, dinner at the Space Needle, a gardens and glass exhibit, and more.

On Sunday morning, a Boeing Everett plant tour will offer an in-depth view into the airplane industry. Those on the tour will view planes being assembled, including the new 777 and 787 Dreamliner. This tour is $95 per person, which includes transportation, entrance fee, tax and gratuity.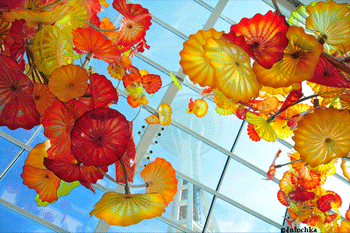 On Monday, those at the event may participate in a one-hour tour of the impressive Chihuly Gardens and Glass Exhibit, followed by dinner at the Space Needle, which is located next door. This event is included in the conference registration fee, and a buffet dinner will be provided. The AAMA group also will have access to the Observation Deck.

On Tuesday, conference participants are invited to take part in a classic Seattle tradition: a Duck Tour of the city. These unique modes of transit can take to the sea or to the land, and those on board will get to do both. For $90, participants board the Duck at the Grand Hyatt and see everything from Pioneer Square to Fremont. The last 30 minutes of the tour will be spent on the water, and all the while a knowledgeable tour guide will share Seattle history and trivia. The group will be dropped off for a dinner at Gordon Biersch Restaurant & Brewery afterward.


Speakers
The speakers at the Summer Conference will include keynote Mic Patterson with Advanced Technology Studio, who will discuss on Monday, "Divergent Trajectories: Framing the Future of Glass and the Building Skin." Patterson is a designer, researcher, educator and author who wrote the book, Structural Glass Facades and Enclosures. James Connelly of the International Living Future Institute also will speak Monday on the future of building products.

On Tuesday, professor Ulrich Sieberath of ift Rosenheim will give a presentation on window technology in Europe, touching on both technical performance and sustainability. Later that day, those at the conference will hear from Rich Mitchell from the Green Building Initiative and John Nolan from The Gary Law Group.

On Wednesday, before closing, Colin Craven from the Cold Climate Housing Research Center will speak about certifying windows for areas like Alaska, with harsher climates.


Seattle Attractions
"Seattle is a beautiful city, boasting a rare combination of rivers, ocean views and mountains," says Walker. The Grand Hyatt is located in downtown Seattle, near attractions like the famous Pike Place Market, many wineries and breweries, a range of dining and shopping opportunities and more.


More information about AAMA and its activities can be found via the AAMA Media Relations page or on the AAMA website, http://www.aamanet.org.

AAMA is the source of performance standards, product certification and educational programs for the fenestration industry.(SM)
###
---
---
Story Resources
Word document
Request high res photographs for publication