Association News: FGIA updates two rainscreen testing documents
Posted on July 6th, 2022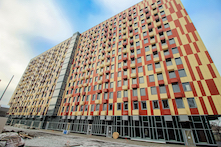 Schaumburg, Illinois – The Fenestration and Glazing Industry Alliance (FGIA) has released two updated specifications for the testing of rainscreens. AAMA 508-21, Voluntary Test Method and Specification for Pressure Equalized Rain Screen Wall Cladding Systems, and AAMA 509-22, Voluntary Test and Classification Method for Drained and Back Ventilated Rainscreen Wall Cladding Systems. Both FGIA documents are now available for purchase and were last updated in 2014.
"The original AAMA 508 document was developed to allow panel system manufacturers a means for testing and evaluating their opaque wall panel systems for pressure equalization," said Larry Livermore (Intertek), Chair of the FGIA Rainscreen Test Update Task Group. "This test method has been successfully used for over ten years and has been updated to address user concerns and to provide consistency for measuring test results. The document also clarifies the scope of the test method, which is applicable to vertical walls only."
AAMA 508 establishes the requirements for test specimens, apparatus, test procedures, test reports and minimum performance criteria to be used in evaluation of water penetration resistance, cavity pressure characterization, and water entry into the cavity for an opaque panel pressure equalized rainscreen wall cladding system. It is a sister document to AAMA 509.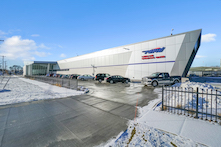 "The testing and classification procedures outlined in AAMA 509 for categorizing drained and back ventilated rainscreen wall cladding systems are an essential tool that the industry uses to evaluate the relative effectiveness of the tested cladding system to manage and limit water penetration to the underlying air/water barrier and to promote ventilation and drying of concealed components," said Brad Carpenter (Simpson Gumpertz & Heger - SGH), Vice Chair of the FGIA Rainscreen Test Update Task Group, about AAMA 509.
AAMA 509 assists architects, owners, contractors, manufacturers and designers in selecting and specifying these systems to meet project performance objectives. This edition has been revised to clarify scope inclusions and exclusions as well as specimen setup and testing procedures aimed at maintaining consistency with referenced AAMA literature and partner specifications such as AAMA 508 as well as the evolution of current industry practice. Structural testing requirements have been removed from the specification and updates to the reporting and interpretation sections included to aide in the interpretation and use of the specification.
AAMA 508-21 and AAMA 509-22, as well as other AAMA documents available from FGIA, may be purchased from the online store at the discounted member rate of $20 or the non-member price of $60.
For more information about FGIA and its activities, visit FGIAonline.org.
Your trusted industry resource, setting the standards for fenestration and glazing.
###
---
Filed under: FGIA
---
Story Resources
Word document
Request high res photographs for publication