Client News: Colorado Zero Net Energy Home features Loewen windows, doors finished by Linetec
Posted on October 6th, 2015 by Heather West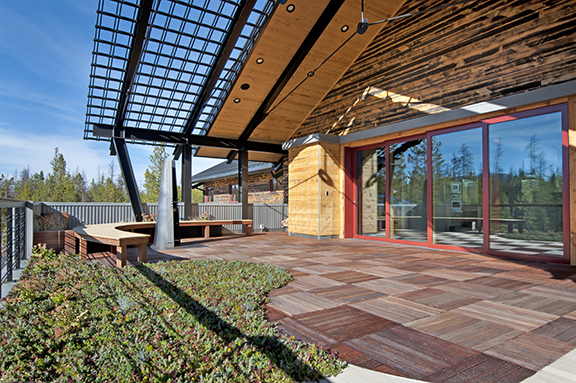 Fraser House, a new Colorado Zero Net Energy Home (ZEH), elevates energy efficiency to new heights. Recently built in the mountains of Fraser, Colorado, the home is situated at 8,000 feet with an average annual temperature of 34ºF. Meeting the project's requirements for attractive aesthetics, high performance and durability, Linetec provided the vibrant finish for Loewen windows and doors.
Designed by Caddis Architecture (previously Bryan Bowen Architecture), the 5,320-square-foot Fraser House was built for an ultra-marathoner who sought an energy-efficient, healthy home that includes a gym, an endless pool, regular living areas, a guest home and a two-car heated garage, plus a woodshop outbuilding.
Maximizing thermal performance, natural light, comfortable interior living space and stunning mountain views, Loewen provided its awning and fixed/picture window, as well as terrace doors and a three-panel LiftSlide door with Heat-Smart® high-performance glazing. Manufactured by Cardinal Glass Industries, this glazing system includes low-e coatings, argon-filled air spaces and thermal spacer bars. The exterior aluminum cladding is set away from the underlying wood, creating an air space that further improves thermal performance.
Minimizing maintenance throughout the home's lifespan, Linetec finished Loewen's windows and doors in an orange-red Bonfire color, part of Valspar's Fluropon® Premiere, a three-coat 70 percent polyvinylidene fluoride (PVDF) resin-based, high-performance architectural coating. These durable coatings meet the stringent requirements of AAMA 2605 and exhibit outstanding resistance to humidity, color change, chalk, gloss loss and chemicals.
ZEHs are usually built with low or no volatile organic compounds (VOCs), such as formaldehyde containing finishes or materials, providing a healthy, clean, non-toxic environment for its residents. As an environmentally responsible finisher, Linetec captures the liquid paints' VOC content to eliminate the exhaust of potential pollutants. The primary environmental concern with liquid paints is the solvents, which may have VOC content and must be destroyed safely. Linetec uses a 100 percent air capture system and destroys the VOCs with a regenerative thermal oxidizer, so there is no adverse environmental impact. Linetec then re-uses its heat energy byproduct to improve process energy efficiency. This process of re-use is completed before the material exits the paint line.
As a ZEH, Fraser House produces as much energy as it consumes, and also produces zero net carbon emissions from the site. Once a ZEH is designed as energy efficient as possible, it uses photovoltaic (PV) collectors, or other renewables, to produce sufficient electricity to meet the minimal remaining energy needs of the home. The high-performing windows and doors optimize efficient energy use by keeping the Colorado cold outside and the heat inside.
The Fraser House also received a Home Energy Rating System (HERS) Index Score of -22, indicating it is exceptionally more energy efficient than a standard new home. Assessed by a certified Home Energy Rater, the HERS score accounts for whole-house design, beyond the exterior walls, windows and doors.
**
Colorado Zero Net Energy Home, http://www.zerohomes.org/zero-energy-homes
* Owner: Fraser Household
* Architect: Caddis pc; Boulder, Colorado; http://www.caddispc.com
* Builder: Ecofutures, Inc.; Boulder, Colorado; http://www.ecofuturesbuilding.com
* Window and door systems – manufacturer: Loewen; Steinbach, Manitoba; http://www.loewen.com
* Window and door systems – glass manufacturer: Cardinal Glass Industries, Inc.; Minneapolis; http://www.cardinalcorp.com
* Window and door systems – finisher: Linetec; Wausau, Wisconsin; http://www.linetec.com
*Window and door systems – coatings manufacturer: The Valspar Corporation; Minneapolis; http://www.valsparinspireme.com
* Photographer: Daniel O'Connor Photography
Located in Wisconsin, Linetec serves customers across the country, finishing such products as aluminum windows, wall systems, doors, hardware and other architectural metal components, as well as automotive, marine and manufactured consumer goods. The company is a subsidiary of Apogee Enterprises, Inc. (NASDAQ: APOG).
Linetec is a member of the American Institute of Architects (AIA), the Association of Licensed Architects (ALA), the International Interior Design Association (IIDA), the American Architectural Manufacturers Association (AAMA) and the U.S. Green Building Council (USGBC).
###
---
Filed under: Linetec, Projects
---
Story Resources
Word document
Request high res photographs for publication