Client News: EFCO introduces 590X Steel Replica Window in durable aluminum helping buildings match historic design details, save energy, improve comfort and accessibility
Posted on February 11th, 2021 by Heather West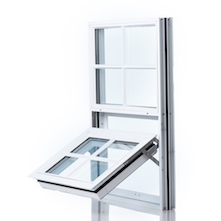 Monett, Missouri (Feb. 2021) – EFCO Corporation introduces its new 590X Steel Replica Window helping buildings enhance their appearance with historically inspired profiles and narrow sightlines, while improving their performance with modern, energy-efficient glass and durable aluminum framing.
Historic Details, Modern Performance
The 590X Steel Replica Window replicates the look of a classic, industrial steel window in a choice of three standard profiles – bevel, cove and t-grid – or in made-to-order options. When retrofitting historic buildings, customizable muntins allow building owners to easily and economically match existing sightlines. Finishes also can be specified with different colors on the exterior and interior to complete the desired architectural aesthetic.
"The new 590X Steel Replica Window supports building developers, owners and managers who want to increase their tenants' satisfaction through improving a property's appearance, thermal and acoustic comfort, and accessibility. Building owners also appreciate that these windows can help them save energy and utility costs, reduce maintenance and repairs, and increase the overall value of their commercial properties," said EFCO's window product manager, Joseph Holmes.
The 590X Steel Replica Window is well suited for new construction or renovation of mid-rise buildings such as schools, universities, student residences, courthouses, hospitals, offices, retailers and properties on the National Register of Historic Places. EFCO collaborated with Apogee Renovation to developed the 590X Steel Replica Window in response to market research and based on input from glazing contractors, façade consultants, architects, owners and the National Park Service & Historic Preservation.
San Francisco Redeaux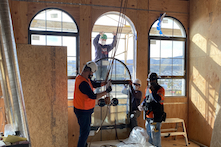 Alan Zweig, president of Architectural Fenestration & Restoration, Inc. (AFR), championed the first installation of EFCO 590X on a 1920s office building renovation of the former Schlage Locks headquarters in San Francisco. "We refurbished the original steel windows on the very front of the building to meet the historic guidelines. On the other three sides of the building, we used EFCO's 590X Steel Replica Windows. You can't tell which are which because they did such an exceptional job. It has now been reclaimed and restored to its full glory."
He continued, "EFCO was very clever in designing its 590X windows to match the slender sightlines of historic windows, while having a robust main frame. Its surface-applied muntin grid accurately simulates the look of period steel windows."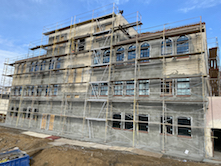 "The thermal performance, structural performance and sound performance of EFCO's 590X Steel Replica Windows are critical," added Zweig. "As codes continue to change, and thermal performance requirements continue to increase, it's hard to find window products that match the historic aesthetic, yet maintain the modern energy and structural requirements. With the EFCO 590X Steel Replica Window, we can have our cake and eat it, too."
Zweig also complimented EFCO on collaborating throughout the project to "maintain our critical path timelines, keeping everything on schedule. We were able to drop the windows into their finished openings at the end of the project. Installing the windows from the interior, allowed all of the exterior finishes to move ahead and to have the project be weather-ready for winter. We installed 98 windows in five working days."
Lab-Tested, Field-Proven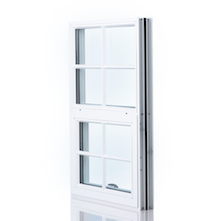 "Our new window combines an historically accurate, customizable design with exceptional thermal and structural performance, integral water management and low operating force," reiterated Holmes.
Demonstrating its high performance, the new 590X Steel Replica Window has earned a AW100 rating for casements and AW80 for project-out windows. Both fixed and operable units have successfully passed dynamic pressure water testing up to 15 psf. Additional performance testing has shown the operable window achieves a thermal U-factor as low as 0.42 with a standard low-e product and a condensation resistance factor (CRF) as high as 71.
The new 590X Steel Replica Window has a system depth of 3-1/4-inches and accommodates up to 1-3/8-inch glass. The thicker glass also helps with acoustic performance for quieter interiors and aligns with EFCO's XTherm™ product offering. The 590X window meets AAMA 513 standards for accessibility, and can be combined with hardware options to ensure easy operation for people with a range of physical abilities.
Holmes continued, "As a bonus feature, the window was engineered as a dry-glazed system. Down the road, should the glass be broken, it can be removed and replaced from the inside the building. This helps reduce the risks, costs and time associated with labor, equipment and permitting of typical exterior glass replacement."
Supporting building retrofit opportunities, EFCO Corporation provides high-performance glass, aluminum framing and window system solutions, and can assist with architectural details, drawings, renderings, specifications and budgeting.
For more information on the new 590X Steel Replica Window, please visit https://www.efcocorp.com/590x.
Headquartered in Monett, Missouri, EFCO Corporation is a leading manufacturer of architectural aluminum window, curtain wall, storefront and entrance systems for commercial architectural applications. The company is a subsidiary of Apogee Enterprises, Inc. (NASDAQ: APOG).
To learn more about EFCO Corporation and its products, please visit www.efcocorp.com or call 800-221-4169.
###
---
---
Story Resources
Image 1: EFCO 590X Steel Replica Window - open
Image 2: EFCO 590X Steel Replica Window - closed
Image 2: EFCO 590X Steel Replica Window - closed
Word document
Request high res photographs for publication