Association News: AAMA releases updated document for friction-based sash balances
Posted on May 3rd, 2016 by Heather West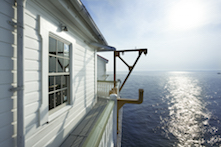 The American Architectural Manufacturers Association (AAMA) recently released an updated document establishing the requirements for materials, testing and performance for friction-based balance assemblies used in hung-type windows. This update ensures the document conforms to the most recent version of the North American Fenestration Standard (NAFS)/Specification for Windows, Doors, and Skylights. The document, Voluntary Specification for Friction Based Sash Balances, was last updated in 2009.
"The input and collaboration of AAMA's member base ensured that this necessary process resulted in an updated specification that will benefit manufacturers, users and testing personnel of friction based sash balances," says chair of the AAMA 908 Task Group, Jim Card (Advantage Manufacturing, a Division of Caldwell Manufacturing Company North America).
Again, the document goes hand-in-hand with the recently updated AAMA/WDMA/CSA 101/I.S.2/A440 and also references two other AAMA documents. For example, friction-based sash balances assemblies designed for use in or combined with jambliner systems are classified in AAMA 902, Voluntary Specification for Sash Balances.
AAMA 908-16, as well as other AAMA documents, may be purchased from AAMA's online store.
###
---
Filed under: FGIA
---
Story Resources
Request high res photographs for publication