Client News: ROCKFON ceiling systems help save labor and costs on drywall projects
Posted on October 25th, 2016 by Heather West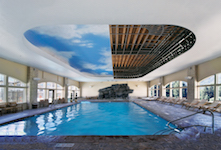 Helping maximize installing contractors' productivity and profitability on drywall ceiling projects, ROCKFON ceiling suspension systems are available in a broad product range with matching perimeter trim and accessories. These drywall grid systems accommodate a variety of ceiling applications ranging from offices to hotels, from museums to restaurants, from interior corridors to exterior soffits.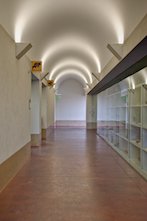 "ROCKFON Chicago Metallic® drywall suspension systems install easily and quickly," says Hannah Milligan, ROCKFON suspension systems product specialist. "They help reduce the demand of on-site labor, while maximizing the associated time and cost savings."
ROCKFON Chicago Metallic drywall suspension systems are engineered to meet today's stringent commercial building codes and sustainability criteria, including structural integrity, ASTM compliance, fire ratings and seismic performance requirements. These system designs are offered for:
* Flat grid, fire-rated drywall suspension systems
* Curved grid, radius drywall suspension systems
* SpanFast™ corridor-spanning drywall suspension systems
* G90 Exterior Grade drywall suspension systems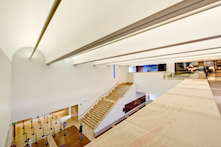 Complementing these systems, ROCKFON accessories specifically designed for drywall suspension systems include:
* Infinity™D perimeter trim – an attractive, smooth, factory-engineered and simple-to-install alternative to built-up drywall framing that also works well for light coves, floating islands or accents.
* Glass Reinforced Gypsum (GRG) Access Doors – taped and finished to integrate with the ceiling and minimize visible lines
* Seismic clips – streamlining installation for ceilings with Seismic Design Category requirements
Chicago Metallic drywall grid, perimeter trim and accessories are part of the ROCKFON complete ceiling systems, which combine stone wool and specialty metal ceiling panels with suspension systems. Product guides and data sheets, specification and installation guidelines, and project examples are available at www.ROCKFON.com. For additional support, please email cs@rockfon.com or call 800-323-7164.
###
---
Filed under: Products, Rockfon
---
Story Resources
Word document
Request high res photographs for publication