Client News: Rockfon decorative ceiling designs create distinctive interiors
Posted on July 10th, 2017 by Heather West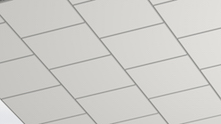 Rockfon staggered ceiling patterns break away from the routine, while complementing the character of interior designs.
Enhancing the visual experience, mood and perception of commercial interiors, Rockfon acoustic stone wool ceiling panels, metal ceiling panels and Chicago Metallic™ suspension systems can be installed in a range of interesting patterns and colors.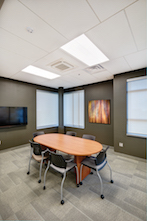 Supporting creative applications, Rockfon presents a number of easy-to-install layouts including basket weave, brick, ascending, rose, check and more. These decorative ceilings can convey a sense of dynamic flow, playfulness, energy or tranquillity, and enrich modern living with aesthetically appealing, productive spaces to work, discover and thrive.
Combining the premium look of customization with cost-competitive options, Rockfon patterned solutions rely on standard ceiling components and 1493 Unopposed Tee Clips. Taking the place of a cross tee at the intersection of two grid components, the 1493 Clip maintains the connection strength required by the International Building Code (IBC), providing peace of mind throughout the ceiling's lifespan.
To learn more about Rockfon staggered pattern designs, acoustic stone wool panels, metal ceilings and suspension systems, please download a copy of the new brochure from www.rockfon.com (PDF). For additional support, please call 800-323-7164 or email cs@rockfon.com.
About Rockfon
Rockfon is part of the ROCKWOOL Group and is offering advanced acoustic ceilings to create beautiful, comfortable spaces.
At the ROCKWOOL Group, we are committed to enriching the lives of everyone who experiences our solutions. Our expertise is perfectly suited to tackle many of today's biggest sustainability and development challenges, from energy consumption and noise pollution to fire resilience, water scarcity and flooding. Our range of products reflects the diversity of the world's needs, supporting our stakeholders in reducing their own carbon footprint along the way.
Stone wool is a versatile material and forms the basis of all our businesses. With approximately 10,500 passionate colleagues in more than 35 countries, we are the world leader in stone wool solutions, from building insulation to acoustic ceilings, external cladding systems to horticultural solutions, engineered fibers for industrial use to insulation for the process industry and marine and offshore.
###
---
Filed under: Products, Rockfon
---
Story Resources
Photo: Rockfon - Staggered pattern ceiling designs
Word document
Request high res photographs for publication