Client News: Kolbe's Forgent Series delivers durability, efficiency and easy installation
Posted on February 4th, 2019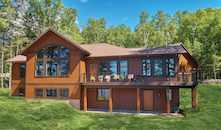 During the National Association of Home Builders International Builders' Show (NAHB IBS) in booth #C2519, Kolbe Windows & Doors will highlight the expanded offering of its Forgent® Series window and door products.
Kolbe's innovative Forgent Series is a high-performance product line constructed of Glastra® – a hybrid of fiberglass and UV-stable polymer formulated for strength and resilience. Multi-chambered Glastra extrusions in an advanced ladder design add strength and promote energy efficiency. An integral nailing fin, and welded sash and frame provide rigidity, keeping units square, and preventing air and water from entering the joint.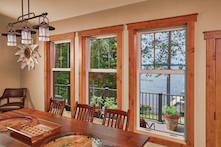 Forgent Series casements, awnings, double hungs and sliding windows are engineered with Glastra on the exterior, with either wood or Glastra on the interior. Complementary specialty windows, sliding patio doors and swinging patio doors also are available with the same aesthetic options.
"The Forgent Series is the perfect solution for projects with short lead times," says Mark Harger, Forgent's general manager. "Designed for strength, performance and ease-of-installation, Forgent Series windows are simple, convenient and easy to install."
Builders can choose from three convenient installation options – integral nailing fin, installation clips and screw through frame – based on which will be fastest and easiest for each project.
Kolbe has added a new construction frame design for Forgent Series double hung and sliding windows. Additional interior finishes offer a choice of 11 different stain colors, plus black and white paint for Glastra/wood units. For All Glastra units, a midnight or bronze interior is available.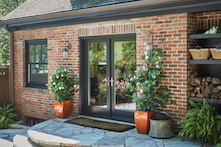 "Through ongoing research of new materials and development of advanced design, Kolbe continues to bring the best products to market," says Jeff De Lonay, president of Kolbe Windows & Doors. "Proprietary material and thoughtful design elevate Forgent Series windows and doors above other vinyl or fiberglass products."
Among the Forgent Series products on display in booth #C2519 are:
* A casement with a complementary half-circle direct set mulled above. The unit has a Glastra interior and exterior with an integral sahara color, 2-inch brickmould and clay hardware.
* A two-wide All Glastra crank-out casement with midnight acrylic film on the interior and exterior. The satin nickel hardware allows easy operation of the nearly 6-foot-tall windows.
* A two-wide new construction double hung unit with sash-set mulled transom. A Glastra exterior with bronze acrylic film is complemented by a pine interior with white paint. Energy-efficient insulating glass and white hardware complete the unit.
* A replacement double hung that demonstrates ease of installation. The Glastra exterior has an integral cloud color, and is complemented by a chestnut-stained pine interior. This unit features energy-efficient insulating glass with 7/8-inch performance divided lites on the top sash, matte black hardware and a BetterVue® mesh screen.
* An All Glastra complementary sliding patio door with an integral cloud interior and exterior color. The center-opening, four-wide unit has impact laminated glass, satin nickel hardware with multi-point locks, 3-1/2-inch flat exterior casing and a brushed aluminum sill.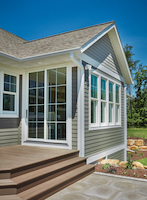 Forgent Series windows and doors offer energy efficiency and thermal performance for comfortable homes. Modifications for impact performance are available to achieve IPD4 ratings.
"Kolbe continues to innovate to meet the needs of builders, architects, and homeowners everywhere, with options that elevate strength, performance, and jobsite efficiency," De Lonay says.
What began in 1946 as a two-brother team has grown into an internationally respected manufacturing company. Kolbe Windows & Doors is one of the nation's leading manufacturers of windows and doors for residential and commercial markets. After more than 70 years, Kolbe products are best known for superior quality, custom craftsmanship, attention to detail, as well as innovative and unique designs. To learn more, please visit https://www.kolbewindows.com.
###
---
Filed under: Events, Kolbe Windows & Doors, Products
---
Story Resources
Word document
Request high res photographs for publication