Client News: Linetec's online Architectural Resource Center offers AIA/CES courses, "Select and Spec" tool, guide specifications
Posted on April 6th, 2015 by heatherwestpr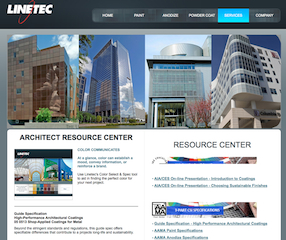 * Linetec exhibiting at AIA Expo booth #2858 *
* Linetec exhibiting at AIA Expo booth #2858 *
* Linetec exhibiting at AIA Expo booth #2858 *
* Linetec exhibiting at AIA Expo booth #2858 *
Helping architects and the building community better understand architectural finishing, Linetec's Architectural Resource Center's online resources include on-demand continuing education courses and tools for simplifying coatings selection and specification.

* Linetec's online "Select and Spec" tool allows visitors to browse color palettes and order painted aluminum samples. Organized into eight color families with interactive "chips," the user clicks on a chip to see a larger image and order up to five samples. These 3.5-by-2-inch painted metal samples are mailed to the contact information provided by the user. Each sample is labeled with an "LT" paint code for reference when specifying the finish for future architectural projects.

* As a registered American Institute of Architects' Continuing Education System (AIA/CES) provider, Linetec offers "Introduction to Coatings: Field Performance and the Application Process" and "Choosing Sustainable Finishes." Participants can earn 2.0 Learning Units (LUs) for successfully completing both courses. These programs are available as either an in-person presentation or as a self-guided online course.

Visitors to Linetec.com's Architectural Resource Center also can:
- Download Guide Specifications for high-performance architectural coatings,
- Request paint sample color chips,
- Learn about sustainable design considerations,
- Watch informative videos,
- Read Linetec's blog for technical tips, project highlights and industry news, and
- Subscribe to Linetec's educational newsletter received by 15,000 architects.
 
"Fitting into architects' busy schedules, these resources, self-guided programs and tools are available at their convenience 24 hours per day, 365 days per year. And, the content remains online for sharing and future reference by all," said Linetec's senior marketing specialist, Tammy Schroeder, LEED® Green Associate.


For more information about Linetec's AIA/CES courses, paint and anodize finishes, or other services, please call 888-717-1472, email sales@linetec.com or visit http://www.linetec.com.
---
Filed under: Linetec
---
Story Resources
Photo 1: Website screengrab
Word document
Request high res photographs for publication