Client News: Rockfon LEED v4 Solutions Guide shares ceiling solutions for sustainable building projects
Posted on March 11th, 2018 by Heather West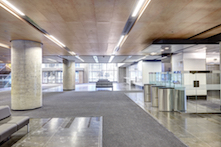 "Rockfon® LEED® v4 Solution Guide" supports design professionals' creativity and commitment to pursuing sustainable and LEED-certified buildings. A downloadable copy (PDF) of this new, eight-page publication is available at www.rockfon.com.

"Helping building teams tackle many of today's biggest sustainability and development challenges, Rockfon offers thoughtfully designed, innovative, sustainable solutions to benefit the comfort, health and safety of occupants, and the environment," says Christian Kofod, Rockfon's sustainability manager.

The new solution guide assists with acoustic ceiling product selection – whether in a stone wool panel, a metal plank or an open plenum system. Navigating the many features, benefits and options of Rockfon ceiling systems, the brochure:
* Shares an overview of Rockfon products and production facilities
* Showcases several LEED-certified projects featuring its ceiling products
* Describes the renewable and recycled composition of its products
* Details how its product attributes contribute to such LEED credit categories as Materials & Resources and Indoor Environmental Quality (EQ)

Along with the guide's informative text, a comprehensive product table notes the light reflectance (LR), noise reduction coefficient (NRC) and recycled content relevant for LEED EQ. In addition, the chart notes that Rockfon metal products have no-emitting materials and that its full portfolio of stone wool products have been UL® Environment's GreenGuard Gold Certified for low-emitting products.

"As the U.S. Green Building Council and other organizations urge product manufacturers to become more transparent about their material sourcing and ingredients, we welcome the opportunity for this important discussion," continues Kofod.

Not only can Rockfon provide Environmental Product Declarations, it also has key suppliers sign a Code of Conduct. The company has adopted the ICC Business Charter for Sustainable Development – Principles for Environmental Management, where its suppliers are required to ensure their own suppliers meet the same standards.

Rockfon's commitment is further demonstrated and documented through its corporate governance published in its annual report, as well as its sustainability report.

The new "Rockfon LEED v4 Solution Guide" can be downloaded from www.rockfon.com. Choose the Tools & Documentation section, select "Rockfon Group" and click "Brochures." For additional information, please email cs@rockfon.com or call 800-323-7164.


About Rockfon

Rockfon is part of the ROCKWOOL Group and is offering advanced acoustic ceilings and wall solutions to create beautiful, comfortable spaces.

At the ROCKWOOL Group, we are committed to enriching the lives of everyone who comes into contact with our solutions. Our expertise is perfectly suited to tackle many of today's biggest sustainability and development challenges, from energy consumption and noise pollution to fire resilience, water scarcity and flooding. Our range of products reflects the diversity of the world's needs, while supporting our stakeholders in reducing their own carbon footprint.

Stone wool is a versatile material and forms the basis of all our businesses. With approximately 10,500 passionate colleagues in 38 countries, we are the world leader in stone wool solutions, from building insulation to acoustic ceilings, external cladding systems to horticultural solutions, engineered fibers for industrial use to insulation for the process industry, and marine and offshore.

For more information, visit www.rockfon.com.
###
---
Filed under: Products, Rockfon
---
Story Resources
Word document
PDF: Rockfon LEED v4 Solution Guide
Request high res photographs for publication