Client News: Chicago's Intrinsic Schools showcase distinctive, patterned façade finished in Valspar's Fluropon coatings
Posted on May 6th, 2015 by heatherwestpr
Opened for the 2014-15 academic year on Chicago's Northwest Side, Intrinsic Schools' new 58,000-square-foot Belmont Campus transforms a former lumberyard into a contemporary educational facility designed by Wheeler Kearns Architects (WKA) specifically for blended learning. The public charter school building showcases a distinctive, patterned façade with multiple components finished in Valspar's Fluropon® 70 percent polyvinylidene fluoride (PVDF) resin-based exterior coatings. The specified colors were matched precisely in both metal coil coating and aluminum extrusion applications for consistency between the Kingspan exterior panel system, and the Pittco Architectural Metals window system finished by Linetec.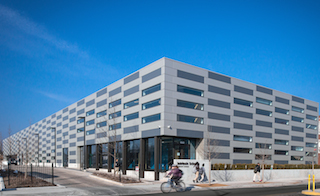 Intrinsic Schools' Belmont Campus now serves grades 7-12 with capacity for 925 students. Instead of traditional classrooms, learning "pods" combine teacher-led instruction with personalized, online instruction and small group collaboration. Physical spaces are organized by educational format and subject-driven functions. This provides an efficient model for student-teacher interaction, and the cost-effective flexibility to adapt to new technologies and varying class size.
This adaptive re-use project also needed to adapt to fit the site and existing structures. The new school incorporates two buildings from 1911 and 1928 plus a 41,000-square-foot open structure constructed in 1954. The original, 30-foot-high solid wood columns remain as key design elements. In total, approximately 75 percent of the existing structures were retained. Although the total cost has not been disclosed, it has been noted that the approach required a close eye on the budget and for low-maintenance, long-term value.
A field-proven, industry standard for 50 years, Valspar's Fluropon coatings for Intrinsic Schools' Belmont campus were formulated with Hylar® 5000 PVDF base resin from Solvay Specialty Polymers. These coatings meet or exceed the American Architectural Manufacturers Association's stringent standard, AAMA 2605 high-performance exterior specification. Coatings that meet this standard demonstrate that they resist humidity, fading, chalking, abrasions and most chemicals, while retaining the intended color, gloss and appearance.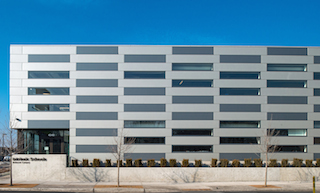 Fluropon coatings also present a large choice of colors – from neutral to bright colors, micas, metallics and pearlescent coatings. WKA's project architect, Daniel Wicke, notes the importance of color selection on Intrinsic Schools' Belmont campus building: "We wanted to select a color palette that was distinctive without making it too loud in the context of its surroundings. Patterning the exterior in contrasting light and dark panels gave the building its own character and still let it be a good neighbor that fit in with the community."
WKA created the signature exterior with Kingspan's Azteco and Benchmark multi-colored, insulated metal panels. "The panels were installed by The Hill Group using a staggered joint method, where each row of panels is offset from the previous row, creating a nice visual effect," describes Kingspan's project coordinator James Oyer.
Respectful of the budget, WKA selected from Kingspan's standard colors for these defining elements. "We specified a mica finish for extra depth and shine," said Wicke. "It was a nice, cost-effective choice in between the standard finish and the high-end metallic."
A variety of Valspar's coil coatings were specified and applied to the galvanized steel panels to achieve the intended appearance. These included 173 Azteco Embossed panels finished in Darkest Dark Bronze in Fluropon, plus 323 Benchmark panels in Zinc Fluropon Classic II and another 210 Benchmark panels in Weathered Zinc Fluropon Classic II. Kingspan also provided flatstock finished in each color to form flashings and trims.
Once the panel systems' finishes were selected, the other building components were specified to match. "It was critical that the windows matched the panels and fit within the continuous pattern," emphasized Wicke. "There were a number of variables: The panels and the window systems were from different manufacturers. The panels are steel and the window framing is aluminum. But everyone worked together to get it right."
Collaborating with WKA, Valspar's team matched the Weathered Zinc color as a coil-coated finish on Kingspan's galvanized steel panels and as a spray-applied finish for Linetec's use on Pittco's extruded aluminum window frames. To create the 76 window frames on the school's south and east sides, Architectural Glass Works (AGW) installed 5,700 square feet of Pittco's 2-by-4.5-inch TMS 114 curtainwall. Pittco also manufactured exterior thermal storefront, interior storefront and doors. Linetec finished all of these systems, and provided the thermal enhancements.
To ensure all of the various metal components finished in Fluropon coatings met the aesthetic expectations, Valspar produced display panel samples for approval by the architect and owner. "The color-matches clearly reflected our intention and let us communicate it to the suppliers," said Wicke.
"Having an approved color sample can make all the difference in effectively managing color expectations for a building project," agreed Linetec's senior marketing specialist, Tammy Schroeder, LEED® Green Associate. "This is especially true when multiple manufacturers and applicators are involved and their products will be seen side-by-side. Working with Valspar, everyone involved in the project can be confident the color is correct and coating will perform as expected."
Valspar's vice president of sales for Valspar's coil and extrusion coating businesses, Jeff Alexander added, "Since its launch in 1965, Fluropon's performance has been relied on by architects around the world for its vast color palette and high durability."
Counting WKA amongst them, Wicke elaborated on the value of these qualities saying, "In making budget-conscious decisions, the finishes needed to be durable for a long lifespan and also contribute to the ease of maintenance for the owner. The school is located in a neighborhood that's going through a de-industrialization and is susceptible to graffiti. Once the owner saw the breadth of surface available on the exterior, there was extra concern for potential graffiti. We had not specified the coatings to be graffiti-resistant. As Valspar's finishes already provide high-quality performance, we tested a number of cleaners to find a solution without damaging the coating. Thankfully, the school has not needed to use it."
Wicke concluded with praise, "Ultimately, we're very pleased with the color, the coating and the final project. Everything worked out very well."
**
Intrinsic Schools, Belmont Campus, 4540 W. Belmont Ave., Chicago, IL 60641
Owner: Intrinsic Schools; Chicago; http://intrinsicschools.org
Architect: Wheeler Kearns Architects; Chicago; http://wkarch.com
General contractor: Clune Construction Company; Chicago; http://www.clunegc.com
Glazing contractor: Architectural Glass Works; Tinley Park, Illinois; http://www.archglassworks.com
Curtainwall, storefront and window system: Pittco Architectural Metals, Inc.; Elk Grove Village, Illinois; http://www.pittcometals.com
Panel system – installer: The Hill Group; Franklin Park, Illinois; http://www.hillgrp.com
Panel system – manufacturer: Kingspan Insulated Panels; Deland, Florida; http://www.kingspanpanels.us
Coatings – finishing services: Linetec; Wausau, Wisconsin; http://www.linetec.com
Coatings – resin supplier: Solvay Specialty Polymers; Alpharetta, Georgia; http://www.solvayspecialtypolymers.com and http://www.Hylar5000.com
Coatings – coil and extrusion: The Valspar Corporation; Minneapolis; http://www.valsparcoilextrusion.com
Video: http://wkarch.com/posts/news/2341
Photographer: Greg Folkins Photography
###
---
Filed under: Linetec, Projects
---
Story Resources
Request high res photographs for publication