Client News: Apogee publishes updated whitepaper, "Window Replacement: Unrealized Benefits to Building Owners"
Posted on December 2nd, 2019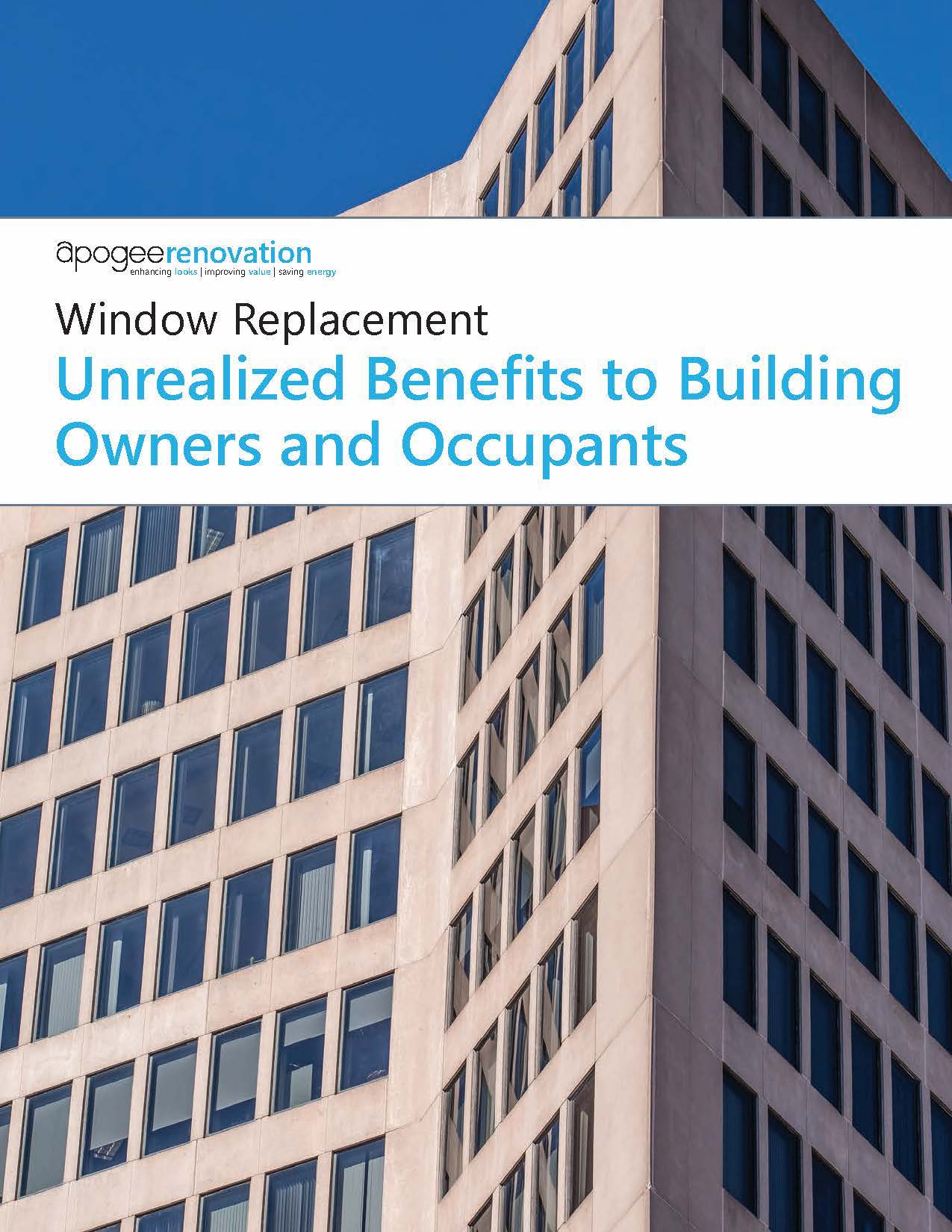 There are approximately six million commercial buildings in the U.S., nearly half of which are more than 40 years old, according to a 2019 report from the American Institute of Architects. Within their lifespan, window system solutions and energy standards have evolved significantly – presenting an opportunity for building owners and occupants to reduce energy costs, improve tenant satisfaction, and increase the value of their properties.
Apogee Renovation's recently published whitepaper, "Window replacement: Unrealized benefits to building owners," addresses these opportunities and benefits – sharing several case studies, along with considerations regarding energy payback, fossil fuel savings equivalents, code compliance, and incentives and credits. Furthermore, the publication includes a renovation specification checklist, thermal imaging comparisons, and an energy study example.
These resources are critical as building owners and developers seek solutions for not only increasing building value with aesthetically improved facades, but optimizing energy efficiency, especially given the impact of building energy use on the environment. According to a 2019 whitepaper published by the American Institute of Architects, buildings account for 45% of overall energy consumption worldwide, and urban areas account for 70% of global greenhouse gas emissions.
In addition to heightened sustainability standards, building owners are also faced with the challenge of ensuring occupant comfort and productivity while minimizing maintenance and energy costs. Kevin Robbins, director of Apogee Renovation, explains, "New, high-performance window systems offer significant energy savings, while delivering occupant comfort to ultimately enhance tenant satisfaction and lower vacancy rates. Furthermore, there are opportunities to improve building and occupant safety, such as blast hazard mitigation and electronic eavesdropping protection."
The case studies included in the whitepaper give insight into the breadth of Apogee Renovation's services and solutions and the opportunity to deliver significant value for a wide range of building types. "Evaluating existing building conditions, establishing clear goals and aligning expectations for renovation will help building and property managers maximize the benefits of window system upgrades," concludes Robbins.
Apogee Renovation, an initiative of Apogee Enterprises, Inc., provides high-performance glass, aluminum framing and window system solutions to optimize energy efficiency and enhance aesthetics of commercial properties, drawing upon the resources of Apogee's business units: Alumicor, EFCO, Harmon, Linetec, Sotawall, Tubelite, Viracon, and Wausau Window and Wall Systems. With these solutions, building owners and developers can reduce energy costs, increase tenant satisfaction and improve the overall value of their buildings. In addition to their updated whitepaper, Apogee Renovation has further resources available on its website at https://www.apogeerenovation.com.
About Apogee Enterprises, Inc.
Apogee Enterprises, Inc. (Nasdaq: APOG) delivers distinctive solutions for enclosing commercial buildings and framing art. Headquartered in Minneapolis, the company is a leader in architectural products and services, providing architectural glass, aluminum framing systems and installation services for buildings, as well as value-added glass and acrylic for custom picture framing and displays. For more information, visit https://www.apog.com.
View source version on businesswire.com.
###
---
Filed under: Alumicor, EFCO, Linetec, Projects, Tubelite, Wausau Window and Wall Systems
---
Story Resources
Cover image
PDF of news release
Request high res photographs for publication