Association News: Nov. 16 webinar to offer glass cutting, washing demonstration, Q&A
Posted on November 5th, 2021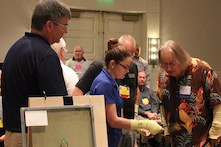 Schaumburg, Illinois – The Fenestration and Glazing Industry Alliance (FGIA) will host a webinar entitled "Glass Cutting & Washing Video Demonstration and Live Q&A with Industry Expert, Bill Lingnell" on Tues., Nov. 16 at 11:30 a.m. Eastern. This webinar will cover the proper techniques and safety requirements associated with glass cutting and washing. It will present a video demonstration of these processes, followed immediately by a live question and answer session with Bill Lingnell, FGIA Technical Consultant. This webinar is complimentary and open to the public.
The video presentation, hosted by Bill Briese, GED Integrated Solutions' R&D and Engineering Manager, is part of the recently launched IG Fabricator Workshop video series. This video series was developed based on the in-person, hands-on workshop that was launched in 2017 and is hosted by FGIA annually. Lingnell will be on hand to address questions live after the video demonstration. Submit questions now to education@fgiaonline.org.
"This webinar offers valuable content and is a complimentary way to get a feel for the FGIA IG Fabricator Workshop and video series. Take advantage of this opportunity to learn from two highly respected industry experts," said Amy Roberts, FGIA Director of Canadian and Technical Glass Operations.
Briese has been with GED for 24 years. His responsibilities include innovation and new product development for processes, machinery and products relating to the IGU and window industry. He has been an active participant and leader with FGIA and previously IGMA for the past 13 years. Lingnell has been involved in engineering, technical management and construction of major building projects throughout the U.S., Canada and other countries.
Register now for this webinar. FGIA's marketing team will live-tweet this presentation from FGIA's Twitter account, @FGIAonline, using the hashtag #FGIAwebinar.
For more information about FGIA and its activities, visit FGIAonline.org.
Your trusted industry resource, setting the standards for fenestration and glazing.
###
---
---
Story Resources
Photo: FGIA glass cutting and washing video demonstration
Word document
Request high res photographs for publication