Client News: San Francisco International Airport's new air traffic control tower meets high-performance design and LEED Gold criteria features Wausau's curtainwall, Tubelite entrances, finishing by Linetec
Posted on October 17th, 2016 by Heather West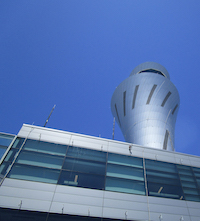 San Francisco International Airport (SFO) and the Federal Aviation Administration's (FAA's) first-of-its-kind airport traffic control tower and integrated facility relies on Wausau Window and Wall Systems' high-performance products to meet the multiple performance requirements. The new $80 million, 221-foot-tall, torch-shaped tower has improved safety, security and design standards, and has obtained LEED® Gold status. The seismic design for the tower allows for the structure to withstand a Richter magnitude 8 earthquake.

SFO's previous air traffic control tower was built in 1984. The new tower and integrated facility's conceptual design was created by airport master architecture firm HNTB. Fentress Architects served as architect-of-record and Hensel Phelps led the design-build team. The collaborative approach resulted in a distinctive design that is seismically sound and meets the FAA's strict requirements.

The "cab" at the top of the tower features a cantilevered roof and windows to give controllers an unobstructed view of the airfield below. The tower façade consists of curved metal panels and a vertical glass band that is illuminated to colorfully glow at night.

The base of the new SFO tower includes a corridor and a secure connector between Terminals 1 and 2, a new FAA office space, and improvements to the Terminal 1 Boarding Area C entrance. The corridor offers a unique glass skylight, which provides visitors views directly up the full height of the tower. The secure connector bridge also offers unobstructed views of the runways, a rest area with seating, and an adjoining yoga room.

Construction began in summer 2012, was ready for FAA equipment installation in summer 2015 and opened in autumn 2016. Construction manager, T2 Partners, selected Architectural Glass & Aluminum (AGA) as the glazing contractor. AGA relied on Wausau's systems to meet the aesthetic, acoustic, blast hazard mitigating (BHM), seismic, thermal and other performance specifications of SFO's unique facility.

AGA installed more than 4,000 square feet of Wausau's four-sided, silicone-glazed curtainwall including SuperWall™ 8250 Series curtainwall, INvision™ 7250-UW Series unitized curtainwall and 7250 Series BHM curtainwall, plus INvent™ 3250i Series in-swing casement thermal windows.

In addition, AGA installed Tubelite Inc.'s ForceFront Blast™ entrance systems. All of Wausau's BHM Series products and Tubelite's ForceFront Blast products are designed for compliance with the General Services Administration Inter-Agency Security Committee's (GSA ISC) security design criteria and the Department of Defense United Facilities Criteria (DoD UFC) 4-010-01 requirements.

"As doors, windows and curtainwall encounter the extreme pressures released by an explosive mass, all elements of the assembly work together to withstand the blast load and dissipate its energy. Instead of the historical design practice of specifying thick windows with rigid frames, modern blast-mitigating assemblies are designed to be flexible, and absorb, rather than resist, blast energy," explains Tubelite's product manager, Tom Mifflin.

Drawing from more than a decade of experience on dozens of major BHM projects, the associates at Tubelite and Wausau apply their technical expertise to interpret the lexicon of hazard mitigation and to achieve safety, security, cost effectiveness and timely completion. Mifflin continues, "Whether building a new structure or replacing, renovating and modernizing an existing facility, Tubelite's and Wausau's high-performance systems help design-build teams to create elegant, daylight-filled, energy-efficient and safe buildings. Creating a comfortable, quiet environment promotes concentration and productivity, which is essential to air traffic control."

Further contributing to the project's sustainability goals, the aluminum used to produce Wausau's curtainwall and window systems is a high recycled-content aluminum billet composition with durable finishes by Linetec. As a recognized, environmentally responsible finisher, Linetec captures the liquid paints' volatile organic compounds (VOCs) content using a 100 percent air capture system and safely destroys the VOCs with a regenerative thermal oxidizer. Linetec then re-uses its heat energy byproduct to improve process energy efficiency. This process of re-use is completed before the material exits the paint line.

For the new SFO facility, Linetec applied a Duranar® Sunstorm® Galaxy Silver color, 50 percent polyvinylidene fluoride (PVDF) resin based, two-coat, liquid coating on the interior-facing aluminum framing members. For greater protection on the exterior, weather-exposed surfaces, a three-coat Duranar Sunstorm XL Silver color, 70 percent PVDF liquid coating was applied. Applied under Linetec's stringent factory-controlled processes, these finishes meet the American Architectural Manufacturers Association's (AAMA) 2605 industry standards, as well as minimize buildings' maintenance costs and maximize long lifecycles.

Along with sustainably produced finish materials and natural daylight, the SFO facility's other LEED-recognized features include photovoltaic panels, a roof garden, low-flow plumbing fixtures, energy-efficient HVAC systems, programmable LED lighting and electric vehicle charging stations.

SFO offers non-stop flights to more than 45 international cities on 39 international carriers. The Bay Area's largest airport connects non-stop with 78 cities in the U.S. on 13 domestic airlines. During its 2015-16 fiscal year, it set an all-time traffic record of serving ore than 51.4 million passengers.

"Our goal is to be an exceptional airport, in service to our communities," stated airport director Ivar C. Satero. "Looking ahead, our focus is on the ongoing development of our airport infrastructure, to ensure that SFO can grow efficiently and continue to make a positive economic contribution in the Bay Area."
**
San Francisco International Airport; San Francisco, CA 94128; http://www.flysfo.com, https://sfoconnect.com/air-traffic-control-tower
* Owner: City and County of San Francisco; San Francisco; http://sfgov.org
* Conceptual and schematic architectural design: HNTB Corporation; San Francisco; http://www.hntb.com
* Architect of record: Fentress Architects; San Francisco; http://fentressarchitects.com
* Design-builder: Hensel Phelps Construction Co.; San Jose, California; http://www.henselphelps.com
* Construction manager – joint venture: T2 Partners
* Glazing contractor: Architectural Glass & Aluminum (AGA); Livermore, California; http://aga-ca.com
* Glazing systems - manufacturer: Wausau Window and Wall Systems; Wausau, Wisconsin; http://www.wausauwindow.com
* Glazing systems - glass manufacturer: Garibaldi Glass, Inc.; Burnaby, British Columbia; http://www.garibaldiglass.com
* Glazing systems - glass fabricator: Guardian Industries Corp.; Auburn Hills, Michigan; SunGuard® SNX62/27; https://www.guardianglass.com
* Glazing systems - finisher: Linetec, Wausau, Wisconsin; http://www.linetec.com

* Photos available at: http://www.flysfo.com/media/images-video-maps
* Video tour: https://sfoconnect.com/about/inside-sfo/inside-sfo-episode-22-new-airport-traffic-control-tower

 
Nationally recognized for its innovative expertise, Wausau Window and Wall Systems is an industry leader in engineering window and curtainwall systems for commercial and institutional construction applications. For 60 years, Wausau has worked closely with architects, building owners and contractors to realize their vision for aesthetic beauty, sustainability and lasting value, while striving to maintain the highest level of customer service, communication and overall satisfaction. Wausau is a part of Apogee Enterprises, Inc., a publicly held, U.S. corporation.
 
Wausau and its staff are members of the American Architectural Manufacturers Association (AAMA), the American Institute of Architects (AIA), the APPA – Leadership in Educational Facilities, the Construction Specifications Institute (CSI), Glass Association of North America (GANA), the National Fenestration Ratings Council (NFRC) and the U.S. Green Building Council (USGBC).
###
---
Filed under: FGIA, Linetec, Projects, Tubelite, Wausau Window and Wall Systems
---
Story Resources
Word document
Request high res photographs for publication