Client News: Seattle's Third and Harrison office building, includes Holland America Cruise Lines, features Wausau's curtainwall and windows
Posted on December 8th, 2017 by Heather West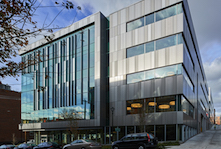 Developed by Martin Selig Real Estate, Seattle's Third & Harrison is a new 185,000-square-foot, five-floor office building and home to Holland America Cruise Lines. Perkins+Will's architectural team envisioned the project as a new, sustainably designed icon for urban professionals to work near the natural wonders the city has to offer. Amenities include plentiful underground parking, vegetated roof terraces, and street amenities such as seating and pocket parks.

The project is located between the high-tech corridor of Elliott Park and the vibrant neighborhood of Lower Queen Anne. "The half-block development is conceived as two glass pavilions – lightly resting on the ground, and linked by a central atrium," described Perkins+Will's senior project designer Ed Palushock, AIA, LEED® AP BD+C. "To address the extreme topography and engage the neighborhood, there are three different building entries at three different levels."

Third & Harrison's floor plates are each approximately one acre. The rooftop terrace features Holland America's test kitchen and sweeping views of Elliott Bay and the Olympic Mountains. Framing the attractive neighborhood views and welcoming daylight into the offices, Perkins+Will selected Wausau Window and Wall Systems' curtainwall and windows.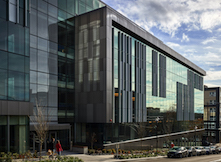 "The client wanted a substantial amount of glass for natural light and views. The challenge is that Seattle has some of the most stringent energy codes with prescriptive limitations on this material," said Palushock. "We also were on a fast-track design and construction schedule. We had less than one year for design, plus another year for construction on a constrained, urban site."

He continued, "During the schematic design phase, we brought the contractor Lease Crutcher Lewis, glazing subcontractor Herzog Glass and Wausau on board to collaborate on a unitized-type glazing system selection with an eye towards construction speed. We needed everyone at the table as early as possible. Together, we met monthly to review design progress and detail development, address limitations and develop solutions that Perkins+Will could put into our drawings. We continued to work through the remainder of the Construction Document phase, with the construction team rolling right into shop drawings."

Mike Johnson, project manager with Herzog Glass, agreed, "Wausau did a nice job with the shop drawings and built from there."

Among the key details discussed were the width and depth of Wausau's window and curtainwall systems. "Basically, we did not want to notice the framing," explained Palushock. "We wanted to have it essentially disappear. It's all about the view."


Achieving the intended aesthetic, Wausau provided more than 30,000 square-feet of 7250-UW INvision™ unitized curtainwall, factory-assembled and -glazed to expedite installation on site. Strategically placed exterior shading devices reduced solar heat gain, while creating an exciting visual effect. Elsewhere on the façade, Okalux® light-diffusing glass was shipped to Wausau's factory from Marktheidenfeld, Germany. The glass was factory-glazed into the curtainwall units used in the two-story stairwell areas above the south building entrance.

Wausau 6250 and 7250 Series SuperWall™ system, and 123 units of Wausau's 3250i INvent™ Series energy-efficient windows rounded out the list of products provided.

Supporting the project's energy-efficiency goals, Wausau's window system featured polyamide thermal barriers, applied by Linetec. This improves thermal performance, while maintaining the structural and long-term durability of the window unit.

As a global leader in delivering energy and related performance ratings and certification for fenestration products and systems, the National Fenestration Ratings Council (NFRC) approved Wausau as a Manufacturer Approved Calculation Entity Organization under the Component Modeling Approach (CMA) Certification Program. Using the CMA software tool (CMAST) Wausau can generate code-mandated CMA Bid Certificates and Label Certificates for the framing systems.

"The CMAST Bid Certificate ensures responsive and accurate thermal performance verification on a project-to-project basis," noted Wausau's architectural sales representative, Brad Glauser. "Through NFRC's CMAST libraries of approved frames, glass and spacer components, we configured our window products on Third & Harrison, and obtained a U-factor, solar heat gain coefficient and visible transmittance rating. Performance values are then compared to the energy requirements of Seattle's Energy Code to confirm compliance."

Further contributing to the project's sustainability goals, the aluminum used to produce Wausau's curtainwall and window systems is a high recycled-content aluminum billet composition with durable finishes by Linetec. On the aluminum framing members, Linetec used a three-coat, Pewter color, 70 percent polyvinylidene fluoride (PVDF) resin-based liquid paint. Custom covers were finished in a two-coat, Platinum color, mica coating.

As a recognized, environmentally responsible finisher, Linetec captures the liquid paints' volatile organic compounds (VOCs) content using a 100 percent air capture system and safely destroys the VOCs with a regenerative thermal oxidizer. Linetec then re-uses its heat energy byproduct to improve process energy efficiency. This process of re-use is completed before the material exits the paint line.

Applied under Linetec's stringent factory-controlled processes, these finishes meet the American Architectural Manufacturers Association's (AAMA) 2605 industry standards, as well as maximize buildings' long lifecycles and minimize maintenance costs.

Wausau's fabricated and finished material delivery was sequenced in phases to optimize work within the confines of the job site. "It was a concerted effort to coordinate the path of trades on-site so they weren't tripping over one another," said Palushock. "Everyone understood how this needed to go together. The team dovetailed their work nicely together and kept us informed of progress and pricing in real-time."

Herzog's Johnson notes, "There were a few changes to the design as we went to meet the story (lateral) drift from wind, seismic and live loading considerations. Instead of using a fixed anchorage system, we went with a receptor system to accommodate the building's movement. Everything went well from both a budget and scheduling standpoint."

The collaboration and pre-planning allowed the team to procure materials at the best value. "We managed costs along the way from design to construction," added Palushock. "There were no surprises and everything went very smoothly."
 
Lease Crutcher Lewis broke ground in Dec. 2015. Herzog Glass began installing Wausau's curtainwall and windows in Feb. 2016, and completed the work on schedule in September. Tenant fit-out was completed in December 2016.
**

Third & Harrison; 450 3rd Ave., Seattle, WA 98119; http://martinselig.com/property/third-and-harrison
* Owner and developer: Martin Selig Real Estate; Seattle; http://martinselig.com
* Architect: Perkins+Will; Seattle office; http://perkinswill.com/offices/seattle.html
* General contractor: Lease Crutcher Lewis; Seattle; http://lewisbuilds.com
* Glazing contractor: Herzog Glass; Seattle; http://herzogglass.com
* Glazing systems - manufacturer: Wausau Window and Wall Systems; Wausau, Wisconsin; http://www.wausauwindow.com
* Glazing systems - glass fabricator: Vitro Architectural Glass, PPG Solarban® 60 and 70; Pittsburgh; http://www.vitroglazings.com/en-US/Glass.aspx
* Glazing systems - finisher: Linetec, Wausau, Wisconsin; http://www.linetec.com
* Photos by: Doug Scott (contact Heather West, Wausau's media contact, for high-resolution files)


Nationally recognized for its innovative expertise, Wausau Window and Wall Systems is an industry leader in engineering window and curtainwall systems for commercial and institutional construction applications. For 60 years, Wausau has worked closely with architects, building owners and contractors to realize their vision for aesthetic beauty, sustainability and lasting value, while striving to maintain the highest level of customer service, communication and overall satisfaction. Wausau is a part of Apogee Enterprises, Inc., a publicly held, U.S. corporation.

Wausau and its staff are members of the American Architectural Manufacturers Association (AAMA), the American Institute of Architects (AIA), the APPA – Leadership in Educational Facilities, the Construction Specifications Institute (CSI), Glass Association of North America (GANA), the National Fenestration Ratings Council (NFRC) and the U.S. Green Building Council (USGBC).
---
Filed under: FGIA, Linetec, Projects, Technoform, Wausau Window and Wall Systems
---
Story Resources
Word document
Request high res photographs for publication