Client News: Arc'teryx's flagship store in Vancouver inspired by natural surroundings features façade of diagonal RHEINZINK zinc panels
Posted on February 5th, 2020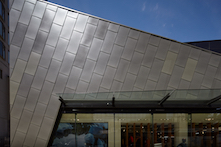 Several factors influenced the design of the new Arc'teryx flagship store in Vancouver, British Columbia, and all led to the prominent use of zinc on the exterior. The retail chain, founded by local climbers in 1989, offers high-performance outdoor equipment and clothing. Custom RHEINZINK zinc panels, installed on a diagonal façade along with natural granite to symbolize the nearby mountainous horizon, highlight the retailer's largest Canadian store.
Arc'teryx operates five stores in Canada and 32 stores globally, and positions its products as "built on the principle of obsessive, precise design and production" that provides "timeless quality and unrivaled performance."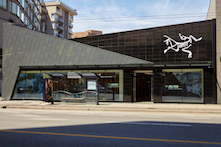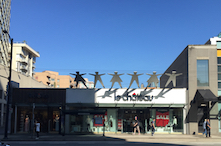 For its flagship store in Vancouver, the existing building was previously two adjoining, linear structures that required major renovation to meet the design objectives. Architectural and construction management services were provided by Unison Construction Management Ltd. of Vancouver.
"I knew I wanted to use metal and zinc caught my attention early on" said Ehsan Vali, Unison's lead designer on the project. "I discovered that the nearby mountains contain significant deposits of both zinc and copper. I came across different pictures of actual raw zinc and noticed the very linear, angular, clear lines with a bit of sheen. We quickly settled on RHEINZINK as the right material to deliver the cool, modern aesthetic to complement the brand."
Ace Copper Specialists of Surrey, British Columbia fabricated and installed approximately 2,000 square feet of custom RHEINZINK panels to create and clad the retailer's façade. Alesther Metal Distributors Ltd. of Burnaby, British Columbia, supplied Ace as RHEINZINK's distributor on the project.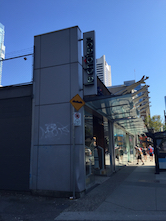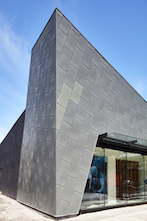 Ace was recommended to Vali by a RHEINZINK employee. "I wanted a fabricator and installer that could do an art piece. Ace did a fantastic job. We're very pleased with the outcome," praised Vali.
Ace worked closely with Vali in designing the 24-by-48-inch custom RHEINZINK graphite-grey panels. Early in the design process, Ace's president Paul Dore provided a sample RHEINZINK shingle to the design team and "they loved it," remembered Jason Dore, Ace's chief operating officer.
The mountain-inspired architectural design called for the RHEINZINK panels to be installed on the diagonal, as well as wrapped around a sharp 90-degree corner.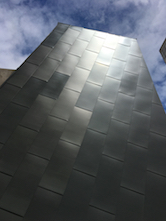 "To further complicate the job, the cap line at the roof was at a slightly different angle than the angle of the shingles," explained Jason Dore. "We hand-fabricated all of the top shingles on-site. The designer didn't want seams when we wrapped the panels around the corner. The installation had to be perfect to keep the angles all in place. The job was a challenge, but turned out to be really striking."
RHEINZINK graphite-grey also was used on the store's interior as infill material for various racks and product display areas.
Considering the entire scope of the Acr'teryx project, Vali added, "It was a big challenge for our structural engineers. We had to bring the building up to code in all disciplines. It was quite complicated for what you would expect from a 4,000-square-foot building."
**
Arc'teryx; 813 Burrard St, Vancouver, BC V6Z 1X8, Canada; https://arcteryx.com
* Architect/construction manager: Unison Construction Management Ltd.; Vancouver, British Columbia
* Fabricator/installer: Ace Copper Specialists Ltd.; Surrey, British Columbia; https://www.acecopperspecialists.com
* Distributor: Alesther Metal Distributors Ltd.; Burnaby, British Columbia; http://alesthermetal.com
* Material supplier – zinc material: RHEINZINK America, Inc.; Woburn, Massachusetts; https://www.rheinzink.us
* Photos by: Martin Knowles
RHEINZINK America, Inc. led the introduction of architectural zinc in North America and continues to offer one of the industry's most reliable, trusted brands. Architects and contractors are supported by unparalleled customer service and technical assistance. RHEINZINK is readily available through an established network of qualified distributors and systems partners across the United States, Canada and Mexico. Ideal for roofing, façade, gutter and interior applications. RHEINZINK is environmentally friendly, 100% recyclable and offers a potential lifespan of 100 years or more.
For more information on RHEINZINK, call 781-729-0812 or visit http://www.rheinzink.us.
###
---
Filed under: Projects, RHEINZINK
---
Story Resources
Word document
Request high res photographs for publication