Perkins Eastman Chicago's WELL v2 Platinum-certified studio features Rockfon's ceilings and elevates sustainable design, employee wellness, modern aesthetics
Posted on May 12th, 2023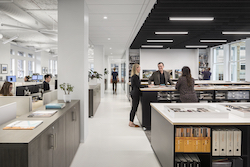 Located in Chicago's historic Rookery building, Perkins Eastman Chicago studio created a welcoming, sophisticated workplace that puts employee wellness and company culture first.
Setting a standard for adaptive, sustainable design, Perkins Eastman Chicago studio has the distinction of being the first project in Illinois to earn WELL Building Standard™ v2™ pilot Platinum Certification through the International WELL Building Institute (IWBI). As of November 2020, the Chicago studio was one of only four in the U.S. and one of 25 worldwide to be certified as this most prestigious level. In 2021, the iconic building also was awarded the WELL Health & Safety Rating for Facility Operations and Management, which specifically addresses post-pandemic workplaces.
Designed by Perkins Eastman Chicago in collaboration with its workplace design team, the 12,340-square-foot office prioritizes well-being in an elegant convergence of home-like hospitality and high-tech commercial space. Complementing its industrial aesthetic and meeting its performance and wellness requirements, Perkins Eastman selected Rockfon Sonar® acoustic stone wool ceiling panels for their modern appearance, high sound absorption and natural material properties.
"We believe our employees are our greatest asset, so we created an inviting employee-first environment that reinforces our healthy studio culture," said Jerry R. Walleck, AIA, principal and board director, Perkins Eastman.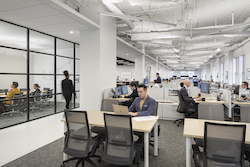 Perkins Eastman Chicago studio meets WELL's 10 categories of building performance: Air, Water, Nourishment, Light, Movement, Thermal Comfort, Sound, Materials, Mind and Community. Using Rockfon solutions, design teams can fulfill requirements for eight out of 10 categories. The WELL Sound concept aims to bolster occupant health and well-being through the identification and mitigation of acoustical comfort parameters that shape occupant experiences in the built environment. At more than 12-feet-high, Perkins Eastman Chicago studio's exposed ceilings complement brickwork walls and poured floors. These hard surfaces also reflect sound and can cause distractions and stress. To reduce noise and improve acoustic comfort, Rockfon Sonar panels are strategically positioned within the open office plan, such as in the materials library, the hallways and the glass-walled conference rooms. Providing a best-level Noise Reduction Coefficient with up to a 0.95 NRC, Rockfon Sonar ceiling panels were installed in Chicago Metallic® 4500 Ultraline™ 9/16-inch ceiling suspension system.
"Light, acoustics, air quality, comfortable spaces – these all promote holistic wellness and can be embedded in the design process from the start. In the new age of COVID-19, the Chicago studio design serves as an example for future office spaces, where health and wellness considerations are now front and center," added Walleck.
"It is a basically ceiling-free space. The design team blends the industrial aesthetic of an exposed deck with high-performing Rockfon Sonar acoustic stone wool ceiling panels to capture the sound in the open environment," said Rockfon's regional manager of architectural sales, Diana Hart, CSI, IIDA. The studio's materials library serves as a bridge between the communal team spaces and the individual workspaces. Recognized for its thoughtful selection process, Perkins Eastman carefully reviewed materials and products chosen for its Chicago office. The WELL Materials concept aims to reduce human exposure, whether direct or through environmental contamination, to chemicals that may impact health during the construction, remodeling, furnishing and operation of buildings.
Perkins Eastman signed the American Institute of Architects (AIA) Materials Pledge and is committed to using building and design materials that support the health and well-being of people, our climate, and those who manufacture and produce those products. In addition to signing the AIA Materials Pledge, Perkins Eastman's Human by Design philosophy includes "sourcing natural products that are free from hazardous materials, localizing our supply chain, thereby reducing emissions and energy usage."
"In our material library, we have the Rockfon Sonar panels and Ultraline grid. These products were specified for our space because of their NRC rating. In the WELL program, part of what is focused on is how the working space will affect its workers. These products had a superior acoustic property to industry equivalents. An added bonus was that it was also aesthetically pleasing and was cohesive in our space with the design that had been chosen," said Katie McNally, Perkins Eastman.
The Rookery building's expansive windows not only bring in natural light from the exterior perimeter, but also from an interior skylit courtyard, helping illuminate Perkins Eastman's interior offices. Making effective use of the natural and electric lighting, Rockfon Sonar's bright white surface reflects up to 86 percent of the light and diffuses it for optimal visual comfort.
"We were able to go beyond the minimum requirements that support healthy materials," said Madona L. Cumar-Malhotra, Assoc. AIA, LEED AP BD+C, Perkins Eastman.
Supporting these goals, Rockfon Sonar acoustic stone wool ceiling panels provide no sustenance for mold, bacteria or potentially harmful microorganisms. Stone wool also naturally resists fire and water, without the use of additional chemicals. Contributing to indoor air quality (IAQ), Rockfon stone wool products are UL® GREENGUARD® Gold Certified for low VOC emissions. Along with material selection, Perkins Eastman addressed WELL v2 strategies for IAQ management during construction and once occupied, through ongoing monitoring.
In the largest and most comprehensive research of its kind, a 2022 study published in the Journal of Building and Environment found that occupants in WELL Certified spaces in North America reported overall workplace satisfaction improved by nearly 30%, occupant-perceived well-being scores increased by 26% and mental health scores increased by 10%, and productivity gains were up by 10 median points. Overall occupant satisfaction also improved in areas of lighting (84%), physical comfort (81%), indoor air quality (76%) and acoustics (50%). Perkins Eastman Chicago studio's post-occupancy survey results showed a 98 percent overall workplace satisfaction.
"We spend so much time inside – how we build and with what materials is important and needs to support our health and the environment...Creating healthy, beautiful and humane spaces is central to Perkins Eastman's philosophy of human-centric, accessible and thoughtful design. ...Receiving WELL v2 Pilot Platinum Certification reinforces that commitment and is an inspiration that will propel us forward," said Nick Leahy, AIA, LEED AP, co-CEO, Perkins Eastman.
**
Perkins Eastman Chicago Studio
• Architect: Perkins Eastman; Chicago; https://www.perkinseastman.com/projects/perkins-eastman-chicago-studio/
• Contractor: Leopardo Companies, Inc.; Chicago; https://leopardo.com/
• Ceiling systems – manufacturer: Rockfon; Chicago; https://www.rockfon.com/
• Photographer: ©Andrew Rugge, courtesy of Perkins Eastman

About Rockfon
Rockfon is part of ROCKWOOL Group and is offering advanced acoustic ceilings and wall solutions to create beautiful, comfortable spaces.
At ROCKWOOL Group, we are committed to enriching the lives of everyone who experiences our product solutions. Our expertise is perfectly suited to tackle many of today's biggest sustainability and development challenges, from energy consumption and noise pollution to fire resilience, water scarcity and flooding. Our range of products reflects the diversity of the world's needs, while supporting our stakeholders in reducing their own carbon footprint.
Stone wool is a versatile material and forms the basis of all our businesses. With approximately 12,200 passionate colleagues in 40 countries, we are one of the world leaders in stone wool solutions, from building insulation to acoustic ceilings, external cladding systems to horticultural solutions, engineered fibers for industrial use to insulation for the process industry, and marine and offshore.
For more information, please visit https://www.rockfon.com.
###
---
Filed under: Projects, Rockfon
---
Story Resources
Word document
Request high res photographs for publication