Association News: AAMA updates two specifications for static, dynamic test methods related to seismic drift
Posted on February 11th, 2019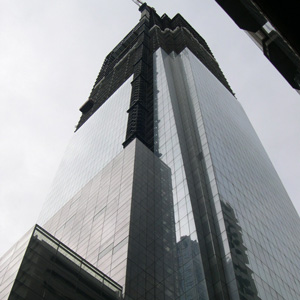 The American Architectural Manufacturers Association (AAMA) updated two documents for evaluating window wall, curtain wall and storefront systems when it comes to seismic drift. AAMA 501.4-18, "Recommended Static Test Method for Evaluating Window Wall, Curtain Wall and Storefront Systems Subjected to Seismic and Wind-Induced Inter-Story Drift," and AAMA 501.6-18," Recommended Dynamic Test Method for Determining the Seismic Drift Causing Glass Fallout from Window Wall, Curtain Wall and Storefront Systems," were first released in 2001 and were last updated in 2009. The two are now available as separate documents for the first time.
While AAMA 501.4 provides a means of evaluating the performance of windows, window wall, curtain walls and storefront systems when subjected to specified horizontal displacements in the plane of the wall, AAMA 501.6 focuses on determining the horizontal racking displacement amplitude of exterior wall system framing members that would cause fallout of representative architectural glass panels under controlled laboratory conditions.
"The test methods described in both documents are important to the industry," said Tanya Dolby (Kawneer), chair of the AAMA 501.4 and 501.6 Seismic Test Update Task Group. "Now, for the first time, those who need one or the other can conveniently access each individually, through the AAMA Online Store."
AAMA 501.4-18 and AAMA 501.6-18, as well as other AAMA documents, may be purchased from AAMA's online store. More information about AAMA and its activities can be found on the AAMA website, https://aamanet.org.
AAMA is the source of performance standards, product certification, and educational programs for the fenestration industry.SM
###
---
---
Story Resources
Word document
Request high res photographs for publication