Client News: Kaiser Hollywood Romaine Medical Offices offer an inviting, healing-focused, wellness-minded space with Rockfon's ceiling systems
Posted on December 2nd, 2022 by Heather West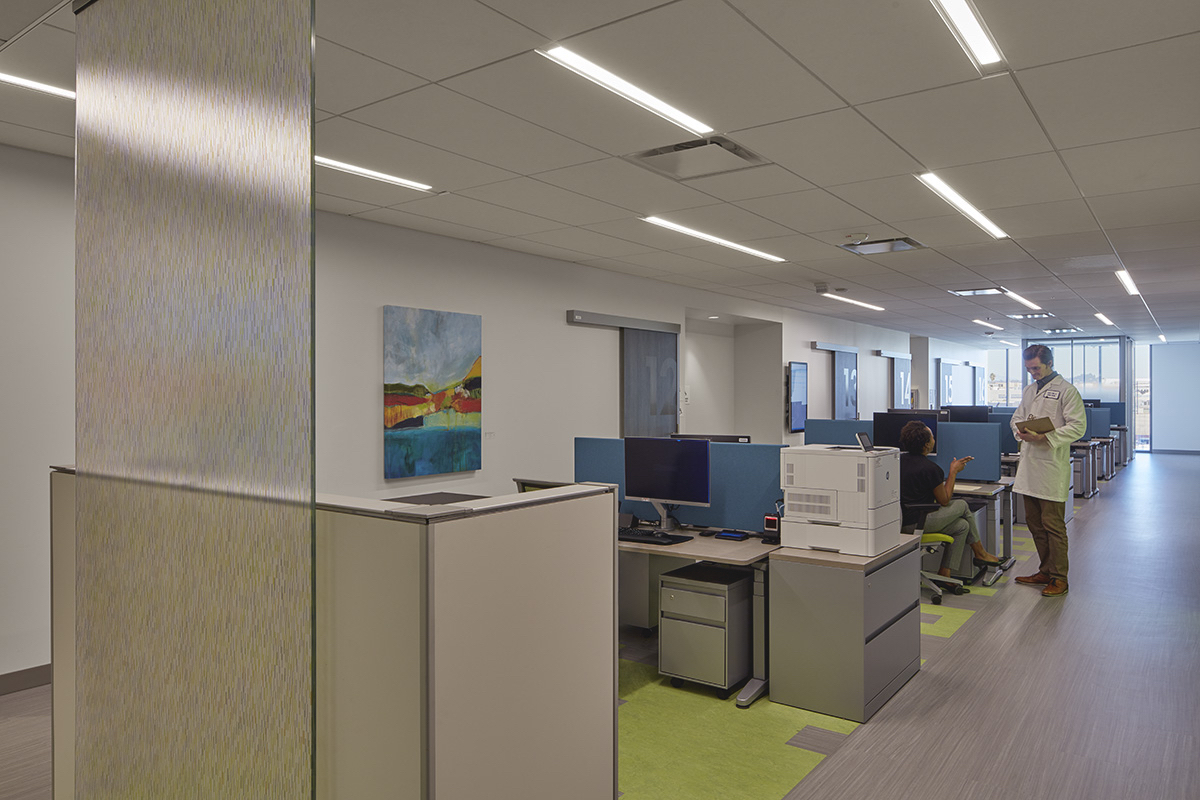 Patients, staff and visitors to the recently opened Kaiser Hollywood Romaine Medical Offices near West Hollywood, California, are greeted with an inviting, healing-focused, wellness-minded space. Designed by Perkins&Will for Kaiser Permanente, the 50,000-square-foot medical office building features Rockfon's ceiling solutions in the patient rooms, staff offices and waiting areas.
Layton Construction Company managed the three-floor tenant build-out project, working closely with Nevell Group Inc. to install Rockfon's ceiling systems. Enhancing the facility's functionality, safety and calming atmosphere, Rockfon's stone wool ceiling panels offer acoustic performance, infection control, material ingredient transparency and a clean, bright, calming, modern aesthetic.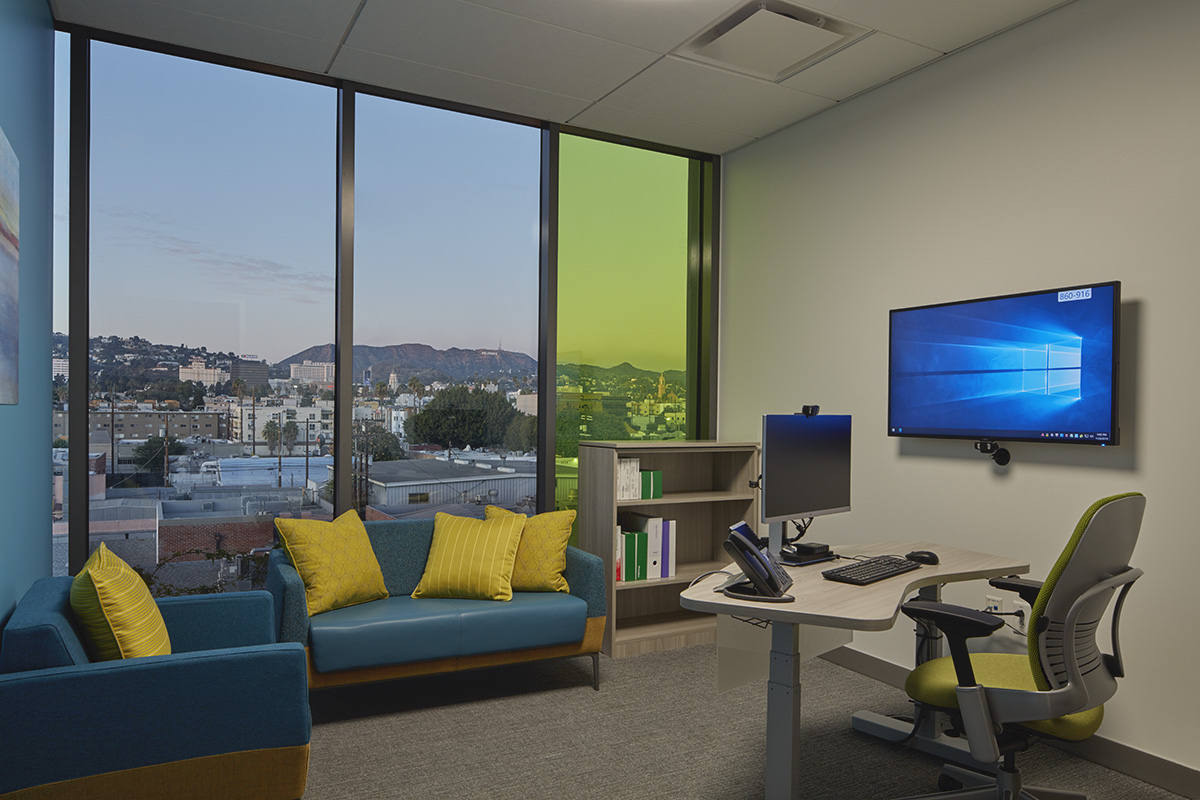 The acoustic experience in medical and health care facilities plays a critical role in creating a less stressful environment for healing and recovery. Good acoustics are essential to ensuring patients' needs are understood, medical instructions are clear, information is accurately recorded, and confidential details remain private and in compliance with HIPPA.
Recognizing the importance of optimizing acoustics, guidelines for the design and construction of health care facilities, published by the Facilities Guidelines Institute (FGI), require that "all normally occupied healthcare facility spaces shall incorporate acoustic surfaces." In waiting areas, patient treatment rooms and staff offices acoustics are of top concern.
For Kaiser Hollywood Romaine Medical Offices, Rockfon Sonar® acoustic stone wool ceiling panels achieve a Noise Reduction Coefficient (NRC) of 0.95. Sound-absorbing ceiling panels with a 0.90 NRC or higher are categorized as the best acoustic performance.
Rockfon's stone wool ceiling panels in Kaiser Hollywood Romaine Medical Offices have a bright white surface that reflects up to 86 percent of light. "This high light reflectance makes more efficient use of both daylight and electric lighting," said Rockfon's Architectural Sales Manager, Roxanne Bennett. "The diffused interior light reduces glare on equipment monitors and computer screens. This helps protect the staff from eye strain, headaches and irritability, promoting a more comfortable and compassionate atmosphere."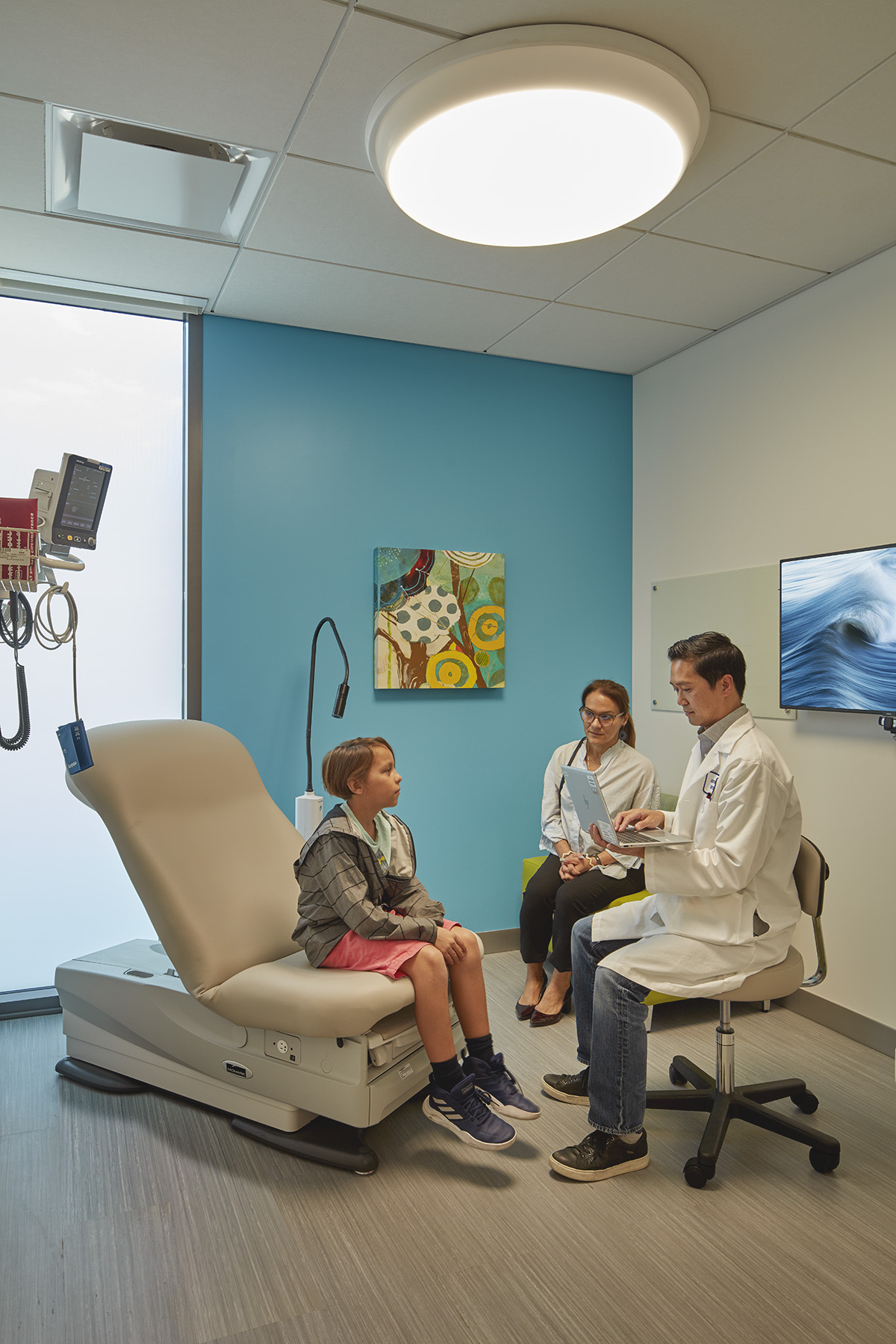 Perkins&Will selected Rockfon's acoustic stone wool panels in different sizes, edge designs and suspension systems. This created visual separation between private and shared spaces, and functional distinctions where different performance was required.
• In the private staff and patient rooms, Rockfon Sonar 2-by-4-foot ceiling panels showcase a square tegular narrow edge design accentuated by the slim grid line of Chicago Metallic® 4000 Tempra™ Series 9/16-inch ceiling suspension system.
• In the shared waiting rooms, large format 2-by-8-foot Rockfon Sonar panels with a fully concealed edge were installed in Chicago Metallic® 1200 Series 15/16-inch ceiling suspension system.
• The same 15/16-inch suspension grid was used with Rockfon® Medical™ Standard ceiling panels. Designed with a square tegular narrow edge, these panels provide a modern aesthetic, high light reflectance and a best-level NRC of 0.90.
Installed in areas where more stringent infection control was needed, Rockfon Medical Standard panels do not contribute to the growth of MRSA, are classified to Bacteriological Class B5 and B10, and have a low particle emission resulting in Clean Room Classification ISO Class 5.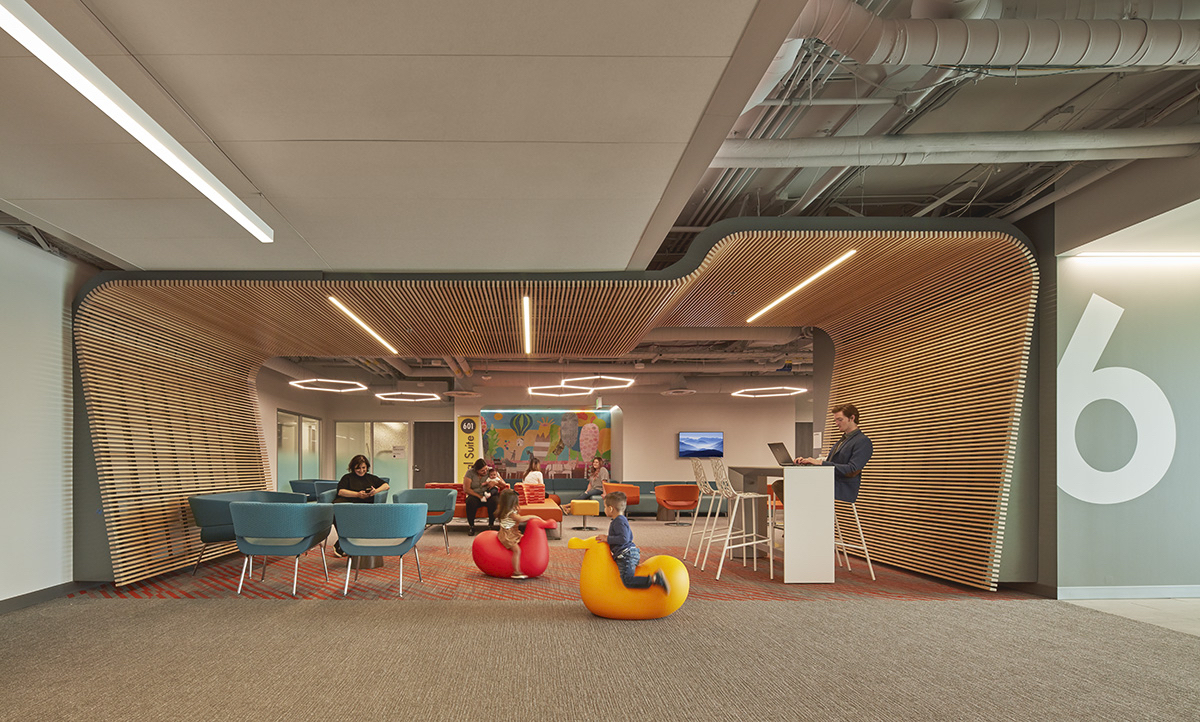 Helping maintain healthy, clean interiors, Rockfon's stone wool naturally prevents the growth of mold and bacteria without using added antimicrobials. "In both the design and health care community, the safety of antimicrobials in interior finishes, furnishings and other surface treatments increasingly is called into question," explained Bennett.
She elaborated, "With little evidence proving their ability to prevent infection and their overuse being linked to antibiotic resistance, Kaiser Permanente has banned antimicrobial use in building materials. Perkins&Will also agrees that antimicrobial products do more harm than good and have placed them on its official Precautionary List."
Supporting material transparency, health product declarations (HPDs) and UL-verified environmental product declarations (EPDs) are available for Rockfon Sonar and Medical Standard ceiling products.
Rockfon Medical Standard and Sonar stone wool panels also have earned UL® Environment GREENGUARD® Gold Certification for low chemical emissions. This certification process ensures that a product is suitable for environments, such as offices and health care facilities, and takes into consideration safety factors that may impact those with vulnerable immune systems, children and seniors.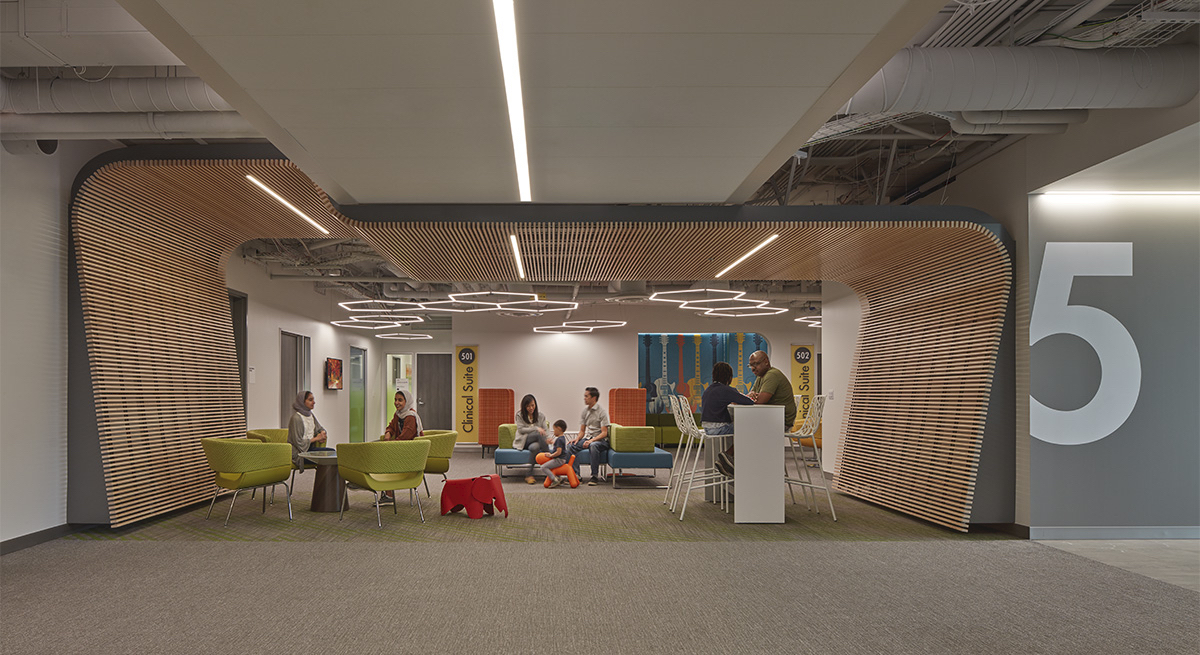 Along with thoughtful material choices for health, comfort and well-being, Perkins&Will said, "As Kaiser Permanente faces growth and development in the 21st Century, the need to modernize existing infrastructure and expand their existing footprint means venturing into densely populated urban settings. Faced with this challenge, Kaiser Permanente identified a building for lease in a burgeoning 'Old Hollywood' neighborhood that provided opportunities to serve current and potential future members. The Hollywood Romaine interior tenant improvement reinforces the evolving Kaiser Permanente brand... The result is a re-imagined healing environment infused with art and color that fits appropriately in its community."
Kaiser Hollywood Romaine Medical Offices is part of the Los Angeles Medical Center Service Area, which serves more than 330,000 members of Kaiser Permanente. Opened in December 2019, the facility provides primary care and specialty services, including family medicine, internal medicine, LGBTQ care, obstetrics and gynecology, pediatrics, physical therapy, psychiatry, radiology, a nurse clinic, a laboratory and a pharmacy.
**
Kaiser Hollywood Romaine Medical Offices, 7007 Romaine St, Los Angeles, CA 90038
• Owner: Kaiser Permanente; Oakland, California; http://kp.org
• Interior designer: Perkins&Will, Los Angeles; https://perkinswill.com/studio/los-angeles
• General contractor: Layton Construction Company, LLC; Sandy, Utah; https://www.laytonconstruction.com
• Ceiling system – installing contractor: Nevell Group Inc.; Brea, California; https://www.nevellgroup.com
• Ceiling system – distributor: Westside Building Material; Anaheim, California; http://www.westsidebmc.com
• Ceiling systems – manufacturer: Rockfon; Chicago; https://www.rockfon.com
• Photographer: Fotoworks/Benny Chan, courtesy of Perkins&Will
About Rockfon
Rockfon is part of the ROCKWOOL Group and is offering advanced acoustic ceilings and wall solutions to create beautiful, comfortable spaces.
At the ROCKWOOL Group, we are committed to enriching the lives of everyone who experiences our product solutions. Our expertise is perfectly suited to tackle many of today's biggest sustainability and development challenges, from energy consumption and noise pollution to fire resilience, water scarcity and flooding. Our range of products reflects the diversity of the world's needs, while supporting our stakeholders in reducing their own carbon footprint.
Stone wool is a versatile material and forms the basis of all our businesses. With approximately 11,500 passionate colleagues in 39 countries, we are the world leader in stone wool solutions, from building insulation to acoustic ceilings, external cladding systems to horticultural solutions, engineered fibers for industrial use to insulation for the process industry, and marine and offshore.
###
---
Filed under: Projects, Rockfon
---
Story Resources
Word document
Request high res photographs for publication