Client News: Kolbe promotes Mark Harger to vice president of the Manawa Division
Posted on March 3rd, 2021 by Heather West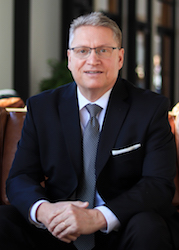 Wausau, Wisconsin (March 3, 2021) – Kolbe Windows & Doors has promoted Mark Harger to the position of vice president, responsible for the Manawa Division in Wisconsin. In this leadership role, he joins the company's executive team and reports directly to Kolbe's president Jeff DeLonay.
Harger draws from more than three decades of experience in the wood, window and door industries. He has contributed to Kolbe's growth and innovation for 15 years, including numerous Kolbe window and door product developments, as well as continuous improvement initiatives.
Most recently, Harger served as the general manager for the Manawa Division, which manufactures Kolbe's Forgent® Series windows and doors. In 2016, he helped develop and launch the successful Forgent Series. Manufactured with a proprietary Glastra® material and thoughtful design, these high-performance products are easy-to-install and an increasingly popular choice for new construction and replacement projects.
Prior to joining Kolbe, Harger worked as an operations manager at Marshfield Door Systems, Inc. His industry experience also includes positions at International Paper manufacturing medium density fiberboard products for the furniture industry and at Weyerhaeuser Company manufacturing commercial wood doors. His roles have included product engineering, quality management, product development and continuous improvement.
Before starting his career, Harger graduated from Iowa State University with a bachelor of science in forestry/wood science.
Harger lives in Waupaca, Wisconsin, with his wife, Mary. They have two adult children, Luke and Erin.
Learn more about Kolbe's history of excellence and expertise at https://www.kolbewindows.com.
What began in 1946 as a two-brother team has grown into an internationally respected manufacturing company. Kolbe Windows & Doors is one of the nation's leading manufacturers of windows and doors for residential and commercial markets. After 75 years, Kolbe products are best known for superior quality, custom craftsmanship, attention to detail, as well as innovative and unique designs.
###
---
Filed under: Kolbe Windows & Doors, People
---
Story Resources
Portrait: Mark Harger, Kolbe Windows & Doors
Word document
Zipped folder: Portrait, logo and Word document
Request high res photographs for publication