Client News: Dickinson College's new residence hall showcases zinc exterior with RHEINZINK façade cladding
Posted on May 3rd, 2019 by Heather West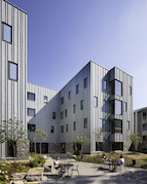 The new High Street Residence Hall at Dickinson College, showcases modern student living inside, and a zinc façade in durable, distinctive and sustainable RHEINZINK cladding, on the outside. As the first residence constructed in 40 years on the historic Pennsylvania campus, High Street opened in Aug. 2018, and in Jan. 2019, earned LEED® Platinum certification through the U.S. Green Building Council.
Historic Setting, Modern Design

The new building takes a prominent place on the main thoroughfare of Carlisle, Pennsylvania, where this private, liberal arts college has welcomed students since 1783. The campus hosts numerous architectural styles, unified by their stone exteriors.
Designed by Deborah Berke Partners and built by Benchmark Construction, the High Street Residence also incorporates limestone, as well as other natural materials like mahogany accents and zinc. The combination of materials bridges historic formality and a modern, friendly appearance.
The stone-faced front of the building suits Dickinson's legacy, while the back provides a more contemporary, casual connection to the campus lawn and a nod to the local agricultural vernacular. Here, RHEINZINK prePATINA® blue-grey panels wrap High Street's southern elevation and frame variable-sized window openings.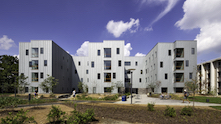 The E-shaped, 40,500-square-foot, four-story building offers 85 private and double room configurations along with study rooms, community kitchen, indoor bike storage and other communal spaces. Construction spanned 16 months and cost approximately $19 million.
With the addition of High Street's 130-bed residence hall, Dickinson College's 2,400 students can be housed in properties that either are owned or leased by the college. Its opening marked the final phase of a historic six-year campus enhancement effort.
Dynamic Aesthetic, Professional Installation

The three dominant façade materials provide a changing canvas that evolves in coloration as they age and weather. The sun will bleach the dark-grey limestone ashlar. The mahogany strips will darken to a leaden tone. The RHEINZINK prePATINA blue-grey will continue to develop its soft grey, natural patina.
"The dynamic aesthetic of RHEINZINK's façade cladding make it a perfect choice for a student residence hall on an active campus, and the natural advantages of zinc support the college's exceptional commitment to sustainability," said Chuck Bell, RHEINZINK's regional sales manager.
Enhancing the building's visual interest, the zinc panels were installed by Novinger's Inc. in a randomized pattern. "The architect determined the pattern and we put it in place," noted Rick Becker, project superintendent with Novinger's. "The windows served as our guide, as everything had to line up to them."
Because zinc was a new material for Novinger's, Becker said that they brought in Craig Hardin as a training consultant with experience installing RHEINZINK wall cladding. "He shared his tool list, and worked with us on the right techniques including some scallop details that we wanted to perfect."
To further ensure the correct appearance and proper installation, Novinger's installed a mock-up on site for the project team's review prior to begin the full project. Once approved, Novinger's went to work with a field team of six to eight people who worked through the changing seasons.
"The job looks great!" added Becker enthusiastically. He shared that he thought it looks so nice he wishes the zinc was on the front, too.
Hand-Crafted, Natural Appeal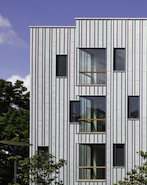 RHEINZINK America's distributor, Oakland Metal Sales, Inc. provided the prePATINA material to Jim Cashman at Architectural Building Systems for fabrication into vertically oriented, standing-seam panels that Novinger's installed. "Jim does a great job," said Don McCoy of Oakland Metal Sales. "Everything went the way it was supposed to."
"All of the panels – 18,500 square feet of them – are hand-formed, hand-seamed and precision-made with a computerized brake and shear," explained Cashman. "They are sized in 6-, 9- and 12-inch widths, with a 1.5-inch raised seam. We also made lots of custom panels and the coping caps."
Cashman elaborated, "The standing seam panel sides have a single lock connection and are connected horizontally with a hook lock, while stainless steel clips hold the panels in place. Behind the panels is Knight Wall framing system with a mineral wool insulation, which provides the thermal break."
Cashman continued, "Zinc is a fairly soft metal that requires careful attention when working with it in cold climates, as with this project. Fieldwork during the winter requires the zinc to be warmed, so it bends, rather than cracks."
Aside from these cautionary notes, Cashman is quick to praise RHEINZINK prePATINA: "It's a nice material. It's an Old World, European material that's been around hundreds of years. I'm glad to see that it's become more popular here."
Efficient, Healthy and Sustainable

Appealing to campus facilities managers, the zinc material maintains its self-healing, low-maintenance, corrosion-resistant performance with a lifespan that lasts generations. At the end of its useful life on the building's exterior, it remains 100 percent recyclable.
"LEED—that is, Leadership in Energy and Environmental Design—Platinum status is a true accomplishment and a unique distinction for the college," said Ken Shultes, associate vice president for sustainability and facilities planning at Dickinson College. "It's safe to say that we have raised the sustainability bar with this new building."
In addition the natural, durable, recyclable materials like RHEINZINK façade cladding, other attributes that contributed to the building's LEED Platinum status and helped reduce carbon emissions, include energy-efficient exterior walls and roof, high-efficiency windows and a connection to Dickinson's central energy plant. An upgraded stormwater-management system with four rain gardens will minimize impacts to the existing community systems.
According to the college, High Street Residence Hall is only one of approximately 50 LEED Platinum-certified projects in Pennsylvania, and the only one directly associated with an institution of higher education. Dickinson also has stated its commitment to carbon-free operations by 2020.
"To have five LEED Gold buildings and one LEED Platinum is real a distinction for us," added Shultes, noting that the new building joins Althouse Hall, the Rector Science Complex, the Waidner Admissions House, the Durden Athletic Training Center and the Center for Sustainable Living (aka the Treehouse) in Dickinson's LEED family.
He concluded, "Achieving LEED Platinum certification for our new 130-bed residence hall shows the college's continuing commitment to renovating and building efficient, healthy and sustainable buildings that provide so many learning opportunities for our students."
**
Dickinson College, High Street Residence Hall, 450 W High St, Carlisle, PA 17013, https://www.dickinson.edu/info/20238/office_of_residence_life_and_housing/1282/residential_facilities
* Owner: Dickinson College; Carlisle, Pennsylvania; https://www.dickinson.edu
* Architect: Deborah Berke Partners; New York; http://www.dberke.com
* General contractor: Benchmark Construction; Brownstown, Pennsylvania; https://www.benchmarkgc.com
* Installing contractor: Novinger's Inc; Harrisburg, Pennsylvania; http://www.novingergroup.com
* Metal wall panels – fabricator: Architectural Building Systems; Dover, Pennsylvania
* Metal wall panels – architectural zinc distributor: Oakland Metal Sales, Inc.; Auburn Hills, Michigan; http://www.oaklandmetalsales.com
* Metal wall panels – architectural zinc: RHEINZINK America, Inc.; Woburn, Massachusetts; https://www.rheinzink.us
* Photographer: Chris Cooper
RHEINZINK America, Inc. led the introduction of architectural zinc in North America and continues to offer one of the industry's most reliable, trusted brands. Architects and contractors are supported by unparalleled customer service and technical assistance. RHEINZINK is readily available through an established network of qualified distributors and systems partners across the United States, Canada and Mexico. Ideal for roofing, façade, gutter and interior applications. RHEINZINK is environmentally friendly, 100 percent recyclable and offers a potential lifespan of 100 years or more.
For more information on RHEINZINK, call 781-729-0812 or visit https://www.rheinzink.us.
###
---
Filed under: Projects, RHEINZINK
---
Story Resources
Word document
Request high res photographs for publication