Client News: New York's Crotona Park's historic clock tower lanterns revitalized with EXTECH's custom glass block assembly
Posted on August 26th, 2021 by Heather West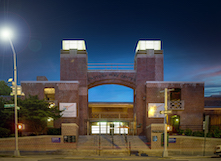 New York City's Crotona Park's arched entry to the pool building and play center in the Bronx features a newly reconstructed pair of 80-foot-tall clock towers capped with four-sided glass block "lanterns." Completed in March 2021, the new lanterns were designed, engineered and fabricated by EXTECH/Exterior Technologies, Inc., and installed by Sandhu Contracting, Inc.
For more than 80 years, the iconic towers have served as a landmark and destination during the day. At night, the glass lanterns are illuminated from within the building, beckoning neighborhood residents and park guests. After more than 80 years of use, EXTECH helped renew this Landmark Site's architectural heritage with modern performance.
"Crotona Park is the 'Central Park' of the South Bronx and serves approximately 180,000 Bronx residents," according to the City of New York Parks and Recreation (NYC Parks). "Named after the Greek colony of Croton, known for its Olympic athletes, Crotona Park has served the Bronx community steadily since its purchase by the City in 1888. Among naturalists, the park is widely known for its variety of tree species (28 in all) and gorgeous 3.3-acre lake, which serves as home to turtles, ducks and fish. However, manmade structures within the park thrill visitors as well."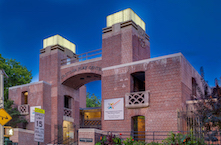 Designed by noted architect Aymar Embury II (1880-1966) in collaboration with NYC Parks Commissioner Robert Moses (1999-1981), Crotona Park's historic bathhouse building offers one of the largest pools in the Bronx at 300 feet long. It is one of 11 immense and impressive outdoor swimming pools in the borough that was constructed with funding provided by the Works Progress Administration (WPA). Built almost entirely of brick, the building opened in the summer of 1936.
Recognizing its "special character, special historical and aesthetic interest, and value as part of the development, heritage, and characteristics of New York City," the Landmarks Preservation Commission considered it "one of the great WPA 'Art Moderne' structures of the Depression era in New York. ... The complex, along with the other WPA-era pools, was a major accomplishment of engineering and architecture, and is recognized as being among the most remarkable public recreational facilities ever constructed in the United States."
Crotona Park's pool building has remained in use almost every summer for 85 years, but was primarily designated for seasonal programming. While repairs had been made through the decades, its conditions had deteriorated.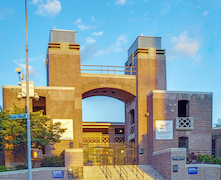 In 2015, NYC Parks announced a new vision: "Crotona Park will be the most beautiful park in the Bronx and a haven for the community with recreational opportunities for every age." Fulfilling this vision, the "Crotona & Tremont Park Master Plan 2034" outlined a long-term effort that included restoring and converting the existing pool building into a year-round recreation center. Calling urgency to this major project, the plan noted, "It is a very significant structure that needs immediate attention."
Part of this larger reconstruction project, renovation of the clock towers' lanterns began in 2018. "The goal was to replicate the historic look of the original glass blocks, adding modern performance to the structural assembly," explained Ron Clelland, EXTECH's architectural representative in New York. "Clear blocks were selected for their transparency, contributing to the lantern towers' warm, welcoming glow at night, which can be seen from a distance."
Both of the clock towers' lanterns are similar on all four sides. Each side of the four-sided glass block structures are approximately 10 feet long. The vertical sides are composed of dozens of hollow 5-3/4- by 5-3/4- by 3-7/8-inch blocks. These walls are joined together by custom, 90-degree, hollow glass blocks at the corners. Totaling 3 tons in weight, more than 1,100 blocks are positioned within stainless steel framing, which is concealed by a white mortar. The mortar's color was selected for historical accuracy by the Landmarks Preservation Commission.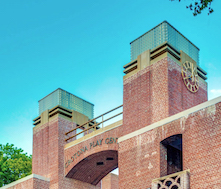 Along with the correct glass block sizing and mortar formulation, EXTECH verified the project's precise design requirements with shop drawings and a submittal mock-up. To ensure both the aesthetic and performance requirements were met, EXTECH prefabricated the entire system under factory-controlled conditions.
EXTECH manufactured the glass block assembly with special removable hoisting rings so Sandhu Contracting's on-site team could more easily lift the large, prefabricated units by crane and accurately set them in place. Drawings illustrating the step-by-step installation process also supported Sandhu Contracting's efforts in the field.
"It took lots of planning and about 20 minutes to install. It looks perfect," praised Sandhu's Dil Singh. He also highlighted the design and engineering involvement of EXTECH's John Anthony, RA, as contributing to the project's success.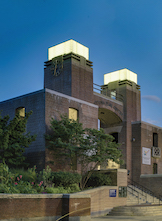 Anthony returned the compliment, saying, "Dil was exemplary in managing the entire process, scheduling and site logistics. He monitored the progress every step of the way as the project manager."
At EXTECH's Pittsburgh facility, each section of the glass block assembly was carefully packaged to ensure the system arrived damage-free. The shipment was delivered by flatbed truck to Sandhu's warehouse in Queens and then to Crotona Park to minimize disruption for the park's patrons.
The clock towers' lanterns reconstruction was completed on schedule late in 2020. Clelland concluded, "Achieving all of the goals for these lanterns took lots of collaboration between the NYC Parks' architects, Sandhu Contracting and EXTECH. It's rewarding to see the results of our work will continue to attract people to Crotona Park's revitalized pool building and play center for many years to come."
**
Clock towers lantern reconstruction at Crotona Park; 1700 Fulton Ave., Bronx, NY 10457; https://www.nycgovparks.org/parks/crotona-park
• Owner/architect: City of New York Parks and Recreation; New York; https://www.nycgovparks.org
• Glass block lantern – contractor: Sandhu Contracting, Inc.; Astoria, New York
• Glass block lantern – designer, engineer and fabricator: EXTECH/Exterior Technologies, Inc.; Pittsburgh; https://extechinc.com
• Photographer: Oleg March
EXTECH/Exterior Technologies, Inc.'s mission is to improve lives through innovation in daylighting systems, natural ventilation and other unique building envelope systems. Redefining the intersection between the natural and built environments, EXTECH manufactures and designs wall, window, skylight, canopy and custom façade systems.
Learn more by calling 800-500-8083, emailing info@extechinc.com or visiting https://extechinc.com.
###
---
Filed under: Projects
---
Story Resources
Word document
Request high res photographs for publication