Kolbe expands manufacturing from Midwest to Southwest
Posted on July 4th, 2023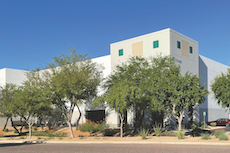 For more than 75 years, Kolbe Windows & Doors has been known for quality craftsmanship, attention to detail and exceptional design. With four unique product lines designed to meet specific architectural and aesthetic goals, the Midwest-based company provides premium windows and door solutions across the United States, Canada and beyond.
Currently maintaining facilities in Wausau and Manawa, Wisconsin, Kolbe has expanded its manufacturing capabilities with a 27,000-square-foot facility in Phoenix, Arizona.
"As our third manufacturing site, the Phoenix location will help us grow our capabilities while creating a closer connection to the West Coast market. The increased production will allow us to better meet market demand and the needs of our customers," stated Keith Koenig, Kolbe's vice president of manufacturing.
Kolbe's Phoenix facility is located at 21430 North 15th Lane, #100, and houses 22,000 square feet of manufacturing space, plus a small showroom and offices.
To learn more about Kolbe's innovative products and options, please visit https://www.kolbewindows.com.

What began in 1946 as a two-brother team has grown into an internationally respected manufacturing company. Kolbe Windows & Doors is one of the nation's leading manufacturers of windows and doors for residential and commercial markets. After 75 years, Kolbe products are best known for superior quality, custom craftsmanship, attention to detail, as well as innovative and unique designs.
###
---
Filed under: Kolbe Windows & Doors
---
Story Resources
Photo
Word document
Request high res photographs for publication