Client News: Wausau's curtainwall, windows and sun shades shape the University of Pennsylvania's New College House
Posted on December 27th, 2016 by Heather West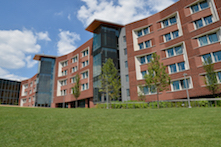 The University of Pennsylvania's $127 million New College House opened for the 2016-17 academic year as the first new student residence on campus since 1972. Designed by Bohlin Cywinski Jackson (BCJ) in collaboration with the University, the first purpose-built College House brings together undergraduates, faculty, staff and graduate students in a shared suite-style community. The 198,000-square-foot, 350-bed building promotes sustainable, 21st century living and learning, and is pursuing LEED® Silver certification.

Supporting the project's energy-efficient and environmentally responsible operations, Wausau Window and Wall Systems' curtainwall, windows and sun shades balance natural light and comfortable interiors. New College House's large, vertical transparent towers feature Wausau's products and frame the views of Penn's surrounding campus community and Center City Philadelphia. Bounded by Woodland Walk and 34th and Chestnut streets, the seven-story building with a publicly accessible, lifted lawn serves as a pedestrian gateway to campus.

"In this city of neighborhoods, we sought to embrace the many scales of community that define the collegiate experience unique to Penn," says Frank Grauman, design principal from BCJ. "The New College House is, therefore, both inviting and secure, open and private, embodying the comfort of home, and the power to form a campus gateway worthy of this place."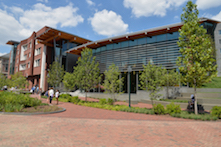 BCJ's Sam McNutt agrees and elaborates, "Penn is a well-established campus with many older buildings. New College House is its newest residential hall that represents a step in a new direction, while honoring the fabric of campus. Taking cues from its surroundings, such as Hill House's brick and the law school's limestone, it's heavy on the masonry."

McNutt continues, "Unlike many of the older buildings, New College House also incorporates much more glass bringing in natural light and transparency. Used mainly in the common and circulation areas, the glass helps break up the masonry portions and provides connections between the student community within the building and out to the campus and the public."


Bringing this vision to reality, INTECH Construction began work on the college housing complex in December 2013. "The building's skin was incredibly complex, so the window systems were one of the last things to go in," explains Zach Baron, senior project manager at INTECH. "National Glass & Metal had a six- to eight-person team working on site for almost a year. It was substantially completed in February 2016. Overall, it went very well working with them and with Wausau. Now that it's done, I'm happy, the owner's happy and it looks great."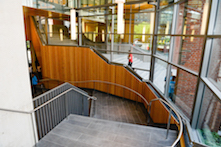 Under INTECH's guidance, National Glass & Metal served as the glazing contractor and collaborated with Wausau to meet the numerous design and performance requirements of New College House. The project team selected Wausau's SuperWall™ system, 4250i-OS INvent™ Series fixed and projected windows, and ClearStory™ sun shades.

National Glass & Metal installed more than 39,000 square feet of SuperWall in three frame depths – 4.75, 6.25 and 10.25 inches. Wausau supports local control of scope of work, project management and approval as facilitated by its knowledgeable team and engineering tools.

"Wausau was very helpful and had everything ready to go when we needed it. They made the job a lot easier for me," says Karl Volk, project manager at National Glass & Metal. "Every project has its challenges, but we had a good team. Overall, I enjoyed this project. It's a nice looking building and I thought it was very successful."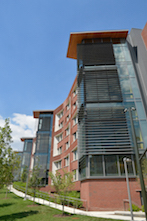 Within the SuperWall system, National Glass & Metal incorporated Wausau's 4250-Z zero sightline insert vents. These operable units allow for natural ventilation, which provides a seasonal opportunity for fresh air and reduced demand on air conditioning. The 3,950 lineal feet of custom-engineered ClearStory sun shades also optimize energy performance and thermal comfort by controlling solar heat gain, managing visible light transmittance and maximizing natural daylighting, all while preserving outside views.

To match the look of other student residences on campus, more than 400 offset INvent windows are installed at angles to the red brick and limestone façade of New College House. These windows include a combination of operable and fixed units with matching sightlines. Adding visual interest, the glass plane is recessed 1.25 inches from its exterior face. Enhancing the units' performance, the 4.5-inch aluminum frame is fabricated with a polyamide thermal barrier.

Linetec provides the thermal improvement services for Wausau's products, as well as the painted finishes. On the windows, a Dove Gray color was specified. On the curtainwall and sun shades, a custom Gettysburg Metallic color was used. All of these aluminum components were finished in a three-coat, 70 percent polyvinylidene fluoride (PVDF) resin based, liquid paint.

As a recognized, environmentally responsible finisher, Linetec captures the liquid paints' volatile organic compounds (VOCs) content using a 100 percent air capture system and safely destroys the VOCs with a regenerative thermal oxidizer. Linetec then re-uses its heat energy byproduct to improve process energy efficiency. This process of re-use is completed before the material exits the paint line.

Applied under Linetec's stringent factory-controlled processes, these finishes meet the American Architectural Manufacturers Association's (AAMA) 2605 industry standard, as well as minimize buildings' maintenance costs and maximize long lifecycles. Further contributing to the project's sustainability goals, the aluminum used to produce Wausau's curtainwall and window systems is a high recycled-content aluminum billet composition.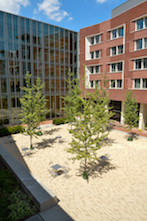 In addition to its high-performance curtainwall, sun shade and window systems, New College House's other sustainable design features include its green roofs, low-flow plumbing fixtures, high-efficiency lighting fixtures and energy recovery units. Within its interior are comfortable single student rooms collected in three- to six-person suites, with access to study areas, a media center, open communal spaces, seminar rooms, a dining café and an enclosed courtyard.

"The private courtyard in the middle of the building is an important feature. The courtyard is private to residents yet surrounded by glass on all four sides, offering visual connections to the activity in the exterior and interior spaces, including the dining hall. Here, the students come together as a group to eat and share their experiences," describes BCJ's McNutt. "Student life and community connection is represented throughout New College House's design: on the exterior, the scale of the building is balanced with the surrounding structures, while anchored as an inviting campus gateway. On the interior, common areas offer spaces for large group events while smaller, more intimates spaces allow for private study."

"The building delights on so many levels—its marvelous integration of public and private open space, its sophisticated approach to fostering communities at multiple levels, its integration with the urban fabric, its deft use of materials, its craftsmanship, and, in particular, its assured manipulation of scale, which breaks down what is actually an enormous building into multiple integrated parts at human scale," describes David Hollenberg, University Architect.

**

University of Pennsylvania, New College House, 3335 Woodland Walk, Philadelphia, PA 19104; https://new.house.upenn.edu
* Owner: University of Pennsylvania; Philadelphia; http://www.upenn.edu
* Architect: Bohlin Cywinski Jackson, Philadelphia; http://bcj.com
* Construction manager: INTECH Construction; Philadelphia; http://www.intechconstruction.com
* Glazing contractor: National Glass & Metal Co.; Horsham, Pennsylvania; http://www.ngmco.com
* Glazing systems - manufacturer: Wausau Window and Wall Systems; Wausau, Wisconsin; http://www.wausauwindow.com
* Glazing systems - glass fabricator: PPG Solarban® 70XL; http://www.ppgideascapes.com
* Glazing systems - finisher: Linetec, Wausau, Wisconsin; http://www.linetec.com
* Photos provided by: University of Pennsylvania



Nationally recognized for its innovative expertise, Wausau Window and Wall Systems is an industry leader in engineering window and curtainwall systems for commercial and institutional construction applications. For 60 years, Wausau has worked closely with architects, building owners and contractors to realize their vision for aesthetic beauty, sustainability and lasting value, while striving to maintain the highest level of customer service, communication and overall satisfaction. Wausau is a part of Apogee Enterprises, Inc., a publicly held, U.S. corporation.
 
Wausau and its staff are members of the American Architectural Manufacturers Association (AAMA), the American Institute of Architects (AIA), the APPA – Leadership in Educational Facilities, the Construction Specifications Institute (CSI), Glass Association of North America (GANA), the National Fenestration Ratings Council (NFRC) and the U.S. Green Building Council (USGBC).
###
---
Filed under: FGIA, Linetec, Projects, Wausau Window and Wall Systems
---
Story Resources
Word document
Request high res photographs for publication