Client News: Minnesota National Guard's new training facility meets security, sustainability goals with Wausau's and Tubelite's products
Posted on March 30th, 2016 by Heather West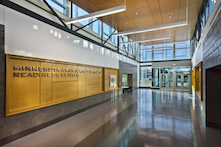 The Minnesota National Guard's new 64,000-square-foot, $17 million Arden Hills Army Training Site (AHATS) readiness center earned LEED® Silver certification from the U.S. Green Building Council. Contributing to its sustainability and security goals, the project features Wausau Window and Wall Systems' blast hazard-mitigating curtainwall and window systems, plus Tubelite Inc.'s thermal entrance systems.
 
AHATS previously was known as the Twin Cities Army Ammunition Plant (TCAAP). More than 16.5 billion rounds of small-arms ammunition were produced here for World War II, the Korean War and Vietnam conflict. The TCAAP was placed on the Federal National Priorities (Superfund) list in 1983. Since that time, extensive environmental investigation and remediation has occurred, including the excavation of approximately 94,000 cubic yards of soil and the removal of 200,000 pounds of volatile organic compounds (VOCs).

Today, the improved site and new facility act as the public interface for the AHATS complex. It houses two units of the 834th Aviation Support Battalion, which specializes in maintaining Blackhawk and Chinook helicopters. Architects at Burns & McDonnell found inspiration in the helicopter motor and blades for the aesthetic and functional design of AHATS.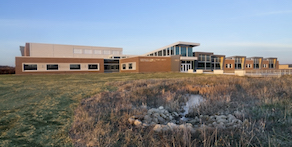 Opened in Sept. 2015, construction of AHATS new readiness center was completed on time and within budget. Set on nearly 2,370 acres in the northern third of Arden Hills, Minnesota, AHATS offers expansive views of rolling landscape and native plants. The facility is sited in consideration of anti-terrorism/force protection setbacks and consolidates spaces to optimize energy use. With an east-west orientation, the building takes full advantage of southern daylight exposure allowing unoccupied areas to power down during the workday.

"While blast hazard mitigation was the major requirement, we also contributed to the project's green building goals with the daylight, views and high thermal performance with Wausau's window and curtainwall systems, as well as Tubelite's entrance systems. To help meet LEED certification submission requirements, recycled aluminum content was quantified," said Eric Breidel, Wausau's architectural sales representative serving Minnesota.

Working closely with Wausau, Burns & McDonnell and LS Black Constructors, W.L. Hall Company installed 9,000 square feet of Wausau's 7250 Series SuperWall™ with 4250i-BHM INvent™ blast hazard-mitigating windows. To help ensure occupant safety, Wausau's BHM Series products are designed and/or tested for compliance with the General Services Administration and the Department of Defense requirements as applicable.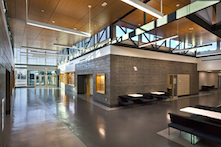 "As window and curtainwall encounter the extreme pressures released by an explosive mass, all elements of the assembly work together to withstand the blast load and dissipate its energy. Instead of the historical design practice of specifying thick windows with rigid frames, modern blast-mitigating assemblies are intended to be flexible, and absorb, rather than resist, blast energy," explained Breidel.

Viracon provided the laminated, insulated glass with Crystal Gray tint and low-e coating. Laminated glass is specified to mitigate such hazards as hurricanes or bomb blasts. High-performing glass, as part of Wausau's SuperWall system, also helps achieve NFRC U-Factors as low as 0.35 BTU/hr-sqft-ºF with Frame Condensation Resistance Factor (CRFf) of 69 and higher.

The high thermal performance of Tubelite's Therml=Block® entrance systems also contribute to AHATS' energy-efficient goals. The Therml=Block entrances are installed on the exterior and just inside, Tubelite's medium stile Monumental Doors comprise the interior entrances. Tubelite's doors' durable tie-rod construction and heavy-duty hardware may be further reinforced with steel for maximum strength and dependability.

High-performance architectural finishes also enhance AHATS' durability and reduce the need for maintenance. Linetec finished the recycled aluminum framing for both Wausau's and Tubelite's systems using Class I clear anodize. Linetec has pioneered industry-leading environmental innovations in anodize, which does not contain VOCs.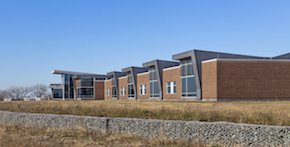 Supporting the project's LEED Silver criteria, AHATS' entrance, curtainwall and window systems' finished, extruded aluminum frames contain recycled content averaging 70 percent or greater. At the end of their lifecycle on AHATS, the aluminum framing can be recycled.

According to the Minnesota National Guard, the AHATS readiness center is a great example of its green initiatives in new construction projects. "The facility uses geothermal heating and cooling, extensive use of natural daylight harvest, as well as other environmentally conscious strategies to reduce its ecological footprint. The site has a projected annual energy cost of $0.52 per square foot, well below the Minnesota National Guard average of $1.08 per square foot."

The energy-efficient AHATS facility is expected to have a long future of serving Minnesota National Guard members, as well as the Minnesota Department of Military Affairs, law enforcement and civilian agencies, and environmental and wildlife conservation programs. "The new facility will be a great improvement for our unit, allowing our soldiers to be better trained and prepared to complete our assigned missions," said Capt. Timothy Gorecki, Alpha company, 834th Aviation Support Battalion's commander.

"AHATS is in a strategic location for metro units. A lot of states would be jealous to have a 1,500 acre training site in the middle of a metro. Being so close is a great time saver, cutting down travel costs immensely," added Col. Joseph Seaquist, Minnesota National Guard's surface maintenance manager. "We have the space and resources to not only stage the participants, but also perform the maintenance, recovery, fuelling, supply and storage operations. Pretty much anything you can think of, we can do here."

**

Arden Hills Army Training Site, 1245 County Hwy 96, Arden Hills, MN 55112; http://www.minnesotanationalguard.org/ardenhills
* Owner: Minnesota National Guard; http://www.minnesotanationalguard.org
* Architect: Burns & McDonnell; Bloomington, Minnesota; http://www.burnsmcd.com
* General contractor: LS Black Constructors; St. Paul, Minnesota; http://www.lsblack.com
* Glazing systems – installer: W.L. Hall Company; Minneapolis; http://www.wlhall.com
* Glazing systems – entrance systems manufacturer: Tubelite Inc.; Walker, Michigan; http://www.tubeliteinc.com
* Glazing systems – curtainwall systems manufacturer: Wausau Window and Wall Systems; Wausau, Wisconsin; http://www.wausauwindow.com
* Glazing systems – glass fabricator: Viracon, Inc.; Owatonna, Minnesota; http://www.viracon.com
* Glazing systems – finisher: Linetec, Wausau, Wisconsin; http://www.linetec.com
* Photographer: ©2016 Gilbertson Photography, LLC

 
Nationally recognized for its innovative expertise, Wausau Window and Wall Systems is an industry leader in engineering window and curtainwall systems for commercial and institutional construction applications. For 60 years, Wausau has worked closely with architects, building owners and contractors to realize their vision for aesthetic beauty, sustainability and lasting value, while striving to maintain the highest level of customer service, communication and overall satisfaction. Wausau is a part of Apogee Enterprises, Inc., a publicly held, U.S. corporation.
 
Wausau and its staff are members of the American Architectural Manufacturers Association (AAMA), the American Institute of Architects (AIA), the APPA – Leadership in Educational Facilities, the Construction Specifications Institute (CSI), Glass Association of North America (GANA), the National Fenestration Ratings Council (NFRC) and the U.S. Green Building Council (USGBC).
###
---
Filed under: FGIA, Linetec, Projects, Tubelite, Wausau Window and Wall Systems
---
Story Resources
Word document
Request high res photographs for publication