Kaiser Permanente – East Bay Berkeley's LEED Gold medical office building features Rockfon ceiling systems
Posted on January 4th, 2023 by Heather West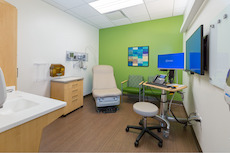 Kaiser Permanente's first medical office building in Berkeley, California, reflects its "Next Generation" in health care building design. The three-story, 60,670-square-foot Kaiser Permanente – East Bay Berkeley Medical Office Building uses technology and space to create an environment that offers patients, visitors and staff a calm, comforting, welcoming and supportive space. It also earned LEED® Gold certification standards of environmental and sustainable building through the U.S. Green Building Council and was recognized as a LEED Top Ten 2021 project.
San Francisco-based KMD Architects led the interior design and planning for the East Bay Berkeley Medical Office Building. KMD design professionals specified three types of Rockfon acoustic stone wool ceiling panels to help achieve the project's aesthetic, performance and sustainable design goals. All Rockfon's products on the project were supplied by Westside Building Material and installed by Spacetone Acoustics.
"The design of this building was guided by our mission and our commitment to provide excellent care to our members. To enhance the health care experience, we put our members at the center of everything we do," said Alvin Tang, MD, assistant physician-in-chief for Kaiser Permanente, East Bay. "Elements of the interior aesthetic were chosen because they evoke a feeling of comfort, creating an environment for exchange and dialogue. It is a great healing space."
Acoustics play a critical role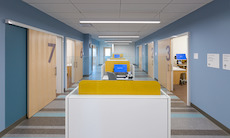 Acoustics are important in any environment and sound absorption plays a critical role in health care settings. Along with a calmer, quieter environment, acoustic comfort also is essential to privacy (HIPPA), and to clear communication between doctors and patients. This is especially important for patients who require assistance or interpretive services.
Acoustic standards for health care facilities also are detailed in LEED v4, the National Institute of Health (NIH) Design Requirements Manual, and The Facility Guidelines Institute (FGI), the health care industry's authoritative source for guidance on facility planning, design and construction. Rockfon ceiling panels comply with all acoustic ceiling requirements in building standards, including those from the FGI, NIH and LEED.
Sound absorption of ceiling panels is measured with Noise Reduction Coefficient (NRC). Rockfon® Medical™ Plus and Alaska® acoustic stone wool ceiling panels have a high NRC of 0.90 for excellent sound absorption with a smooth, modern aesthetic. The Center for Health Design categorizes the use of high-performing, sound-absorptive, acoustic ceilings with an 0.90 NRC or higher as a priority design recommendation base on the strength of evidence available and the impact on safety, quality and cost.
Providing optimal acoustic performance with best-level sound absorption, KMD selected Rockfon Medical Plus acoustic stone wool ceiling panels for the patient exam rooms, where clear communication and privacy are essential to quality care. In spaces were conversation and concentration were needed – such as the lobbies, provider offices, staff refresh spaces and collaborative "touchdown" zone for the clinical team – KMD specified Rockfon Alaska acoustic stone wool ceiling panels.
For the East Bay Berkeley Medical Office Building's hallways, waiting areas and other non-treatment multi-functional spaces, where a quieter environment is not critical, KMD chose products appropriate to the rooms' uses. Rockfon Artic® ceiling panels, which have a 0.75 NRC, were installed.
Well-lit spaces support well-being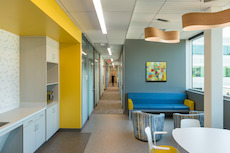 "A lot of thought has gone into the design of this next generation building, not only to enhance the member experience, but also the experience of our physicians and staff as well," said Edmund D. Chan, senior vice president and area manager for Kaiser Permanente, East Bay.
"Our member waiting area, called 'the porch,' leads directly into patient exam room areas. While this environment was designed to be calm and comfortable for our visitors, it also facilitates staff efficiency and collaboration," described Rita Ng, MD, physician in chief for Kaiser Permanente Medical Group, East Bay. "This evidence-based, integrated approach to health innovation supports better outcomes and focuses on four key areas: empowered member experience, personalized care, care setting redesign and community health."
"The facility's organized for easy entry and enhanced visitor flow. Clinic entries on each floor have lots of comfortable seating, natural light and ventilation – all to increase member comfort," continued Tang. "We have built-in rest and refresh spaces, so staff can take a break and regenerate. There are lots of large windows that provide wide, panoramic views of our beautiful Berkeley neighborhood."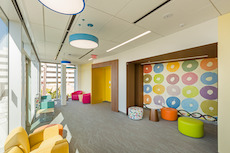 The white surface of Rockfon's Medical Plus, Artic and Alaska stone wool panels provide high light reflectance. The higher the ceiling's light reflectance, the more effective natural and electrical light sources are in illuminating the room. Along with the abundant daylight, LED lights were integrated within Rockfon's Chicago Metallic® 4000 Tempra™ ceiling suspension system. Up to 86 percent of light is reflected and diffused by Rockfon's ceiling panels in the East Bay Berkeley Medical Office Building. Diffused light reduces glare on screens and monitors, which in turn, reduces eye strain and stress-associated health issues, and contributes to clarity, accuracy and well-being.
"This beautiful medical office building has a warm, welcoming design," shared Judith Park, MD FACS, physician in chief for Kaiser Permanente Medical Group, East Bay. "It was constructed with the latest medical technology, including telemedicine capabilities. The Berkeley Medical Office Building will meet Kaiser Permanente's vision for the future, where outpatient health care is interwoven into people's daily lives."
A breath of fresh air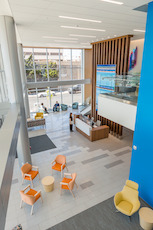 Whether inside the East Bay Berkeley Medical Office Building's daylit "porch" or outside on its terraces, Tang observed, "We have some beautiful areas where our members and other visitors can take a moment to collect themselves as they wait for appointments, or just get a breath of fresh air."
Supporting healthy interior air quality, Rockfon stone wool products also have earned UL® GREENGUARD® Gold Certification for low chemical emissions. Gold-level certification considers safety factors to account for sensitive individuals, such as children, the elderly and those with compromised health. The benefit of GREENGUARD Gold-certified products are recognized by LEED v4 as contributing to indoor environment quality.
Rockfon Medical Plus, Artic and Alaska ceiling panels are manufactured with stone wool, a material produced from natural, abundant basalt rock and recycled content. Without the use of added chemicals, stone wool inherently resists fire, water, moisture, humidity and does not support mold, mildew or other potentially harmful microorganisms.
Rockfon Medical Plus ceiling panels also are resistant to Methicillin Resistant Staphylococcus Aureus (MRSA), and meet Bacteriological Class B1 and Clean Room Classification ISO Class 4. These stone wool panels can withstand the more rigorous cleaning standards often necessary in a health care setting.
World-class health care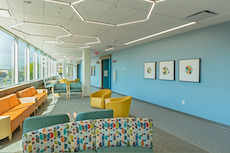 "The new medical office building will improve access for the 58,000 Kaiser Permanente members residing in Berkeley and the surrounding area," noted Chan. "This new facility will not only allow us to better care for our existing members, but will provide greater community access that is nestled in a well-established west Berkeley neighborhood. It will also allow us to grow and serve new members in the region."
Ng added, "We have a truly dedicated team of physicians who are passionate about giving our members the best preventative and medical care. We continually strive to be a five-star, world-class health care system."
Inside, the facility offers 72 exam rooms, 42 provider offices, adult family medicine, pediatrics, obstetrics and gynecology, mental health services, x-ray and mammography imaging, a laboratory and a pharmacy. It also includes a café and two outdoor terraces for members and staff as well as drought-resistant landscaping, electric vehicle charging stations, and parking for cars and bicycles.
Adorning the wall of the building's staff parking lot, Kaiser Permanente's equity, inclusion and diversity committee commissioned a local artist to create a 330-foot mural. The mural reflects the vibrant diversity of Berkeley and to honor the partnership with community.
"This site incorporates many of the asks we received over the years from members," said Chan. "We see the Berkeley medical offices as a leading model for community health care."
**
Kaiser Permanente – East Bay Berkeley Medical Office Building, 2621 Tenth Street at Parker, Berkeley, CA 94710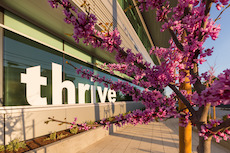 • Owner: Kaiser Permanente; Oakland, California
• Developer: Alexandria Real Estate Equities, Inc.; San Francisco
• Architect – exterior: Gould Evans (now known as Multistudio); Kansas City, Missouri
• Architect – planning: STUDIOS Architecture; San Francisco
• Architect – interior: KMD Architects; San Francisco
• General contractor: XL Construction Corporation; Milpitas, California
• Construction manager: Nova Partners, Inc.; San Francisco
• Contractor: Whiting-Turner; Millbrae, California
• Ceiling systems - installing contractor: Spacetone Acoustics, Inc.; Pleasanton, California
• Ceiling systems - distributor: Westside Building Material; Oakland, California
• Ceiling systems – manufacturer: Rockfon; Chicago; https://www.rockfon.com
• Photos: ©Michael O'Callahan

About Rockfon
Rockfon is part of the ROCKWOOL Group and is offering advanced acoustic ceilings and wall solutions to create beautiful, comfortable spaces.
At the ROCKWOOL Group, we are committed to enriching the lives of everyone who experiences our product solutions. Our expertise is perfectly suited to tackle many of today's biggest sustainability and development challenges, from energy consumption and noise pollution to fire resilience, water scarcity and flooding. Our range of products reflects the diversity of the world's needs, while supporting our stakeholders in reducing their own carbon footprint.
Stone wool is a versatile material and forms the basis of all our businesses. With approximately 11,500 passionate colleagues in 39 countries, we are the world leader in stone wool solutions, from building insulation to acoustic ceilings, external cladding systems to horticultural solutions, engineered fibers for industrial use to insulation for the process industry, and marine and offshore.
###
---
Filed under: Projects, Rockfon
---
Story Resources
Request high res photographs for publication