Association News: FGIA Annual Conference keynote speaker Jim Hunter champions power of servant leadership
Posted on February 12th, 2020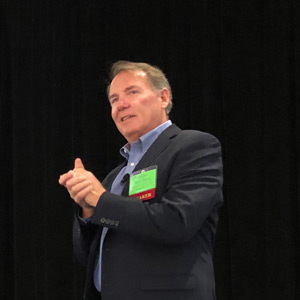 The keynote speaker at the 2020 Fenestration and Glazing Industry Alliance (FGIA) Annual Conference made a case for servant leadership over traditional management. Speaker Jim Hunter broke down the five parts of the servant leader model: leadership, authority, service and sacrifice, love, and will. He emphasized the importance of making good decisions and doing the right thing, even when it is difficult or uncomfortable. Hunter also hosted a round table on these themes.
"Good leadership has simple, kindergarten rules: Be nice; tell the truth; say I'm sorry," said Hunter. "Be an effective human being."
He said leaders don't necessarily have to be the boss.
"Leaders are the first ones in and the last ones out," he said.
Treating management responsibilities as a stoic honor, Hunter asked, "Are we going to be glad you were there?"
"Think about the awesome responsibility of leadership," said Hunter. "People have entrusted you with their care."
Hunter referenced a Gallup poll on U.S. employee engagement, conducted each year, which says only one-third of Americans are engaged. These numbers, he said, have been low for nearly three generations.
"You can't create excellence with compliance, and most employees are just complying," he said.
Even more troubling, Hunter said some American employees, 13%, are actively disengaged, and acting out on their unhappiness.
Servant leadership can help motivate employees, according to Hunter, who quoted the Marine Corps' definition of leadership – the qualities of moral character that enable a person to inspire and influence a group of people successfully.
"Good character is doing the right thing even when you don't feel like it," said Hunter. "Get your eye on the ball...and the ball isn't you. It's your people."
Hunter said it is important to make good choices to the point where it is done routinely.
"We make dozens of choices every day and those choices define our character," he said. "Character isn't personality. Your personality is pretty well set at a young age. Good character is making good choices to the point where it's out of habit."
He also warned managers to be careful with power because it can be hard on relationships, saying the more one uses their power, the less effective it is going to be.
"Power doesn't reside in you, it resides in your organization and was given to you," said Hunter. "Leadership, however, resides in you."
Instead, he said, treat employees with patience, kindness, humility, respect, selflessness, forgiveness, honesty and commitment. Make them want to do work for you, he said.
For more information about FGIA and its activities, visit https://fgiaonline.org/.
Your trusted industry resource, setting the standards for fenestration and glazing.
###
---
Filed under: FGIA
---
Story Resources
Photo: Jim Hunter, FGIA keynote speaker
Word document
Request high res photographs for publication