Client News: Tubelite introduces INT45 Interior Flush Glaze Framing
Posted on January 13th, 2016 by Heather West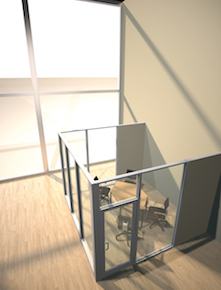 Tubelite Inc. announces a new extension of its 4500 Series Storefront framing called INT45 Interior Flush Glaze Framing for commercial interiors. Specialized adapters allow Tubelite INT45's frames to be installed before or after the drywall, completely covering the end of the stud wall and helping meet fast-track construction schedules.

"Our interior framing project was born from listening to our clients. As part of our New Product Introduction process, we seek the Voice of the Customer where clients in various regions share their feedback on market opportunity and design concepts. Their input helped with the new product's development and ultimately resulted in Tubelite's first interior framing product line -- INT 45," said Piet Visser, Tubelite's product development engineer III.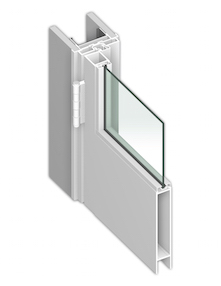 Tubelite INT45 easily incorporates standard aluminum storefront with metal stud and drywall systems. Perimeter trim members are pre-applied on one side of the 4.5-inch frame opening for simple, fast installation.

Gaskets accommodate 0.25-inch to -0.5-inch glass thicknesses and are available in black or gray. Recycled aluminum content may be specified for the storefront framing members. Aluminum extrusions are stocked in Dark Bronze and Clear anodize, and can be requested in five other anodize colors, 20 standard paint choices or a custom paint color. Matching finishes are offered for standard swing doors and frames to complete the system.


About Tubelite Inc.

Established in 1945, Tubelite celebrates 70 years of dependable service, fabrication and distribution of architectural aluminum products. Part of Apogee Enterprises, Inc., the company is an industry leader in eco-efficient storefront, curtainwall and entrance systems, and recognized for its fast, reliable and consistent delivery. Tubelite's corporate office, fabrication, warehouse and shipping operations are located in Walker, Michigan. Its Dallas location provides additional fabrication, warehouse and shipping operations and its facility in Reed City, Michigan, houses the company's aluminum extrusion operation.

Tubelite and its staff are members of the American Architectural Manufacturers Association (AAMA), the American Institute of Architects (AIA), the Construction Specifications Institute (CSI), the Glass Association of North America (GANA), and the U.S. Green Building Council (USGBC).

###

---
Filed under: Products, Tubelite
---
Story Resources
Image 1
Image 2
Word document
Request high res photographs for publication