Association News: AAMA Manufactured Housing Certification Program receives ANSI accreditation
Posted on July 6th, 2016 by Heather West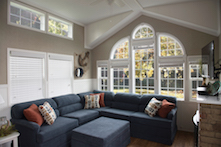 The American Architectural Manufacturers Association (AAMA) announces that its Manufactured Housing Fenestration Certification Program has been accredited by the American National Standards Institute (ANSI) in accordance with ISO/IEC 17065-2005. The scope of this new accreditation includes both windows and doors. Accreditation to ISO/IEC 17065 confirms that the AAMA certification program licensees produce the highest quality products in the industry, says Rob Luter (Lippert Components), chair of the AAMA Manufactured Housing Council.
"Now, those in the field can be sure that their manufactured housing products are certified among the best performing products available," Luter adds.
"Adding the Manufactured Housing Fenestration Program to our scope of accreditation in 2016 was an important goal of AAMA's Manufactured Housing Council," says AAMA's certification manager, Jason Seals. "The Council wanted the program to conform with rigorous requirements of ISO/IEC 17065. The updates to the program ensure that products built by AAMA licensees are of exceptional quality and are a tremendous value to the consumer."
AAMA was the first certification body accredited by ANSI. The association's Air-Water-Structural Certification Program (also known as AAMA Gold Label Certification) has maintained this accreditation since 1972.
"This is an exciting development in the AAMA Certification arena and provides our customers with the only ANSI accredited program of its type in the fenestration industry," adds Seals.
###
---
---
Story Resources
Word document
Request high res photographs for publication