Client News: Blue Water Convention Center capitalizes on waterfront views through Tubelite curtainwall
Posted on March 31st, 2017 by Heather West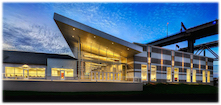 Located about one hour's drive from Detroit, the Blue Water Convention Center (BWCC) is the largest project in Michigan's St. Clair County for more than a decade and the final piece of the private-public redevelopment offering waterfront views in the City of Port Huron. Tubelite 400 Series curtainwall frames the enviable riverside views showcased inside BWCC, as designed by Progressive AE.
The 40,000-square-foot, $9 million event facility's Great Lakes Reception Hall presents a grand welcome with 22-foot-high, floor-to-ceiling windows that lead to the patio. A ballroom, several breakout rooms and 20,000-square-foot exhibit hall round out the floor plan and views.
Preferred Glass Inc. installed Tubelite's curtainwall systems throughout BWCC, under the guidance of Orion Construction. "Every header was at an angle, creating a custom opening," noted Howard Beindit, president of Preferred Glass.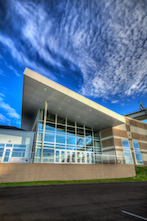 Making installation as easy as possible, this curtainwall uses an exterior screw-applied pressure bar to secure the glass in place. The curtainwall can withstand winds of up to 90 miles per hour, meeting the specified performance design criteria for the climate and location. According to Seth Horton, PE, project manager with architecture and engineering firm Progressive AE, managing solar heat gain was a key consideration when determining use of the curtainwall. Tubelite's curtainwall features a low-e glass with a solar heat-gain coefficient of 0.38 to allow for more natural light, while keeping the convention goers comfortable in all seasons.
Ensuring the curtainwall could withstand both the exterior exposure to the elements and the interior demands of high traffic, Linetec finished all of Tubelite's 7-inch-deep aluminum framing members for the curtainwall in Clear Class I anodize. Unlike other finishes, anodizing highlights aluminum's metallic appearance. This high-performance finish meets or exceeds the American Architectural Manufacturers Association's stringent standard, AAMA 611. Because it is an integral part of the substrate, the anodic coating results in a hard, durable substance providing excellent wear and abrasion resistance with minimal maintenance all contributing to the project's long life cycle.
Part of a successfully completed, four-year economic development plan, the new BWCC celebrated its grand opening in April 2015. It connects to the DoubleTree by Hilton hotel and Freighters Eatery & Taproom. More than 900 hotel rooms in the area support event functions at the BWCC and at the nearby Baker College's Culinary Institute. The convention center complex is anticipated to generate nearly $20 million in private investment and approximately 200 jobs, in addition to thousands of new visitors annually to the community.
**
Blue Water Convention Center, 500 Thomas Edison Parkway, Port Huron, MI 48060; http://www.bluewaterconventioncenter.com
* Owner – County of St. Clair; Port Huron, Michigan; https://www.stclaircounty.org
* Architect – Progressive AE; Grand Rapids, Michigan; http://www.progressiveae.com
* General contractor – Orion Construction, Inc.; Grand Rapids, Michigan; http://orionbuilt.com
* Glazing contractor – Preferred Glass Inc.; Marine City, Michigan
* Glazing systems – manufacturer: Tubelite Inc.; Walker, Michigan; http://www.tubeliteinc.com
* Glazing systems – glass manufacturer: Guardian Glass; Auburn Hills, Michigan; https://guardianglass.com
* Glazing systems – finishing provider: Linetec; Wausau, Wisconsin; http://www.linetec.com
* Photo courtesy of: Blue Water Convention Center, County of St. Clair, Michigan
* Video tour: https://www.youtube.com/watch?v=Ikub1t7Hw_c
About Tubelite Inc.
Established in 1945, Tubelite celebrates 70 years of dependable service, fabrication and distribution of architectural aluminum products. Part of Apogee Enterprises, Inc., the company is an industry leader in eco-efficient storefront, curtainwall and entrance systems, and recognized for its fast, reliable and consistent delivery. Tubelite's corporate office, fabrication, warehouse and shipping operations are located in Walker, Michigan. Its Dallas location provides additional fabrication, warehouse and shipping operations, and its facility in Reed City, Michigan, houses the company's aluminum extrusion operation.
Tubelite and its staff are members of the American Architectural Manufacturers Association (AAMA), the American Institute of Architects (AIA), the Construction Specifications Institute (CSI), the Glass Association of North America (GANA), the National Fenestration Rating Council (NFRC), the Society of Military Engineers (SAME) and the U.S. Green Building Council (USGBC).
###
---
Filed under: FGIA, Linetec, Projects, Tubelite
---
Story Resources
Word document
Request high res photographs for publication