Client News: Kolbe's automation options ease window and door operation through advanced technology
Posted on January 10th, 2018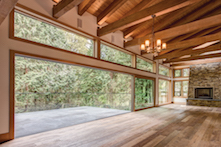 Kolbe Windows & Doors is showing sliding patio doors, multi-slide doors, inswing doors and awnings with automated activation at the National Association of Home Builders International Builders' Show (NAHB IBS) in booth #W3870.
"Kolbe continues to innovate by offering the latest advancements and product enhancements, integrating technology with modern window and door design and functionality," says Cindy Bremer, vice president of marketing at Kolbe Windows & Doors.
To enhance window and door operation, Kolbe incorporates technology into select products, making them operable with the touch of a button or flip of a switch. This functionality puts the control in the hands of the users through remotes, keypads, touch screens and other integration devices.
Some products featuring automation are on display in booth #W3870, where visitors at the show can enjoy a hands-on experience.
• A VistaLuxe® Collection flush style, custom mull unit has an awning mulled above and below a direct set with performance divided lites. The upper awning features a Marvel™ electronic operator that can be integrated with operating systems by a push button or toggle switch, for easy ventilation of hard-to-reach windows. The Haber Brown interior and exterior coordinates with Matte Black folding hardware and multi-point lock.
• A VistaLuxe Complementary four-wide, sliding patio door features 5-by-8-foot bi-parting panels that are controlled through a Summit Automation electronic operator and integrates with wall switches, keypads, mobile devices or home automation systems. An optional safety feature that stops operation when motion is detected, as well as opens the doors as they are approached, also can be seen in this display. The Haber Brown interior and exterior coordinates with Matte Black Madison handle sets and a dual point lock.
• A VistaLuxe Complementary multi-slide door spanning over 15 by 9 feet has an Onyx exterior, a Coal Black interior and Matte Black Madison handle sets. Also featuring the Summit Automation electronic operator, the large, heavy door panels and multiple units are easier to open and close. Utilizing Bluetooth® technology, the user-friendly touch screen system offers adjustable opening and closing speeds – plus several safety features – as well as immediate feedback to the user for troubleshooting and service recommendations.
• A 6-by-9-foot Heritage Series inswing door with sidelites and custom wrap transom incorporates electronic multi-point hardware that is activated with a fingerprint swipe for easy, secure operation. Crafted of solid Alder with custom Brown Cherry stain inside and out, beveled LoE²-270 glass and true divided lites in the sidelites enhance aesthetic and provide impact performance. A Rustic Umber München handle set completes the entrance.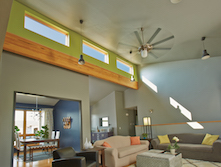 "Our automation solutions integrate with multiple devices and operating systems to enhance ease-of-use, security and convenience," states Bremer. "Blending design and functionality with modern technology is a natural response to the growing needs of our market."
For more information on Kolbe's automation options, please visit www.kolbewindows.com.
What began in 1946 as a two-brother team has grown into an internationally respected manufacturing company. Kolbe Windows & Doors is one of the nation's leading manufacturers of windows and doors for residential and commercial markets. After more than 70 years, Kolbe products are best known for superior quality, custom craftsmanship, attention to detail, as well as innovative and unique designs.
###
---
Filed under: Events, Kolbe Windows & Doors, Products
---
Story Resources
Word document
Request high res photographs for publication