Client News: Linetec finishes Penn Family Medicine Center's pyramid skylight manufactured by Super Sky
Posted on May 12th, 2016 by Heather West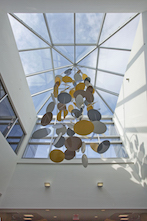 Designed by Array Architects, Penn Family Medicine Southern Chester County's new 72,000-square-foot outpatient facility in West Grove, Pennsylvania, opened in 2015. The $28 million building highlights "ample natural light" among its amenities, which is made possible in part by its pyramid skylight. Super Sky Products Enterprises, LLC, manufactured the 23-by-23-foot skylight with aluminum framing finished by Linetec in a Silver Sunstorm color mica coating to ensure long-lasting performance.

"Mica paint coatings can add a unique vibrancy and visual appeal to any project. Linetec's Silver Sunstorm also has a similar appearance to Clear anodize, which matches the other finishes throughout the medical facility," explained Linetec's senior marketing specialist, Tammy Schroeder, LEED® Green Associate.

She continued, "As a two-coat, 70 percent PVDF coating, the finish's performance is optimized for its location with consideration to its exterior exposure to the elements and its interior position above the patients, visitors and staff." Meeting the industry's stringent requirements set by the American Architectural Manufacturers Association, AAMA 2605, 70 percent PVDF resin-based coatings exhibit outstanding resistance to humidity, color change, chalk, gloss loss and chemicals.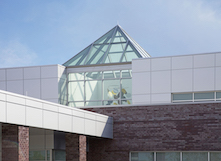 As an environmentally responsible finisher, Linetec captures the liquid paints' volatile organic compounds (VOCs) content to eliminate the exhaust of potential pollutants. The primary environmental concern with liquid paints is the solvents, which may have VOC content and must be destroyed safely. Linetec uses a 100 percent air capture system and destroys the VOCs with a regenerative thermal oxidizer, so there is no adverse environmental impact. Linetec then re-uses its heat energy byproduct to improve process energy efficiency. This process of re-use is completed before the material exits the paint line.

Further supporting Penn Medicine's environmental benefits on its Southern Chester County medical center, Super Sky's skylight systems offer a welcoming entrance with outside views. The glass area spans 1,016 square feet with a 14-foot 4-inch vertical. Oldcastle's insulated, low-e glass helps keep patients, visitors and staff comfortable as they transition to the daylit interior. Super Sky's team worked closely with Alderfer Glass Company to ensure proper installation and performance. The Norwood Company served as the project's construction manager.

Completed in J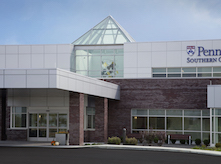 une 2015, the new medical office building provides a patient-focused one-stop shop for health care on a 45-acre site. Its services include primary care to physical therapy to radiology and laboratory services. After many year of collaboration between Penn Medicine and Chester County Hospital, the facility also provides a physical space to exemplify their combined efforts to serve the community.

To bring their shared vision to reality, Penn Medicine and Chester County Hospital also partnered with health care development company Anchor Health Properties. Paula Crowley, chief executive officer and a founder of Anchor Health, praised the teamwork saying, "These kinds of projects don't just happen. They are really the result of a lot of creative, thoughtful people working collaboratively to make a project like this come about. And that means that you have to have really good partners, which we did on this project."

**

Penn Family Medicine Southern Chester County; 455 Woodview Rd., West Grove, PA 19390; http://www.chestercountyhospital.org/cchpage.asp?p=1864
* Owner: Penn Medicine, Chester County Hospital; West Grove, Pennsylvania; http://www.chestercountyhospital.org
* Developers: Anchor Health Properties; Wilmington, Delaware; http://www.anchorhealthproperties.com
* Architect: Array Architects; Conshohocken, Pennsylvania; http://www.array-architects.com
* Construction manager: The Norwood Company; Malvern, Pennsylvania; http://www.norwoodco.com
* Glazing contractor: Alderfer Glass Company; Telford, Pennsylvania
*Skylight – manufacturer: Super Sky Products Enterprises, LLC; Mequon, Wisconsin; http://www.supersky.com
* Skylight – glass manufacturer: Oldcastle BuildingEnvelope®; Perrysburg, Ohio; http://www.obe.com
* Skylight – finisher: Linetec; Wausau, Wisconsin; http://www.linetec.com
* Photo by: William Lemke, courtesy of Super Sky
* Video: https://www.youtube.com/watch?feature=player_embedded&v=0pqG50V7BeM
---
Filed under: FGIA, Linetec, Projects
---
Story Resources
Word document
Request high res photographs for publication