Komatsu Mining Corp. South Harbor office headquarters features Rockfon acoustic stone wool ceiling systems
Posted on September 26th, 2023 by Heather West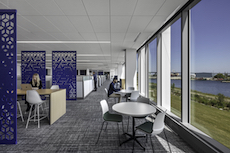 Komatsu Mining Corp., one of the world's largest manufacturer of construction and mining equipment, recently opened its new South Harbor headquarters in Milwaukee, Wisconsin. Reflecting Komatsu's focus on sustainability and its company-wide goal for carbon-neutrality, the South Harbor office building is the only LEED®v4 Building Design and Construction (BD+C) New Construction (NC) Gold project in the City of Milwaukee and is the highest-rated LEED v4 BD+C in the State of Wisconsin. Komatsu's new facility also is the largest urban manufacturing project of its kind in the country. Helping meet the project's sustainability, performance and aesthetic requirements, Eppstein Uhen Architects (EUA) specified five types of Rockfon acoustic stone wool ceiling panels.
The company's history in Milwaukee dates back to the origin of the P&H brand in 1884. The new facility is the largest urban manufacturing project of its kind in the country. It was designed and built to enhance Komatsu's goal of "creating value together" by leveraging technology and open spaces, providing a globally connected meeting place for both company and community, and emphasizing sustainability.
"Our South Harbor campus and its many sustainability features are part of our global commitment to achieving carbon neutrality by 2050 and sustainable growth as a company," said Hiroyuki Ogawa, Komatsu's president and CEO. "This is an important goal for Komatsu along with society, as we all work to do our part to address global warming. Through this campus, we hope to contribute to the Milwaukee community by implementing our growth strategy."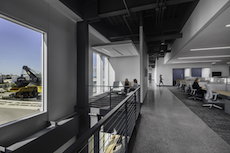 Located south of the city's downtown area, the 58-acre campus repurposes a formerly abandoned brownfield into a vibrant, sustainable workplace, and combines Komatsu's long separated Wisconsin-based manufacturing facility and offices into a single, unified center. The new three-story headquarters now offers capacity for more than 1,000 people with 170,000 square feet of office space, a 20,000-square-foot museum and training center, and 410,000 square feet of manufacturing space.
Along with EAU, other project team members on Komatsu's headquarters included engineering firm GRAEF, LEED consultant Sustainable Building Solutions, Hunzinger Construction Company, and ceiling installing contractor Performance Contracting Inc. (PCI).
PCI installed Rockfon's products in distinctive modular patterns using direct mount, standard and custom-sized lay-in tiles as well as concrete-colored panels with finished-to-match perimeter trim. Each ceiling product selection was acoustically optimized to meet the room's functionality and sound absorption needs.
"The new campus provides us opportunity for advancement in state-of-the-art facilities that expand our capabilities on a global scale," said Jeff Dawes, president and CEO of Milwaukee-based Komatsu Mining Corp. "Our new facilities [are] designed to enhance safety, efficiency and environmental sustainability – all top priorities of Komatsu worldwide, allowing us to better serve our customers and deliver innovative solutions."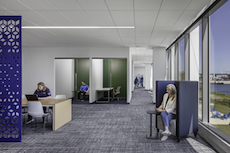 The acoustics inside office buildings impact employee performance, attendance and retention. Office ceiling tiles that absorb sound at high performance levels meet today's strict acoustics standards for comfort and well-being. Providing acoustic comfort within Komatsu's open office plan and collaborative spaces, Rockfon Sonar® and Tropic® ceiling products achieve a high Noise Reduction Coefficient (NRC).
Delivering a 0.95 NRC, Rockfon® Color-all™ Concrete ceiling panels were installed on the first floor showcasing harbor views, and offering best-level sound absorption and a differentiating appearance. Several conference rooms' feature Rockfon's white ceiling tiles installed in a brickwork pattern for visual contrast to the symmetrical grid pattern used throughout the office areas.
The Rockfon stone wool ceiling products installed on Komatsu's office building help in creating sustainable buildings. Made from a naturally fire-safe and durable material with no added flame retardants or biocides, stone wool resists moisture, humidity, aging, mold, bacteria and mildew. Further enhancing occupant well-being, Rockfon's entire portfolio of stone wool ceiling products has been UL® Environment's GreenGuard® Gold Certified for low-emitting products.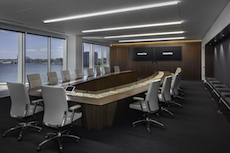 "We could not have completed this complex build and earned LEED Gold certification without the support of the full project team," said John Koetz, executive vice president of Surface Mining at Komatsu.
With sustainability and energy conservation as a key driver for Komatsu's project, EUA partnered with GRAEF to design a facility expected to use 75 percent less electricity and 80 percent less water than the company's former headquarters. Helping accomplish this, Rockfon's white ceiling panels have a high reflectance to maximize natural and energy-efficient electric lighting. Up to 86 percent of light is reflected off the ceiling panel's surface and produces diffused illumination that provides less glare for more comfortable, productive work.
Komatsu's South Harbor office building utilizes other sustainable strategies including rainwater collection, a green roof system and ice storage for off-peak colling. The entire campus utilizes extensive photovoltaic, wind turbines, closed-loop heat-treat system and other innovative sustainable solutions.
Opened in June 2022, pre-construction work on the former superfund site began in 2019. Hunzinger began construction on site in the autumn of 2020 and worked closely with PCI to coordinate installation of Rockfon's numerous interior ceiling systems.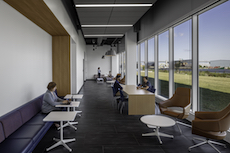 Today, Komatsu's campus also serves as a public destination with an outdoor plaza displaying equipment such as a giant electric mining shovel, the company's flagship product, as well as a large Komatsu dump truck. The plaza includes educational kiosks, interactive displays, canoe launches, a public park and a riverwalk.
Komatsu South Harbor office headquarters' successful design and construction has been honored with:
• the 2023 Mayor's Design Award
• the Wisconsin Commercial Real Estate Women Network (WCREW) 2023 Project of the Year
• the American Society of Interior Design's Wisconsin Chapter (ASID-WI) 2022 Design Excellence Gold Award for Office/Corporate 50,000 square feet and over
• The Milwaukee Business Journal 2022 Best New Development Office award
• The Daily Reporter, a construction industry publication, 2021 Top Projects award and the Best in Show award
**
Komatsu Mining Corp. South Harbor Office Headquarters; 410 East Greenfield, Milwaukee, Wisconsin; https://www.komatsu.com/
**
About Rockfon
Rockfon is part of ROCKWOOL Group and is offering advanced acoustic ceilings and wall solutions to create beautiful, comfortable spaces.
At ROCKWOOL Group, we are committed to enriching the lives of everyone who experiences our product solutions. Our expertise is perfectly suited to tackle many of today's biggest sustainability and development challenges, from energy consumption and noise pollution to fire resilience, water scarcity and flooding. Our range of products reflects the diversity of the world's needs, while supporting our stakeholders in reducing their own carbon footprint.
Stone wool is a versatile material and forms the basis of all our businesses. With approximately 12,200 passionate colleagues in 40 countries, we are one of the world leaders in stone wool solutions, from building insulation to acoustic ceilings, external cladding systems to horticultural solutions, engineered fibers for industrial use to insulation for the process industry, and marine and offshore.
For more information, please visit https://www.rockfon.com.
###
---
Filed under: Projects, Rockfon
---
Story Resources
Word document
Request high res photographs for publication