Kolbe offers homeowners an enhanced living experience with technology and personalization | booth #C2515 NAHB IBS
Posted on January 31st, 2023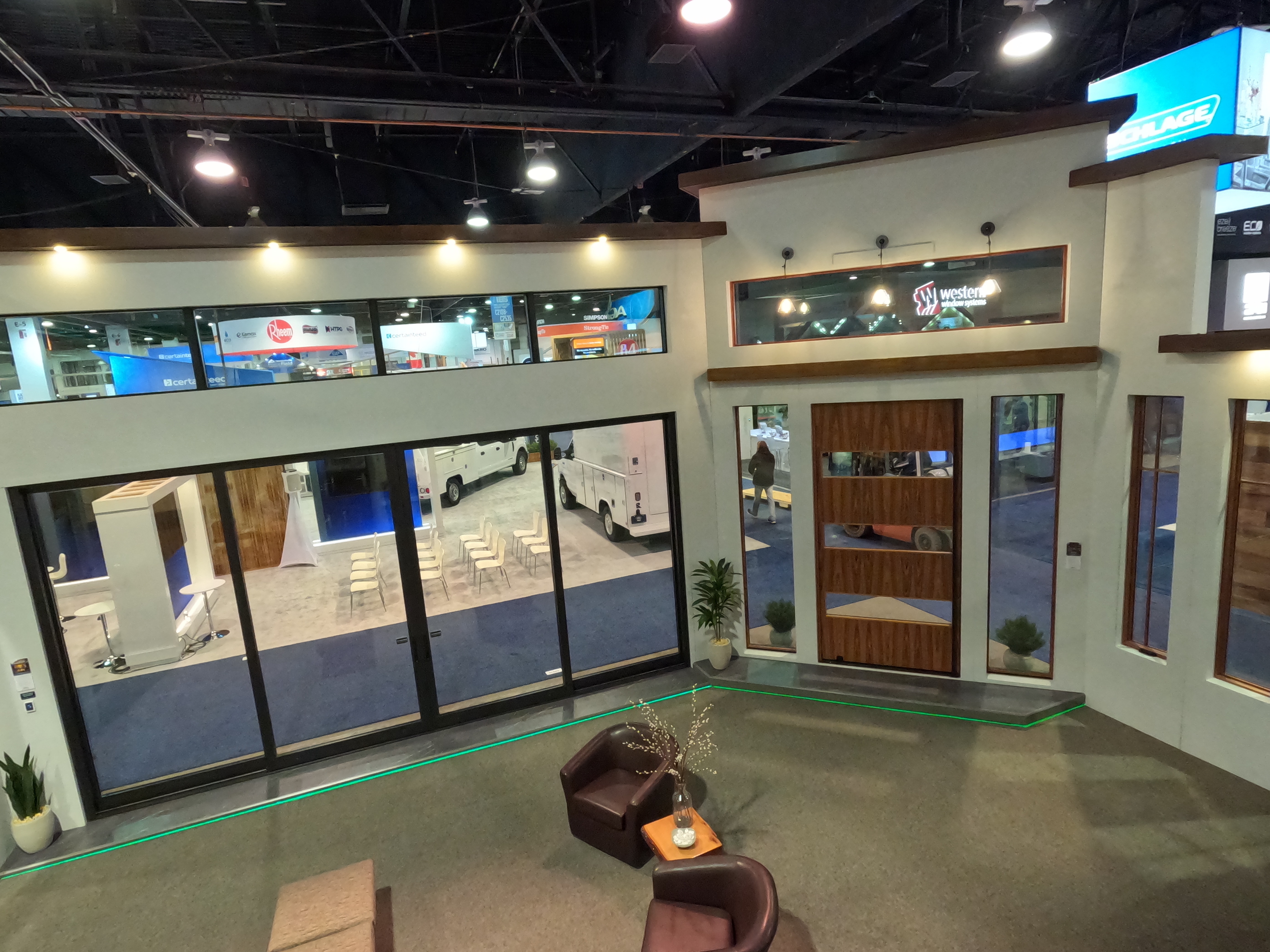 Wausau, Wisconsin (Jan. 2023) – Kolbe Windows & Doors launches new solutions for today's homeowners who crave smart home technology and personalized living. At this year's National Association of Home Builders International Builders' Show (NAHB IBS), Kolbe is showcasing innovative products, automation options, expansive openings and new product partnerships in booth #C2515.

"Our vast capabilities and continuous innovation allow us to form new partnerships and integrate technology into select windows and doors, for biophilic design, daylighting and smart home automation desired by today's market," says Kolbe's president, Jeff De Lonay.

Designed to mimic the floorplan of a modern residence, complete with Wisconsin-based Kohler® kitchen and bath fixtures, Kolbe's booth features unique applications of custom windows and doors that demonstrate the full capabilities of its multiple product lines. Visitors to the booth can easily engage with the environment to operate windows and doors with automation, and test new products in development.


Some of the products featuring automation also offer expansive openings for indoor-outdoor living:

• Kolbe is displaying a VistaLuxe WD LINE complementary sliding door featuring Summit Automation with touch-screen operation. Spanning almost 20 feet wide by over 10 feet tall, the unit has direct sets above that demonstrate how daylight can be layered into a home. The Black Anodized exterior blends with the siding, while the Ebony-stained Alder interior is completed with a Matte Black narrow flush pull handle and dual-point lock.

• An 18-foot-wide by 9-foot-tall VistaLuxe AL LINE pocketing multi-slide door with integrated handles is fully automated and finished on the interior and exterior with an Ultra Pure White powder coat. The bank of awnings above is also automated with Assa Abloy® electronic operators, but crafted from Kolbe's VistaLuxe WD LINE, with a Bright White painted wood interior to match.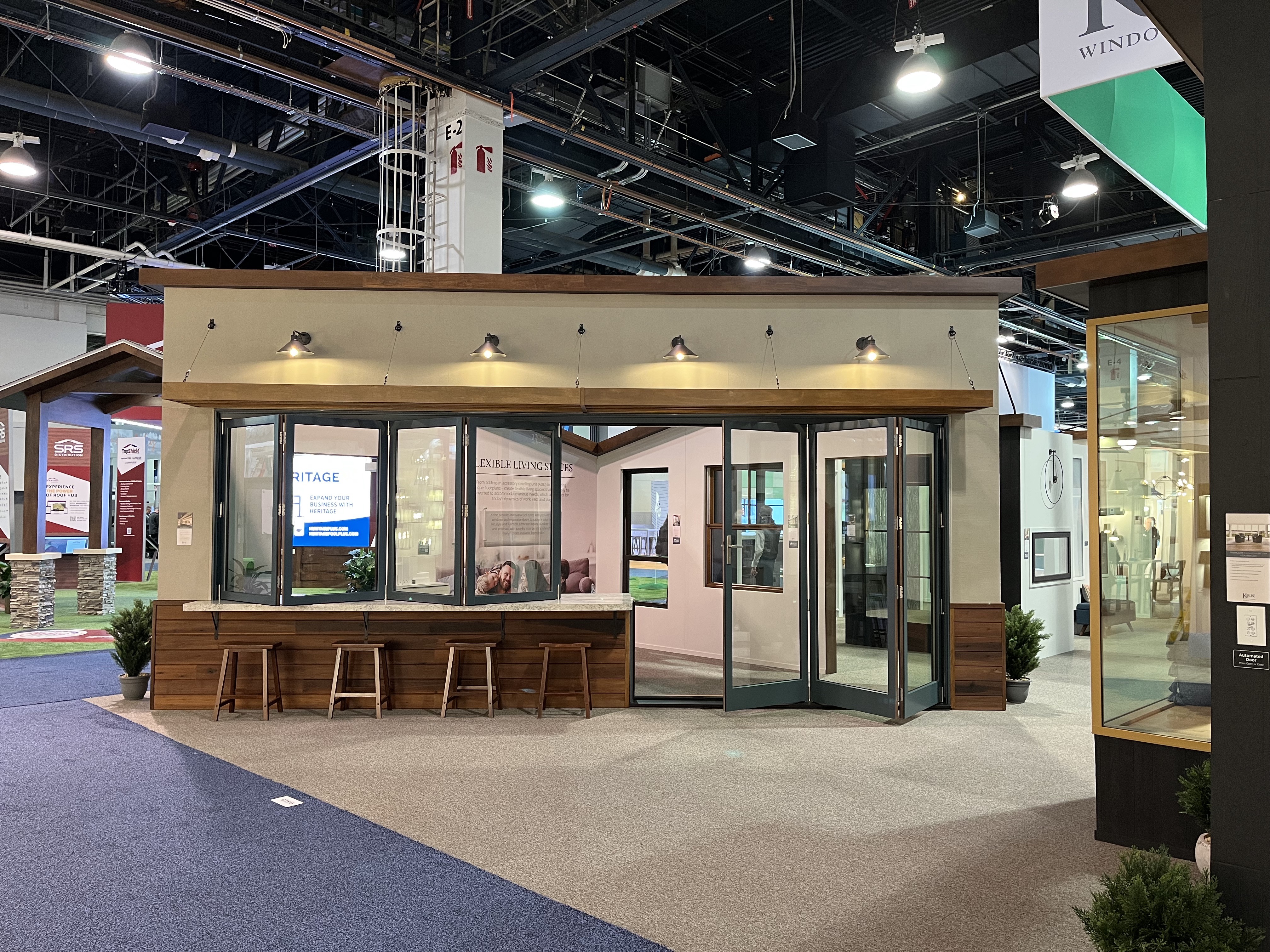 • A 21-foot-wide Ultra Series folding window and folding door combination allows pass-through capabilities and demonstrates a custom solution for indoor-outdoor living in a space that mimics an accessory dwelling unit (ADU). The window features a recessed weep sill that is flush with the counter, while the doors incorporate a standard weep sill option.


Kolbe is also introducing a new hardware option at the show, which is anticipated to rollout in the months ahead. A VistaLuxe WD LINE French door with a half-circle transom is designed to mimic the look of steel, but also spotlights a new handle and locking system from Hoppe® with advanced capabilities.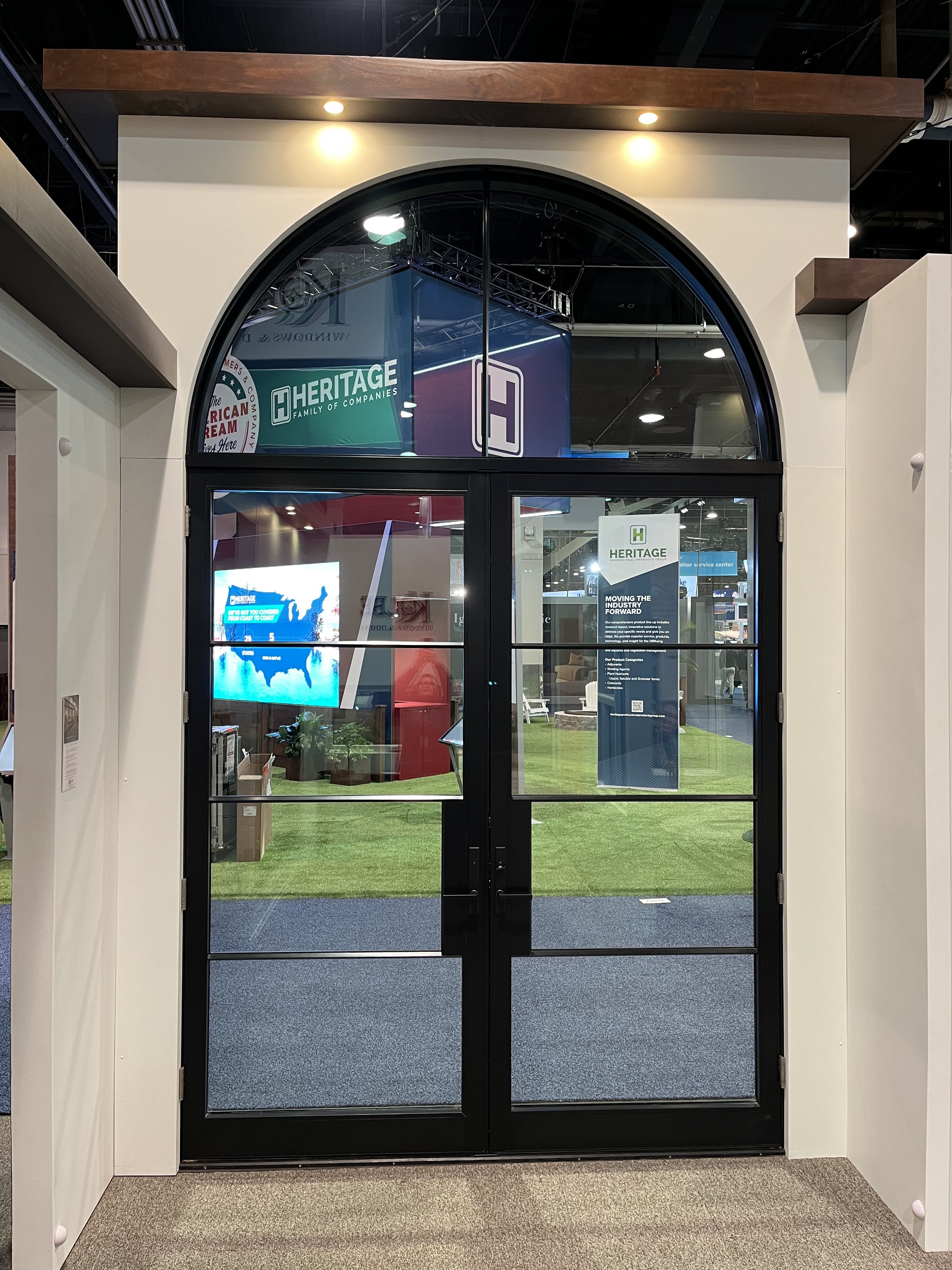 • The latest multi-point locking hardware by Hoppe offers an American-style configuration with the deadbolt located above the handle set on a 35- or 45-mm backset. Hoppe's LokRite™ functionality allows users to quickly lock the door with the deadbolt, which now actuates independently of the multi-point extensions, and no longer needs to be performed in sequential order as traditionally done in the past. In the case of French doors, this lock prevents users from opening the secondary door before the primary door is opened. This new hardware will be offered in a variety of styles and finishes for VistaLuxe WD LINE, Ultra Series and Heritage Series swinging and folding windows and doors.


Kolbe also highlights new partnerships with various manufacturers to provide innovative product options that add comfort and convenience to modern households.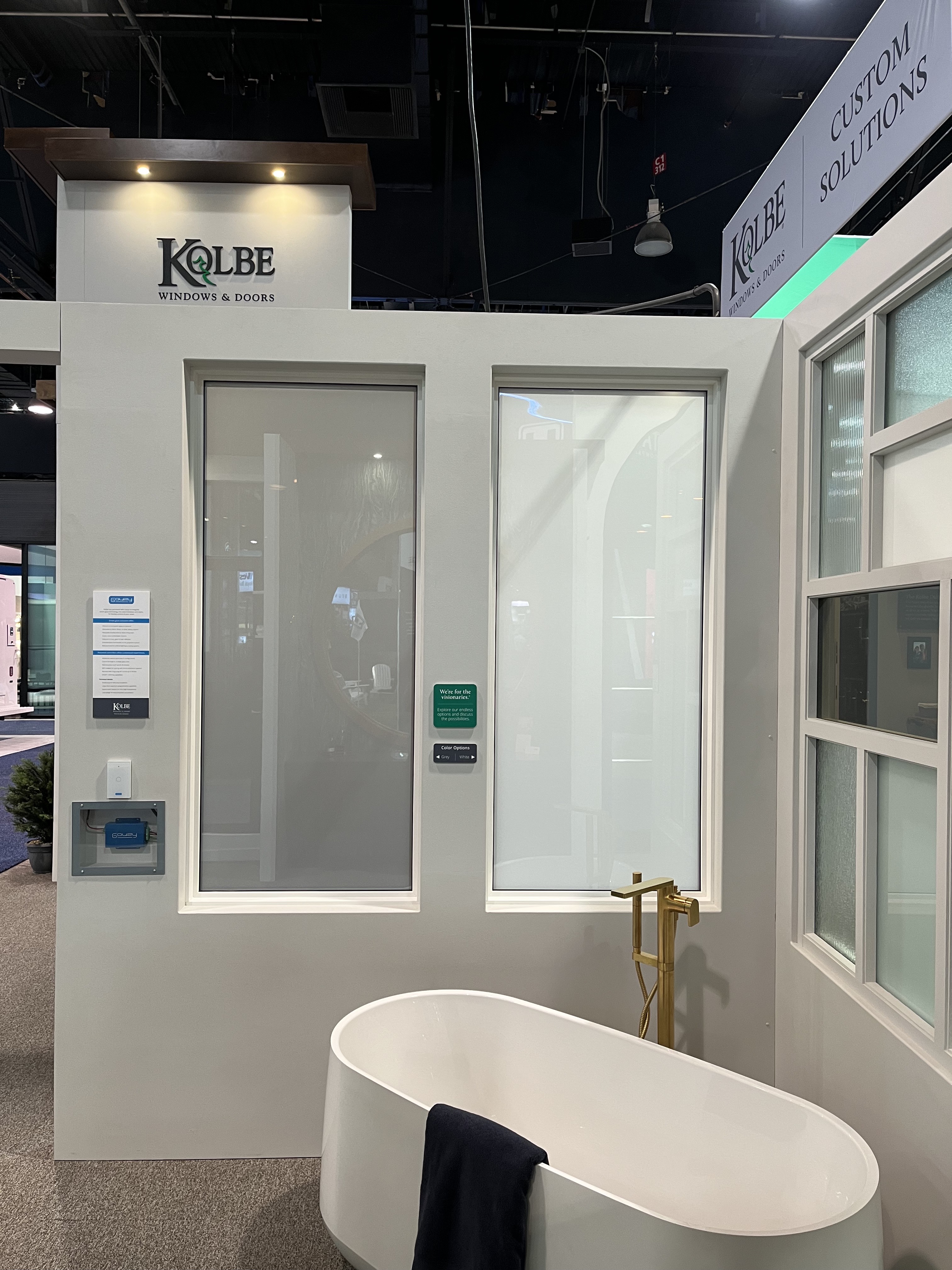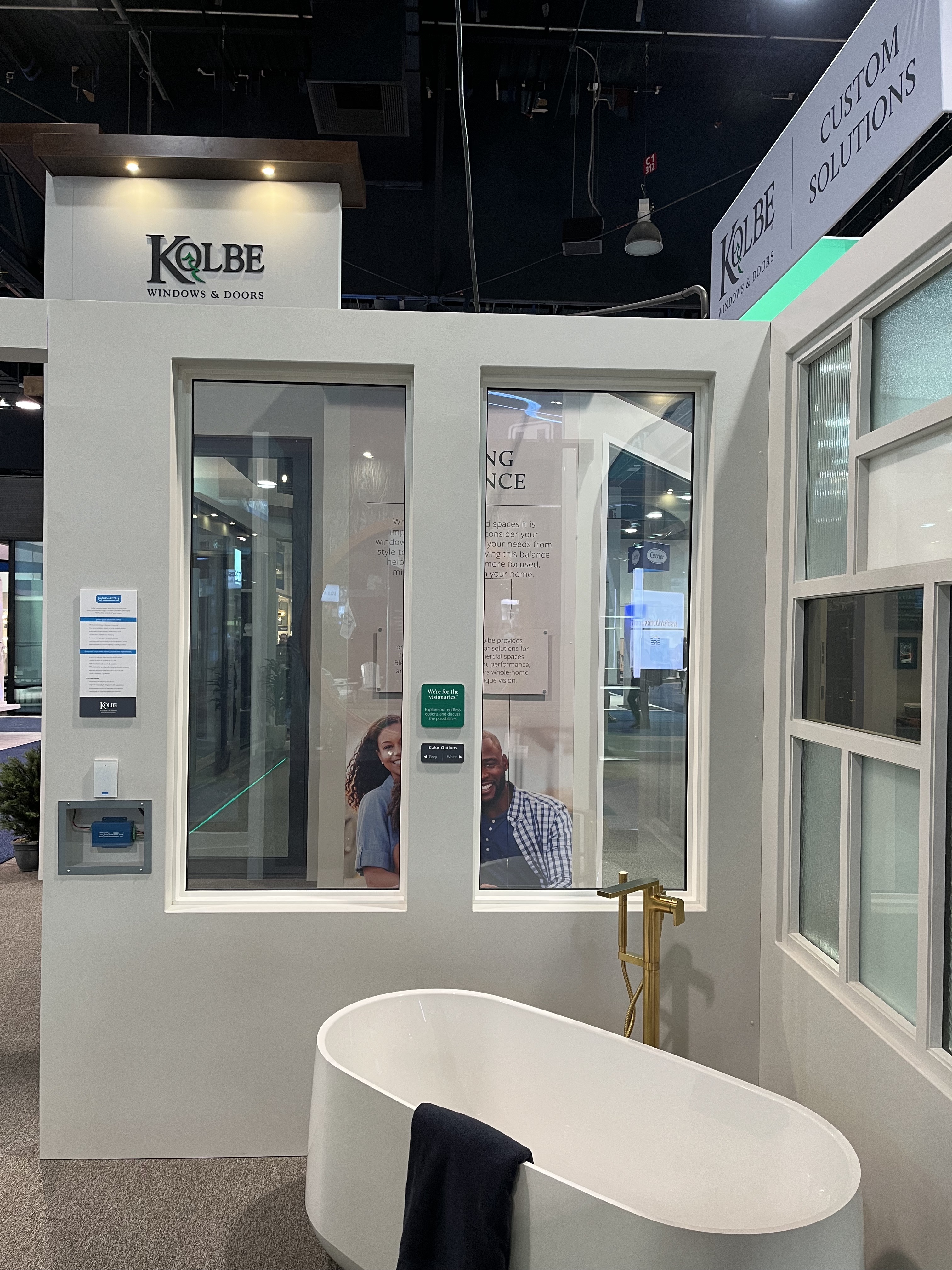 • Kolbe has partnered with Gauzy to soon provide select windows and doors with an option of Gauzy's LCG® Smart Glass Technologies. Visitors to the booth can experience push-button activation of Gauzy's Polymer Dispersed Liquid Crystal (PDLC) offering, viewing grey and white options for transparent to obscure glass on demand. In contrast, Kolbe also displays more traditional privacy glass samples in a custom wall configuration surrounding a Kohler soaking tub.

• Kolbe is debuting a new automation product option in development to gain market feedback and allow attendees to explore the possibilities. An Ultra Series casement window with a QuB™ motorized smart window operating system allows guests to experience window control with a smart phone app and a Wi-Fi or Bluetooth connection. A standard feature of this smart window system includes a built-in moisture sensor that automatically closes and locks the window when it starts to rain.



"After more than 75 years, Kolbe continually looks toward the future, embracing new partnerships and new solutions that respond to market demands and lifestyles with added functionality and convenience," says De Lonay.

To learn more about Kolbe's innovative products and options, please visit https://www.kolbewindows.com.

What began in 1946 as a two-brother team has grown into an internationally respected manufacturing company. Kolbe Windows & Doors is one of the nation's leading manufacturers of windows and doors for residential and commercial markets. After 75 years, Kolbe products are best known for superior quality, custom craftsmanship, attention to detail, as well as innovative and unique designs.
###
---
Filed under: Events, Kolbe Windows & Doors, Products
---
Story Resources
Word document
Zipped folder with Word document and 9 images
Request high res photographs for publication