Client News: Biophilic design of Philadelphia's Asplundh Cancer Pavilion features Linetec's wood grain finish
Posted on November 8th, 2018 by Heather West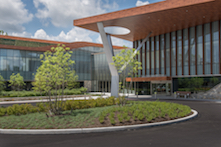 The recently opened Asplundh Cancer Pavilion's 86,000-square-foot outpatient center in the suburbs of Philadelphia combines state-of-the-art cancer-fighting science with a serene healing environment. Its biophilic design by EwingCole includes an exterior architectural aluminum system finished by Linetec to resemble the look and texture of natural wood.
"Our design team did an incredible job bringing the outdoors into the Pavilion with abundant natural light, birch and moss design elements, and views of the surrounding greenery," said Peg O'Grady, Asplundh Cancer Pavilion's administrative director, oncology at Abington - Jefferson Health. "Research shows that the environment has an effect on the burden of disease and healing times, so we were sure to make each choice thoughtfully."
The design team interviewed patients and their family members and engaged the Patient and Family Advisory Council as a sounding board. Local stone, indigenous plants and local contractors were used. Demonstrating its environmentally responsible design and construction, the project's LEED® certification is in progress with the U.S. Green Building Council.
Continuity in care and design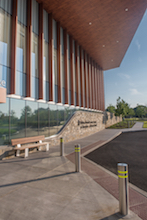 Each year some 2,000 new cancer patients select Abington Hospital for diagnosis, treatment and ongoing care – making its program one of the busiest cancer centers in the region. "A cancer diagnosis is something that no one should ever face alone," said Steven J. Cohen, M.D., Medical Director, Asplundh Cancer Pavilion, and Chief of Medical Oncology and Hematology at Abington - Jefferson Health. "Under one roof, our patients and their families will find every available outpatient resource – from the latest clinical trials to our Image Recovery Center – all paired with excellence in multidisciplinary clinical care."
Located on the campus of Abington - Jefferson Health in Willow Grove, Pennsylvania, the new $80 million center offers a comprehensive continuum of leading-edge outpatient care, clinical research and support services in one modern facility. The center is actually two buildings connected by a link and unified by a curving façade, composed of a large glass curtainwall with metal accents.
Kawneer manufactured the large, vertical aluminum sun shade fins, and 8- to 12-inch-deep horizontal curtainwall cover plates. Linetec finished these architectural aluminum components in a hazelnut brown, textured wood grain color that captures the look and feel of wood without the associated maintenance.
The look of wood, the performance of aluminum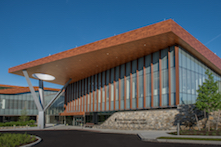 Unlike real wood, the finished aluminum is termite and insect proof, UV and corrosion resistant, and fire retardant. The sun shades and accents maintain their intended appearance in all seasons, and do not swell, rot and warp. Linetec's wood grain finishes meet the American Architectural Manufacturers Association's stringent AAMA 2604 test standards for ruggedness, chemical and weather resistance.
"Offering long-term durability, the finished aluminum components also are less costly than real wood, providing superior performance and retaining the natural aesthetic," said Linetec's Tammy Schroeder, LEED Green Associate.
As an environmentally responsible finisher, Linetec applies the wood grain coatings by starting with a powder coat then utilizing a heat transfer sublimation process. This produces no VOCs or other potentially harmful emissions that may be of extra concern to patients and health care professionals.
"Linetec performed great on this project and it shows," praised Bob Kennedy of glazing contractor R.A. Kennedy & Sons, Inc.
On time, on budget, with local support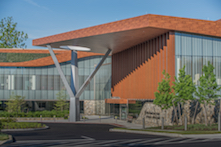 Pennsylvania-based R.A. Kennedy & Sons, Inc. performed all of the exterior glazing, which included two- and four-sided structural glazed curtainwall, traditional curtainwall, aluminum entrances, and custom aluminum trims. Kawneer's aluminum framing was used for center's four-sided, structural glazed curtainwall. In this four-sided cassette system, glass and subframe were fabricated together by R.A. Kennedy and then installed on site into the curtainwall's carrier frames. The two-sided system used a conventional structural glazing process.
Robert Ganter Contractors of Quaker, Pennsylvania, assisted R.A. Kennedy with the wood grain-finished sun shades and accents. LF Driscoll, located in Philadelphia and part of Structure Tone, Inc., managed the overall construction project, keeping the project on schedule and within budget. Asplundh Cancer Pavilion broke ground in May 2016, was substantially completed in 2017 and opened in June 2018.
The center was funded in part by a lead gift made by the children of the late Carl and Emilie Asplundh, who honored their parents by naming the building. "Understanding the need for this new facility and expanded programming, our community has supported this effort by making more than 5,000 contributions to our Reimagine Cancer Care Campaign," said Meg McGoldrick, president, Abington - Jefferson Health. "The Asplundh Cancer Pavilion represents our commitment to meeting the greatest health care needs of our community."
**
Asplundh Cancer Pavilion; 3941 Commerce Ave., Willow Grove, PA 19090; https://www.jeffersonhealth.org/cancer/asplundh-cancer-pavilion.html
* Owner: Abington - Jefferson Health; Philadelphia; https://www.jeffersonhealth.org/abingtoncancer
home of Sidney Kimmel Medical College (Sidney Kimmel Cancer Center - Jefferson Health)
* Architect: EwingCole; Philadelphia; https://www.ewingcole.com
* Construction manager: LF Driscoll, part of Structure Tone, Inc.; Philadelphia; https://structuretone.com
* Exterior glazing systems – installer: R.A. Kennedy & Sons, Inc.; Aston, Pennsylvania; http://www.raksons.com
* Exterior architectural aluminum systems – installer: Robert Ganter Contractors, Inc;. Quakertown, Pennsylvania; https://www.gantercontractors.com
* Exterior architectural aluminum systems – manufacturer: Kawneer Company, Inc.; Norcross, Georgia; https://www.kawneer.com
* Exterior architectural aluminum systems - finisher: Linetec; Wausau, Wisconsin; http://linetec.com
* Photographer: Joe C. Garvin
* Virtual tour: http://www.vhct.co/0203/index.html
* Videos –
Construction time-lapse: https://www.youtube.com/watch?v=u5kiI0mIIxM&feature=youtu.be
Facility tour: https://www.youtube.com/watch?v=HLtBmNXr84s&feature=youtu.be
Located in Wisconsin, Linetec serves customers across the country, finishing such products as aluminum windows, wall systems, doors, hardware and other architectural metal components, as well as automotive, marine and manufactured consumer goods. The company is a subsidiary of Apogee Enterprises, Inc. (NASDAQ: APOG).
Linetec is a member of the Aluminum Anodizers Council (AAC), the American Architectural Manufacturers Association (AAMA), the American Institute of Architects (AIA), the Association of Licensed Architects (ALA), the National Glass Association/Glass Association of North America (GANA), the U.S. Green Building Council (USGBC) and the Window and Door Manufacturers Association (WDMA).
###
---
Filed under: FGIA, Linetec, Projects
---
Story Resources
Word document
Request high res photographs for publication