Client News: RHEINZINK America and CENTRIA announce alliance and showcase their collaboration on Ohio's Coleman Center
Posted on April 11th, 2019 by Heather West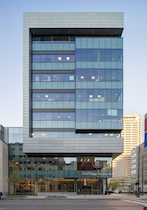 RHEINZINK America, Inc. and CENTRIA have formed a strategic marketing alliance. Showcasing their successful collaboration, the two companies recently worked together to provide architectural zinc façade cladding and roofing systems on the Michael B. Coleman Government Center in Columbus, Ohio. In Jan. 2019, the project earned LEED® Silver certification from the U.S. Green Building Council.
A leading manufacturer of architectural metal wall and roof systems, CENTRIA serves as a systems partner for RHEINZINK. CENTRIA offers RHEINZINK façade cladding and roofing systems. These architectural zinc products are offered in RHEINZINK CLASSIC bright rolled, prePATINA blue-gray and graphite-gray, and artCOLOR in an array of colors.
"We've collaborated with CENTRIA on a number of projects over the years and we're delighted to have them officially onboard as a key systems partner," said Charles (Chip) McGowan, president of RHEINZINK America. "CENTRIA has a team approach for incorporating our zinc products into their engineered façade systems. We're excited about the increased opportunity that this new relationship brings to the industry."
Chris Klein, coatings manager at CENTRIA, agreed and added, "CENTRIA is proud to showcase RHEINZINK on our high-performance line of architectural metal wall and roof systems. RHEINZINK brings an exceptional tradition of quality, value, innovation and customer service to our new partnership. One of many high-profile collaborations, the Michael B. Coleman Government Center in Columbus delivers a unique combination of modern design and metal wall panel performance for years to come."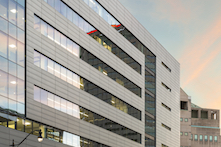 Design of the new, 180,000-square-foot, eight-story Coleman Center was done through a partnership with DesignGroup and Schooley Caldwell Associates, both located in Columbus, Ohio. Schooley Caldwell oversaw interior planning and design, and DesignGroup focused on the exterior design.
According to DesignGroup, "The vision is that this facility will increase a sense of cohesiveness to the existing campus, with emphasis on creating an iconic building that will both transform the way municipal employees work, by exploring the 'next wave' of best practices in office design, and will create a new, dynamic external image for the City of Columbus. Functionality, future-flexibility, innovations in sustainability, accessibility, maintainability and incorporating ongoing operational benefits for the City are all goals for the project."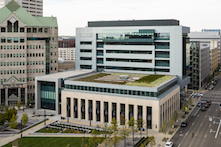 The Coleman Center's exterior features granite-and-limestone at the base with the upper stories wrapped in 38,000 square feet of 1.5mm-thick CENTRIA Intercept™ Entyre modular metal panels manufactured using RHEINZINK prePATINA blue-grey. For the façade cladding and wall systems, the panels were sized in 2-by-8-foot panels. For the roof, the Double-Lock Standing Seam pre-profiled panels were 16 inches wide by 4 feet long.
The Intercept panels form the majority of the Coleman Center's metal building envelope. In addition to the zinc panels, CENTRIA also provided 7,000 square feet of Versawall® insulated metal panels and another 4,500 square feet of Econolap® single-skin metal rainscreen panels.
"The Intercept system's modular design lends itself to quick and easy installation, while offering smooth planes and clean sightlines for an ultra-modern aesthetic," described Klein.
In addition to contributing to the building's distinctive appearance, RHEINZINK's and CENTRIA's products also support the LEED Silver environmental criteria for the project and the City of Columbus' economic considerations. The zinc material maintains its self-healing, low-maintenance, corrosion-resistant performance with a lifespan that lasts generations. At the end of its useful life on the building's exterior, it remains 100 percent recyclable.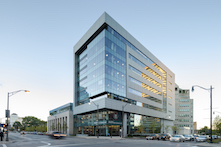 All of RHEINZINK and CENTRIA's products were installed by Kalkreuth Roofing and Sheet Metal. Kalkreuth employs a team of trained roofers and sheet metal workers who understand and implement best practices in government construction and maintenance. On average, a team of 10 or fewer were working on the Coleman Center's job site. Messer Construction served as the general contractor, overseeing the installation throughout the project's two-year schedule.
"Access to the building was limited and difficult due to the project's location in uptown Columbus," noted Kalkreuth's project manager Chris Lemmon. "We installed custom swing-stage rigging to overcome this challenge. The project went very well and everyone did their part to ensure its success."
Lemmon added that the project was completed on time and within budget. Total cost for the project was $77 million for the building, plus a new 700-car parking garage and surrounding greenspace with pathways connecting buildings, seating, lighting, art and a rain garden.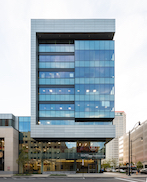 Located at 111 N. Front St., the Michael B. Coleman Government Center celebrated its dedication ceremony in Feb. 2018. The building was named in honor of Coleman, Columbus' mayor from 2000 to 2016. He was the city's first African-American mayor and the longest to serve in the role.
According to the City of Columbus, the new Coleman Center realizes the long-standing vision to create a "one-stop shop" concept that consolidated four City departments: Building & Zoning Services, Public Service, Development and a portion of Public Utilities. Bringing these departments together into one location streamlined convenience for residents requiring assistance from multiple departments on one visit.
**
Michael B. Coleman Government Center, 111 North Front Street, Columbus, Ohio 43215
* Owner: City of Columbus; Columbus, Ohio; https://www.columbus.gov
* Architect – exterior: DesignGroup; Columbus, Ohio; https://designgroup.us.com
* Architect – interior: Schooley Caldwell Associates; Columbus, Ohio; https://www.schooleycaldwell.com
* General contractor: Messer Construction Co.; Cincinnati; https://www.messer.com
* Metal wall and roofing panels – installer: Kalkreuth Roofing and Sheet Metal; Lewis Center, Ohio; https://www.krsm.net
* Metal wall and roofing panels – manufacturer: CENTRIA; Moon Township, Pennsylvania; https://www.centria.com
* Metal wall and roofing panels – architectural zinc: RHEINZINK America, Inc.; Woburn, Massachusetts; https://www.rheinzink.us
* Video – construction time lapse: https://www.youtube.com/watch?v=dtW5RLgnZlY
* Video – building dedication: https://www.youtube.com/watch?v=1OA4E7PgRnM
* Photos by: Curt Clayton, Clayton Studio; https://claytonstudio.com
RHEINZINK America, Inc. led the introduction of architectural zinc in North America and continues to offer one of the industry's most reliable, trusted brands. Architects and contractors are supported by unparalleled customer service and technical assistance. RHEINZINK is readily available through an established network of qualified distributors and systems partners across the United States, Canada and Mexico. Ideal for roofing, façade, gutter and interior applications. RHEINZINK is environmentally friendly, 100 percent recyclable and offers a potential lifespan of 100 years or more.
For more information on RHEINZINK, call 781-729-0812 or visit www.rheinzink.us.
###
---
Filed under: Projects, RHEINZINK
---
Story Resources
Word document
Request high res photographs for publication