Client News: Minnesota's Heritage E-STEM Magnet School showcases brighter, quieter, modern learn space with Rockfon's ceiling systems
Posted on December 9th, 2022 by Heather West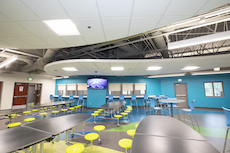 Students, teachers and staff of the newly renovated and expanded Heritage E-STEM Magnet School in West St. Paul, Minnesota are experiencing brighter, quieter, more modern learning spaces created with Rockfon's acoustic stone wool ceiling systems.
Part of the West St. Paul-Mendota Heights-Eagan Area Independent School District (ISD) 197, Heritage E-STEM serves approximately 800 middle school students in grades 5-8. The school exemplifies ISD 197's commitment to "creating spaces that are geared towards collaboration and discovery."
The magnet school's E-STEM curriculum focuses on science, technology, engineering and math with projects and field experiences related to the environment. Art, music, theater, writing and language skills also are essential to the students' complete education. Their challenging coursework requires an outstanding learning environment, including optimal and comfortable acoustics, healthy indoor air quality, and efficient lighting levels.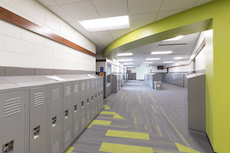 Minneapolis-based Lawal Scott Erickson (LSE) Architects, Inc. specified 2-by-2-foot Rockfon Tropic® and Sonar® ceiling panels, Chicago Metallic® 15-16-inch suspension systems and 4- and 6-inch Infinity™ Perimeter Trim as the basis of design for the school.
Working closely with general contractor, Rochon Corporation, Architectural Sales of Minnesota installed more than 53,000 square feet of Rockfon's products throughout Heritage E-STEM's within the classrooms, staff break room, staff and counseling offices, conference rooms, library, cafeteria, and the stairwells, hallways and other common areas.
Delivering high sound absorption with a bright white, smooth surface, Rockfon Tropic has a Noise Reduction Coefficient (NRC) of 0.85. Acoustics have been found to play a critical role in learning, contributing not only to clear communication and understanding between students and teachers, but also concentration, attentiveness, staff job satisfaction and student test scores. Using ceiling products with higher NRC ratings also can help with cost savings because fewer sound-absorbing products, furnishings and finishes need to be installed to reach the rooms' acoustic requirements.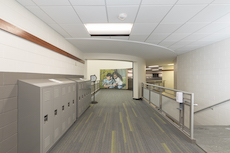 In the renovated, existing building, many of the dated, fissured, lower-performance ceiling tiles were replaced with Rockfon Tropic, which provided both a visual and audible improvement. In the new music rooms, where best-level sound absorption was needed, Rockfon Sonar has an exceptionally high NRC of 0.95. Rockfon Chicago Metallic 1200 15/16-inch ceiling suspension systems' modular framework also supports fast, accurate installation of the stone wool panels in the newly constructed school expansion.
Supporting indoor environmental quality, healthy interiors and student/faculty wellness, stone wool does not support the growth of mold, mildew or other microorganisms. Stone wool also naturally resists water, moisture, humidity and fire without the use of added chemicals – chemicals that could affect indoor air quality and occupants' health.
With small, developing lungs and higher rates of respiration, children are particularly vulnerable to chemicals and bacteria in the air. Reducing airborne contaminants lessens the risk for health concerns, irritability and loss of concentration. Rockfon's stone wool ceiling panels are UL® GREENGUARD® Gold certified for low chemical emissions. This stringent certification is recognized by several green building programs and standards such as LEED, WELL, Green Globes and the Center for High Performing Schools.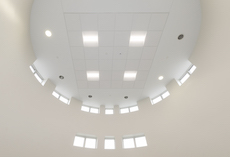 Along with high sound absorption and good indoor air quality, the ceiling panels' high light reflectance also contributes to the school's energy efficiency, which supports ISD 197's LiveGreen sustainability program. LiveGreen promotes energy saving, recycling and other green initiatives throughout the district. The bright white surface of Heritage E-STEM's new Rockfon ceiling panels maximizes and diffuses the available light, reflecting 85 percent of the light into the school's interior.
Using renewable energy, Heritage E-STEM's solar array further reduces electrical utility costs and offsets CO2 emissions. As part of the LiveGreen program, every school in ISD 197 is evaluated for an ENERGY STAR Score from the U.S. Environmental Protection Agency and the U.S. Department of Energy. As of 2021, Heritage E-STEM has a perfect score of 100/100.
Enhancing the school's ideal look and sound, the cafeteria and common connection points feature curved, custom-shaped, suspended ceiling clouds that seem to float above these multi-purpose space. The suspension grid and perimeter trim are finished to match the white panels for a neat, clean appearance.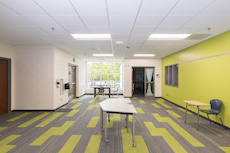 Retaining their intended, modern aesthetic, Rockfon's ceiling systems are resilient and have a long lifespan. Backed with a warranty of up to 30 years, Rockfon's stone wool ceiling panels require minimal maintenance and can be cleaned without harsh chemicals.
When future updates are needed in the schools' lighting, HVAC, audio-visual or security systems, the ceiling grid allows individual panels to be conveniently removed for easy access to the plenum. By reducing the associated expense of labor and material replacement, Rockfon's long-lasting ceiling solutions minimize maintenance and stretch the district's budgets and the taxpayers' dollars.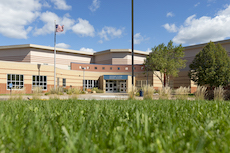 In 2018, West St. Paul's residents voted to fund additions, renovations and repairs at all elementary and middle schools in the district. Heritage E-STEM Magnet School's facility improvement planning began in March 2019.
The interior renovation and construction began in the summer of 2020. According to ISD 197 Superintendent Peter Olson-Skog, the district had "an opportunity to make lemonade out of lemons." Due to pandemic protocols students studying from home, construction was able to begin and finish earlier than expected. The project was completed in late August 2021, in time to welcome students back in-person for the 2021-22 school year.
**
Heritage E-STEM Magnet School, 121 Butler Ave. W., West St. Paul, MN 55118, https://heritage.isd197.org
• Owner: Independent School District 197; Mendota Heights, Minnesota; https://www.isd197.org
• Interior designer: Lawal Scott Erickson (LSE) Architects, Inc.; Minneapolis; https://lse-architects.com
• General contractor: Rochon Corporation; Osseo, Minnesota; https://www.rochoncorp.com
• Ceiling systems – installing contractor: Architectural Sales of Minnesota, Inc; Brooklyn Center, Minnesota; http://archsalesmn.com
• Ceiling systems – manufacturer: Rockfon; Chicago; https://www.rockfon.com
• Photos by: Randy Hoepner Photography, LLC
About Rockfon
Rockfon is part of the ROCKWOOL Group and is offering advanced acoustic ceilings and wall solutions to create beautiful, comfortable spaces.
At the ROCKWOOL Group, we are committed to enriching the lives of everyone who experiences our product solutions. Our expertise is perfectly suited to tackle many of today's biggest sustainability and development challenges, from energy consumption and noise pollution to fire resilience, water scarcity and flooding. Our range of products reflects the diversity of the world's needs, while supporting our stakeholders in reducing their own carbon footprint.
Stone wool is a versatile material and forms the basis of all our businesses. With approximately 11,500 passionate colleagues in 39 countries, we are the world leader in stone wool solutions, from building insulation to acoustic ceilings, external cladding systems to horticultural solutions, engineered fibers for industrial use to insulation for the process industry, and marine and offshore.
###
---
Filed under: Projects, Rockfon
---
Story Resources
Word document
Request high res photographs for publication