Association News: FGIA cancels 2020 IG Fabricators Workshop, plans to release online video series
Posted on September 29th, 2020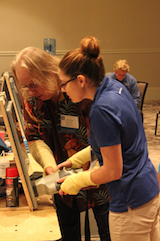 Due to the continued health concerns related to COVID-19, the Fenestration and Glazing Industry Alliance (FGIA) has cancelled the Insulating Glass (IG) Fabricators Workshop, previously scheduled to take place Nov. 10-12 in Plano, Texas. The in-person workshop is typically held each November, which is a schedule that will continue in 2021 and thereafter. However, FGIA had previously explored extending the reach of this event by addressing the topics covered in the annual workshop through a new online video series which is targeted to be available on an ongoing basis beginning in January 2021.
"The IG Fabricators Workshop is a popular industry event that typically hosts up to 40 participants. However, because this workshop is such a hands-on, participatory event where individuals must be in close proximity to get the full experience, it is simply not feasible to host in 2020," said Marg Webb, FGIA Glass Products and Canadian Industry Affairs Director. "We know how important the IG Fabricators Workshop is to the industry, and we are committed to bringing it back as an in-person training opportunity in the future."
The new video series, comprised of short segments available on-demand, will be accessible via a six-month paid subscription. It will include demonstrations by IG professionals and trainings on the following IG-focused subjects which are typically covered during the in-person event.
* IG Design
* Glass Safety
* Frost Point/Tempered Glass
* Desiccant/Desiccated Matrix
* Volatile Fog
* Gas Content
* Sealant
* Glass Cutting and Washing
* Spacers
* Forensic Investigations
"The silver lining of all this is the upcoming release of a video series covering the same topics from the workshop. Expanding the reach of this important IG content via online access allows the knowledge to grow beyond 40 people per year," said Kaydeen Laird, FGIA Education Manager. "We look forward to providing this new video series as an option not just for those who will miss the workshop this year, but also to those who might not have the opportunity to attend the event in person in the future."
This video series is anticipated to be available from FGIA in January 2021. The annual offering of the in-person version of the IG Fabricators Workshop each November will continue in 2021.
More information about FGIA and its activities can be found at https://fgiaonline.org/.
Your trusted industry resource, setting the standards for fenestration and glazing.
###
---
---
Story Resources
Word document
Request high res photographs for publication