Rockfon introduces "The Colors of Well-being," a refreshing palette of ceiling panels and matching grid systems
Posted on February 23rd, 2022 by Heather West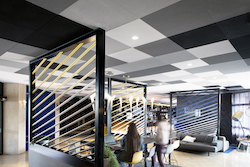 Chicago (Feb. 2022) – A fresh selection of 34 carefully curated, nature-themed colors compose "The Colors of Well-being" collection of Rockfon® Color-all™ acoustic stone wool ceiling panels and matching matte-finished Rockfon® Chicago Metallic® ceiling suspension systems.
This new range of colorful ceiling products presents visual options and combinations that add dimension to commercial and medical offices, reception areas, classrooms, auditoriums, restaurants, retail stores and other interior spaces.
The appealing new palette and high-performance properties of Rockfon Color-all panels support project design goals for comfort, health, safety, wellness, sustainability and scheduling. During their long lifespan, Rockfon's acoustic stone wool ceiling systems provide low maintenance, resilient durability and are backed with a 30-year warranty.
Rockfon Color-all stone wool ceiling panels' room-side surface showcases a colorful, smooth, non-textured face. Sizes are available in 2-by-2 foot or 2-by-4-foot modular formats with square lay-in, tegular square and narrow, and fully concealed edge designs.
Creative connection
To assist in developing its refreshing Color-all offering, Rockfon North America, part of the ROCKWOOL Group, partnered with a color sensory expert, drawing from extensive color trends research and knowledge of the impact of color on people.
"The Colors of Well-being collection is thoughtfully selected to inspire and impress, complementing today's interior design trends and creating a sense of calm, comfort and connection for the people within these rooms," said Rockfon's manager of architectural sales and business development, Diana Hart, CSI, IIDA. "People who feel connected also are happier, more satisfied, and have a greater sense of well-being."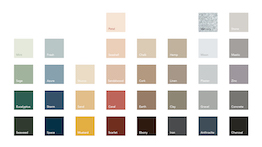 She continued, "Colors have meaning and function. Color plays a vital role in enhancing the architectural form of a room and in influencing a person's experience inside it. It can spark creativity, increase productivity, or make a room seem bigger or smaller. Color conveys the mood, purpose, and atmosphere of a room, and assists with navigation through a building or campus."
Color-all collections
The Colors of Well-being collection from Rockfon, organizes 34 nature-themed colors into four trend-driven palettes:
Trends

Palette

Biophilic Awareness

Roots are important. Plant seeds to grow a new, better world tomorrow.

Natural greens and blues reminiscent of plant and ocean life, and wood and wood-look finishes

Mint

Sage

Eucalyptus

Seaweed

Fresh

Azure

Storm

Space

Uncluttered Wabi-Sabi

People are longing for authenticity, simplicity, honesty and true connections.

 

Very light beige, "greige," brown shades and natural tinted whites


Sandalwood

Chalk

Cork

Earth

Ebony

Hemp

Linen

Clay

Moon

Stone

Technology

The merger of human and artificial intelligence inspires futuristic, yet subtle designs.

 

Chromatic blue, dark grey and silver

Mercury

Mastic

Zinc

Concrete

Charcoal

Plaster

Gravel

Anthracite

Iron

Calm Enclosure

Compassion and playfulness produce unexpected, new creations.

Pastel pinks, deep scarlet and mustard yellow

Petal

Seashell

Coral

Scarlet

Stucco

Sand

Mustard
"Green" goals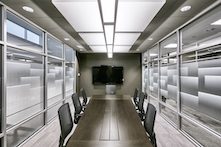 Demonstrating Rockfon's commitment to helping design professionals create healthy, safe and sustainable spaces that contribute to occupant wellness, Rockfon Color-all acoustic stone wool ceiling panels are fully supported with Health Product Declarations (HPDs) and Declare Label 2.0 as Living Building Challenge(SM) Red List Approved documentation.
Supporting indoor air quality and healthy interiors, stone wool is resistant to moisture, mildew, mold and potentially harmful microorganisms. Acoustic stone wool ceiling panels from Rockfon are UL® Environment GREENGUARD Gold certified for low VOC emissions. This stringent certification process considers safety factors that may impact people who are more vulnerable, such as people with chronic illness, the elderly and children.
Low-emitting products with material ingredient documentation are recognized by such organizations as the U.S. Green Building Council's LEED® programs, the California Green Building Standards Code (CALgreen), the WELL Building Standard™ and the Collaborative for High Performance Schools (CHPS).
Purposeful Performance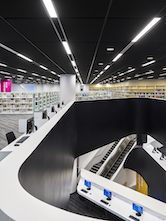 Along with indoor air quality, optimized acoustics plays a key role in healthy interior environments. Rockfon Color-all ceiling panels provide best-level sound absorption with a Noise Reduction Coefficient (NRC) as high as 0.95 NRC. Acoustic comfort is recognized by LEED, WELL and other programs emphasize sustainability and wellness.
Meeting projects' safety requirements, Rockfon Color-all ceiling panels have a Class A Fire Performance. Chicago Metallic ceiling suspension systems also are available for fire-rated construction, seismic compliance and in intermediate and heavy-duty designs.
Stone wool ceiling panels are lightweight, making them easier for installing contractors to lift, carry, cut and position in place. They also are sag-resistant and can be installed early in the construction timeline at up to 100% relative humidity. This makes coordination with other trades straightforward and substantial completion faster.
Rockfon Color-all acoustic stone wool ceiling panels and suspension systems are manufactured with recycled content. The metal grid can be 100 percent locally recycled at the end of its long, useful life in the ceiling.
To learn more about Rockfon Color-all stone wool panels, Chicago Metallic suspension systems and other acoustic ceiling products, please call 800-323-7164, email cs@rockfon.com or visit www.rockfon.com.
About Rockfon
Rockfon is part of the ROCKWOOL Group and is offering advanced acoustic ceilings and wall solutions to create beautiful, comfortable spaces.
At the ROCKWOOL Group, we are committed to enriching the lives of everyone who experiences our product solutions. Our expertise is perfectly suited to tackle many of today's biggest sustainability and development challenges, from energy consumption and noise pollution to fire resilience, water scarcity and flooding. Our range of products reflects the diversity of the world's needs, while supporting our stakeholders in reducing their own carbon footprint.
Stone wool is a versatile material and forms the basis of all our businesses. With approximately 11,500 passionate colleagues in 39 countries, we are the world leader in stone wool solutions, from building insulation to acoustic ceilings, external cladding systems to horticultural solutions, engineered fibers for industrial use to insulation for the process industry, and marine and offshore.
###
Boardroom image with Rockfon Color-all Clay by Bochsler Creative; Library image with Rockfon Color-all black by Latreille Architectural Photography
---
Filed under: Products, Rockfon
---
Story Resources
Image
Word document
Request high res photographs for publication