Client News: Aperture Cellars new wine production facility pairs perfectly with EXTECH's translucent wall system
Posted on September 24th, 2021 by Heather West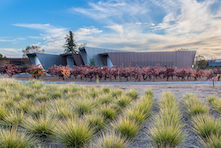 The 32-acre Aperture Estate Vineyards recently opened its new production facility in Healdsburg, California, championing Bordeaux-style wines from the Alexander Valley and Sonoma County's premier cool-climate. Expansive vistas of vineyards first planted in 1912 and the northern Russian River Valley greet Aperture's staff and visitors.
Providing a continuous expanse of diffused, natural daylight, the north wall of its new 24,000-square-foot Tank Room features EXTECH/Exterior Technologies, Inc.'s LIGHTWALL 3100LS® long-spanning, translucent polycarbonate, interlocking wall system. The system was custom-designed to uphold the project's exact aesthetic goals, engineered to meet the performance and sustainability requirements, and fabricated to ensure fast, smooth and accurate installation.
Connections in Focus
Aperture's name and fine art collection honors acclaimed photographer, Andy Katz, father of the winery's owner, Jesse Katz. Designed by Signum Architecture, the firm described the project as "an exploration of the camera as a filter for experience, and the possibilities that emerge from reassembling the elements of an aperture of a lens in varying ways." Inspired by the father-son relationship, their travels together and their individual accomplishments, the buildings on the estate celebrate the blend art and science, nature and nurture, and work and pleasure.
Eschewing a purely utilitarian form, the Tank Room building incorporates natural light, focused perspective, thoughtful expression and practical functionality flavored with personal experience. Minimizing the potentially overwhelming visual impact of a large, singular, uniform, boxy structure, the Tank Room's production facility is scaled as four digestible, interconnected elements of differing dimensions.
Signum Architecture explained, "We deconstructed the aperture's traditional hexagonal shape into separate elements, manipulating and reassembling them into connected structures with rooflines canted in multiple directions."
The Tank Room's crisp lines and sharp angles define a contemporary aesthetic that houses a state-of-the-art process for an ancient practice. Its exterior is enclosed with vintage galvanized steel, perforated metal screens and EXTECH's translucent polycarbonate LIGHTWALL system. The mix of metal and glazing materials deepens the conceptual connection between the old and new, the land and the sun, and the staff and their workspace.
Balanced Composition, Enduring Impression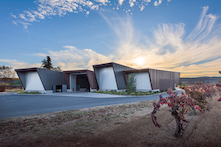 Bringing the concept to reality, Soule Building Systems served as the builder and metal systems designer for Aperture's Tank Room. "Soule Building Systems has spent decades working hand-in-hand to help architects achieve their vision. When we work with an architect, they can rely on us to know the products that are available to achieve that vision," said Joshua Johnson, Soule's CFO.
Soule and Signum Architecture have used EXTECH's LIGHTWALL on winery projects for more than a decade. For Aperture's Tank Room, they once again selected EXTECH's translucent daylighting wall system.
EXTECH's Brian Hunger began working on the Aperture Tank Room during its early design phase in 2017. "They were extremely keen on having the vertical mullions and shadow lines match up with the joints of the metal panels above and below," said Hunger. With a clear understanding of the owner and architect's expectations, EXTECH customized its LIGHTWALL 3100LS to ensure precise visual alignment between the building's metal and polycarbonate panels.
EXTECH engineered and fabricated its LIGHTWALL with 10-foot 10-inch high, 24-inch wide, translucent, opal color, structural cellular polycarbonate panels. The panel's color and coating diffuse the natural light, minimizing glare off the interior equipment's monitors. This reduces eye strain and associated headaches, and helps improve the staff's comfort, wellness and productivity.
Supporting sustainable design strategies, the LIGHTWALL systems' diffusing and thermal characteristics lower dependence on electric lighting, reduce solar heat gain into the building envelope, as well as manage light pollution emanating from the building. EXTECH's patented interlocking clamping structural mullion design requires minimal structural support to withstand high wind load and long-span conditions, and utilizes an internal gasketed water stop for long-term performance.
A total of 27 panels span the 53-foot 6-inch wide opening and are framed with clear anodized aluminum at the perimeter and thermally broken sill. The LIGHTWALL system's translucent panels and clear anodized aluminum framing require minimal maintenance, reducing future material production for repairs. At the end of its life on the building, the LIGHTWALL system's materials are fully recyclable.
Effective Visualization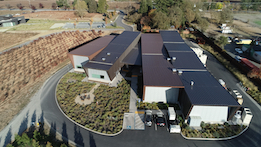 Ensuring meticulous aesthetics and performance throughout the system's lifespan, EXTECH factory-fabricated and pre-assembled the LIGHTWALL system under quality-controlled conditions at its manufacturing center in Pittsburgh. "Pre-drilling the fastener holes in the panels and pre-attaching the mullions tremendously assists the installer in the field," noted Hunger.
"EXTECH has solid products and their engineering and design group is top-notch," praised Johnson. "The products received have always been accurate and we have never had shortages. I've never had to make a cut on any parts that were not meant to be cut. The accuracy of their fabrication shop is amazing."
Johnson added, "The installation drawings were clear and precise as we have come to expect from EXTECH. They were able to provide the product ahead of schedule and completely ready to install."
In wineries and other agricultural applications, the next harvest frequently dictates a project's timeline. Pre-fabricated building systems and components, such as EXTECH's LIGHTWALL system, reduce the time and labor needed on site to close-up a building. The sooner a space is operational, the sooner the owner can start to see a return on investment.
Fast-track installation of pre-fabricated systems does not necessarily mean simple. Ensuring an efficient use of time and resources during construction, Soule employed 3-D modeling to visualize the project's design, spot potential difficulties and solve challenges ahead of arriving on site. After years of planning and months in the field, the Aperture Estate Vineyard's Tank Room construction was completed in the summer 2019.
Picture Perfect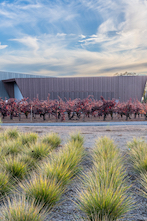 The Tank Building's custom LIGHTWALL system is "one of the features of this winery that I like the most," complimented Johnson. "This hidden window allows light in during the day but remains hidden on the outside because of the perforated wall panels. When it's dark out, the light coming through the wall is spectacular."
"The aperture of a camera lens changes the amount of light a photographer has to work with; at Aperture, we're shedding light on what Bordeaux varieties in the cooler pockets of Sonoma are capable of," described Aperture's website. Aperture's vineyards are some of the most diverse in the area, producing blends and single-origin wines that range from Chenin Blanc to Cabernet Sauvignon.
"Like my father's ability to tell amazing stories through his photography, my greatest joy is bringing together the intricacies of space, place and time – in essence, the terroir – that make an exceptional bottle of wine," said Katz.
**
Aperture Estate Vineyards Tank Room; 12291 Old Redwood Highway, Healdsburg, CA 95448; https://aperture-cellars.com
• Owner: Aperture Cellars; Healdsburg, California
• Architect: Signum Architecture LLP, St. Helena, California; http://signumarchitecture.com
• General contractor: Grassi & Associates; Napa, California; https://www.grassiandassociates.com
• Designer-builder: Soule Building Systems; Santa Rosa, California; https://www.soulebuildings.com
• Polycarbonate wall system – manufacturer: EXTECH/Exterior Technologies, Inc.; Pittsburgh; https://extechinc.com
• Photographer: Red Tail Photography
EXTECH/Exterior Technologies, Inc.'s mission is to improve lives through innovation in daylighting systems, natural ventilation and other unique building envelope systems. Redefining the intersection between the natural and built environments, EXTECH manufactures and designs wall, window, skylight, canopy and custom façade systems.
Learn more by calling 800-500-8083, emailing info@extechinc.com or visiting https://extechinc.com.
###
---
Filed under: Projects
---
Story Resources
Word document
Request high res photographs for publication