Client News: The Eleanor Boathouse at Chicago's Park 571 features a translucent transom by EXTECH supporting the project's aesthetic, performance and LEED goals
Posted on April 21st, 2017 by Heather West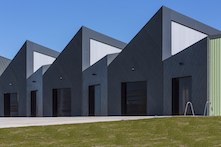 Opened in Dec. 2016, the Eleanor Boathouse at Park 571 in Chicago's Bridgeport neighborhood celebrates the natural beauty, community recreation and environmental stewardship of the Chicago River. Designed by Studio Gang Architects, the $8.8 million, 19,003-square-foot, one-story, two-building facility employs energy-efficient daylighting principles.
The larger of the Eleanor Boathouse's two buildings features a translucent transom supplied by Exterior Technologies, Inc. (EXTECH) using its LIGHTWALL 3440® interlocking polycarbonate translucent wall system. Anthony Roofing installed 2,288 square feet EXTECH's system in less than three weeks despite its complex geometry supporting the project's schedule, aesthetic, performance and sustainability goals.
Green, Targeting Silver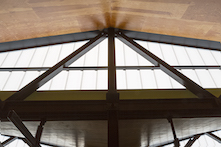 The Eleanor Boathouse was designed and constructed following the U.S. Green Building Council's LEED® (BD+C, v3, 2009) rating system for new construction. The project is pursuing Silver certification.
The environmental and community focused project was announced by Mayor Rahm Emanuel in 2011 as the final of four new boathouses and river launches created by the Chicago Park District to reclaim the Chicago River as a major system of parks and water-based recreation. Eleanor Boathouse broke ground in Aug. 2015. The third boathouse opened in 2014 and the first two in 2013, including the WMS Boathouse at Clark Park that Studio Gang also designed.
Studio Gang's Founding Principal Jeanne Gang, FAIA, LEED AP, explained, "The Chicago River boathouses are part of a new environmentally friendly vision for the city's river. By making the riverfront a destination for recreation, anchored by dynamic sustainable architecture, we hope to catalyze long-term stewardship and support for the river's remediation, as well as improve the health of the communities that surround it."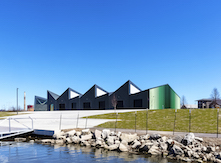 "The Eleanor Boathouse supports the larger movement of ecological and recreational revival of the Chicago River," Mayor Emanuel said at the facility's opening celebration on Dec. 4, 2016. "For too long, Chicago residents were cut off from an asset in our own backyard. So today, we are transforming our rivers from relics of our industrial past to anchors for our neighborhoods' futures."
Inspired by Purpose and Place
Park 571, where the Eleanor Boathouse resides, spans 3.06 acres and is located in the Bridgeport community on the south side of Chicago. Its new two-building boathouse facility offers a 5,832-square-foot rowing training center and a 13,171-square-foot boat storage building. The mechanically heated training facility contains a workout center, multi-purpose community room, main office and restrooms. The second building provides space for a rowing office, a heated boat storage repair bay, vending area and boat storage space for four rowing teams and is at capacity with 75 rowing shells.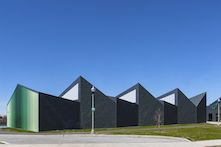 "Viewed from above, the facility looks like boats going through waves and the EXTECH system resembles the shape of the rowing shells," described Tony Orlando, Anthony Roofing's project manager. "The architect and owner's consultant said it was exactly the look they wanted. It's a very appealing building."
EXTECH Director of Product Application and Development Kevin Smith, R.A., elaborated, "Our LIGHTWALL system, which does not require framing members within the field of the glazing, met the architects' clean aesthetic to emphasize the unique roof form."
"We wanted the building's form to reflect the movement of rowing and draw people here to learn and experience rowing and the valuable teamwork it instills. Its alternating roof trusses were generated from studying this motion, while creating functional south-facing clerestory windows that bring in sunlight to warm the boat storage facility in colder months using minimal energy," reiterated Gang.
Supporting energy efficiency and LEED Silver criteria, Smith noted, "The diffusing characteristics of the cellular polycarbonate reduces dependence on electric lighting and reduces solar heat gain into the building envelope, as well as reduces light pollution emanating from the building. Because it is a dry glazed system, VOC emissions also are reduced."
He continued, "LIGHTWALL 3440 uses highly insulating, 100 percent recyclable structural cellular polycarbonate and 38.95 percent recycled aluminum framing manufactured in Pittsburgh, within 500 miles of the Chicago site."
Above and Beyond Expectations
With just two people on site, Anthony Roofing's team installed the substructure and entire system in three weeks. "For our guys in the field, it was a dream job," praised Orlando. "It was our first time working with EXTECH's products and we loved it. It's a very simple system, once you understand the components. It installs easily and went really well for us. The guys genuinely enjoyed putting it in. The polycarbonate system is so lightweight, yet heavy duty. One man can lift a 15- to 20-foot-long panel by himself and it's not so fragile that you have to worry about every step you take."
At less than 2 pounds per square foot, not only is EXTECH's innovative LIGHTWALL 3440 framing system with 40 mm structural cellular polycarbonate glazing easy to install, but also reduced the loading on the roof structure. In addition, it met the project's high thermal performance, fire rating, air infiltration and water penetration requirements. Eliminating leak-prone horizontal joints, the system's vertical panels can extend up to 54 feet long.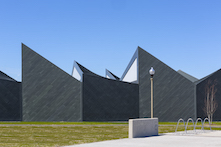 "It also stands up to the high wind loads and cold temperatures coming off the river," Orlando added. "EXTECH's system went above and beyond expectations."
Contributing to the EXTECH system's weather-ability, durability, sustainability and low maintenance, Linetec painted the aluminum framing black using a 70 percent PVDF resin-based finish. Linetec's senior marketing specialist, Tammy Schroeder, LEED Green Associate, observed, "No other coating system can withstand the rigors of nature and time like these."
The Home of Everything They Love
Opened in winter, the facility will be used in every season. The Park District will offer programming at the facility, which also is open to the public. The area's rowing community consists of five separate groups: Recovery on Water, which serves cancer patients and survivors; St. Ignatius College Preparatory rowing group; the intramural team at the University of Chicago; the Chicago Training Center, which provides rowing opportunities to underserved youth; and Lincoln Park Boat Club, a private organization rowing out of multiple city locations.
"The Chicago Park District is excited to offer our residents an opportunity to tap into more recreational opportunities along the Chicago River," noted General Superintendent and CEO Michael P. Kelly. "With the opening of this most recent boathouse in the Bridgeport community, we have reclaimed the Chicago River with access points at a total of four boat house locations from our parks, offering water-based recreation options for Chicagoans to enjoy."
"The cultural impact a physical boathouse has on a team cannot be overstated," emphasized Trish Brubaker, who coaches University of Chicago Rowing and Lincoln Park Rowing Teams. "It will be their meeting place, their shelter, and the home of everything they love about their team and rowing."
Bob Fitzsimmons of St. Ignatius added, "The backdrop of this shared facility allows our junior rowers to see the sport in play at the collegiate level, within the broader community and in selfless ways."
**
The Eleanor Boathouse at Park 571, 2754 S. Eleanor, Chicago, IL 60608; http://www.chicagoparkdistrict.com/parks/park-no-571
* Owner: Chicago Park District; Chicago; http://www.chicagoparkdistrict.com
* Architect: Studio Gang Architects; Chicago; http://studiogang.com
* General contractor: The Walsh Group – Walsh Construction; Chicago; http://www.walshgroup.com
* Installing contractor – translucent transom: Anthony Roofing Ltd, a business of Tecta America; Aurora, Illinois; http://www.tectaamerica.com/aurora-illinois
* Finisher – translucent transom's aluminum framing: Linetec; Wausau, Wisconsin; http://www.linetec.com
* Manufacturer – translucent transom, LIGHTWALL 3440®interlocking polycarbonate wall system: Exterior Technologies, Inc. (EXTECH); Pittsburgh; https://extechinc.com
* Photos by: William Zbaren Photography
Exterior Technologies, Inc. (EXTECH) is an award-winning manufacturer and designer of wall, window, skylight, canopy and custom façade systems. The company delivers solutions for a variety of industries and applications, and are committed to collaboration, innovation and exceptional engineering. Learn more by calling 800-500-8083, emailing info@extechinc.com or visiting www.EXTECHinc.com.
###
---
Filed under: Linetec, Projects
---
Story Resources
Word document
Request high res photographs for publication