Client News: Utah's Sandy Commerce offices feature mountain views framed by Tubelite's systems
Posted on January 3rd, 2018 by Heather West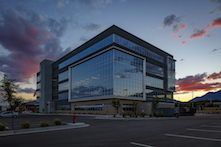 Attracting Utah's discerning office tenants, Sandy Commerce boasts floor-to-ceiling glass with mountain views, thanks in part to the storefront, curtainwall and entrance systems provided by Tubelite Inc. These high-performance systems also contribute to the project's energy efficiency and sustainability goals, earning LEED® Silver certification through the U.S. Green Building Council.

Owned by The Boyer Company, the new, five-story, 120,958-square-foot, Class A building is visible to more than 170,000 vehicles traveling each day on I-15. Babcock Design helped the owner capitalize on its prominent location with a modern glass and metal façade that is as appealing on the exterior as it is to occupants on the interior.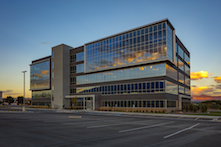 "A sleek, modern façade captures the reflection of the surrounding mountains to passersby," describes Babcock Design's project architect, Chad Littlewood, AIA. "Floor-to-ceiling glass and an open floor plan provide all employees with natural light and beautiful views. Likewise, low-emitting materials found throughout the building provide occupants with maximum health and comfort."

These design elements and building components contributed to achieving the project's LEED criteria and the owner's requirements. Bringing the architectural vision to life, Skyview Glass worked closely with Jacobsen Construction. In total, Skyview installed 35,000 square feet of Tubelite's curtainwall, thermal storefront and entrance systems, plus distinctive shadow boxes, on Sandy Commerce.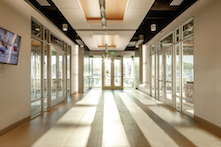 Welcoming tenants and visitors, Tubelite's Monumental Doors with our steel tie-rod construction are engineered to withstand heavy use in high-traffic areas like Sandy Commerce. "Tie-rod assembly is superior to welded-corner construction in many ways," explains Tubelite's Mary Avery. "Our doors can be modified, disassembled or resized right in the field."

On Sandy Commerce, the 17 doors with 10-inch bottom rails are engineered for easy installation into Tubelite's T14000 I/O Series Storefront at the street level. Above this, Skyview's Tom Tromley explains that the curtainwall and storefront are integrated throughout all elevations and even within the same floors. On the East, Tubelite's 400 Series Curtainwall dominates on floors three through five; on the West and North, in floors three and four; and on the South in floors two through five.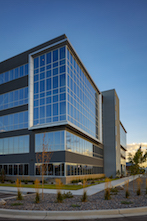 Although this is Skyview's first use of Tubelite's curtainwall, commercial building teams have depended on Tubelite's 400 Series since the 1980s. Throughout the decades, the curtainwall continues to prove its aesthetic flexibility and reliable structural performance.

All of Tubelite's systems on Sandy Park feature Viracon's low-e glass and clear anodize by Linetec. Providing one the most durable finishes for architectural aluminum products, Linetec's eco-friendly anodize process also supports environmentally responsible practices and design-forward thinking. It creates a frosty matte appearance, hides small defects common in recycled aluminum, contains no VOCs and meets or exceeds all AAMA 611 specifications. When it is time for the installed architectural product to be removed, anodized aluminum is 100 percent recyclable, lending itself to post-consumer recycled content during demolition or restoration of the building.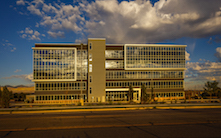 Tubelite's products are manufactured to meet the aesthetic, performance and environmental goals of each project, as well as for easy fabrication and installation. Demonstrating its dependability and partnership, Tubelite's Damage Free Guarantee ensures orders are delivered undamaged, complete and on time.

Following its yearlong construction, Sandy Commerce's first occupants moved into their new offices at the beginning of 2017. Today, ConnexionPoint, Colonial Life and Momentum Lending are all tenants with only a few spaces remaining available for lease.


Sandy Commerce, 9490 South 300 West, Sandy, UT 84070;
http://www.boyercompany.com/project/sandy-commerce-2
* Owner: The Boyer Company; Salt Lake City; http://www.boyercompany.com
* Architect: Babcock Design; Salt Lake City; http://www.babcockdesign.com
* General contractor: Jacobsen Construction Co., Inc.; Salt Lake City; http://www.jacobsenconstruction.com
* Glazing contractor: Skyview Glass; Orem, Utah; http://www.skyviewglass.com
* Glazing systems – manufacturer: Tubelite Inc.; Walker, Michigan; http://www.tubeliteinc.com
* Glazing systems – glass fabricator: Viracon; Owatonna, Minnesota; http://www.viracon.com
* Glazing systems – finishing provider: Linetec; Wausau, Wisconsin; http://www.linetec.com

* Photos: Robert Casey
* Video – "Office Space for Lease in Utah" by Coldwell Banker Commercial Advisors Intermountain: https://www.youtube.com/watch?v=cwDWDBx4H78&feature=youtu.be
About Tubelite Inc.
For more than 70 years, glazing contractors have counted on Tubelite's dependable service, fabrication and distribution of architectural aluminum products. Part of Apogee Enterprises, Inc., the company is an industry leader in eco-efficient storefront, curtainwall and entrance systems, and recognized for its fast, reliable and consistent delivery.
Tubelite's corporate office, fabrication, warehouse and shipping operations are located in Walker, Michigan. Its Dallas location provides additional fabrication, warehouse and shipping operations and its facility in Reed City, Michigan, houses the company's aluminum extrusion operation. The company also has offices in Rock Hill, South Carolina, and Warwick, Rhode Island.
Tubelite and its staff are members of the American Architectural Manufacturers Association (AAMA), the American Institute of Architects (AIA), the Construction Specifications Institute (CSI), the Glass Association of North America (GANA), the National Fenestration Rating Council (NFRC), the Society of Military Engineers (SAME) and the U.S. Green Building Council (USGBC).
###
---
Filed under: FGIA, Projects, Tubelite
---
Story Resources
Word document
Request high res photographs for publication