Hamilton Wood Type and UW-Madison Libraries partner to preserve and expand access to Silver Buckle Press
Posted on January 21st, 2016 by Heather West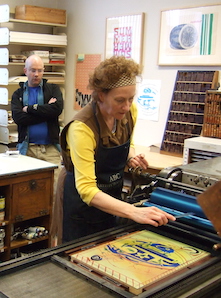 Hamilton Wood Type & Printing Museum announces a long-term agreement and collaboration with the University of Wisconsin-Madison (UW-Madison) Libraries to house the Silver Buckle Press (SBP). (See related news release.)
"Museum fans and friends may remember that Hamilton's former resident artist, Tracy Honn, has been curator at SBP for many years and has been a champion of Hamilton since its beginnings. With Tracy's plans to retire from the UW, budget cuts would make it impossible to replace her in that role," said Jim Moran, museum director. "The most creative solution to that difficult situation is to move SBP to Hamilton and give it its own space, which will preserve the craft of letterpress printing though programming and education. As this mirrors the mission of our museum, this creates a perfect fit and continues SBP's impressive legacy."
Hamilton will set aside an area within the museum to house the press and maintain it as a discrete collection. Moran continued, "This is a welcome expansion of Hamilton's offerings. It is our intent to create a Silver Buckle Press Residency for qualified printers, to give pre-scheduled tours, and to make SBP available for teachers offering instruction in hand composition, fine printing and book arts."
Moran also noted, "We are excited about this ongoing partnership with the UW system, which will include opportunities to digitize materials from Hamilton's library and archives. Additionally, we are coordinating with UW Libraries to offer an annual workshop for UW-Madison."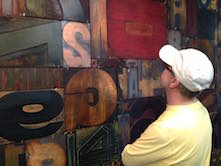 The museum will schedule an open house following SBP's relocation early this spring.
**
About Hamilton Wood Type & Printing Museum
The Hamilton Wood Type & Printing Museum is the only museum dedicated to wood type preservation, study, production and printing. With 1.5 million pieces of wood type and more than 1,000 styles and sizes of patterns, Hamilton's collection is one of the premier wood type collections in the world. In addition to wood type, the museum is home to an amazing array of advertising cuts from the 1930s through the 1970s, all of the equipment necessary to make wood type and print with it, as well as equipment used in the production of hot metal type, tools of the craft and rare type specimen catalogs.
Hamilton Wood Type began producing type in 1880 and within 20 years became the largest provider in the United States. Today, volunteers of the Two Rivers Historical Society preserve this legacy and host educational demonstrations, field trips, workshops and offer opportunities with this vast wood type collection.
###
---
---
Story Resources
Photo 1: Director Tracy Honn conducts a workshop on Cartonera printing at Silver Buckle Press. Courtesy of UW–Madison Libraries/Silver Buckle Press
Photo 2: Gutenberg type from the Silver Buckle collection.
Photo 3: A visitor observes a display of wood type samples at the Hamilton Wood Type & Printing Museum.
Word document
Request high res photographs for publication