Association News: AAMA releases updated specification for PVC exterior profiles
Posted on January 21st, 2016 by Heather West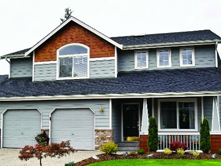 The American Architectural Manufacturers Association (AAMA) has updated and released a document specifying requirements of cellular polyvinyl chloride (PVC) exterior profiles used in windows, doors and skylights. The previous edition was published in 2008.
Timothy McGlinchy (GED Integrated Solutions), chair of the VMC Document Management Committee, and Mark Ammer (Chelsea Building Products) vice chair, led changes made to the specification.
"AAMA 308-15 was updated to include the use of reworked materials, change in heat resistance, in-process quality control sampling methods and up to date references to ASTM and AAMA documents," says McGlinchy.
Requirements included in the publication are specifications for dimensional stability, weatherability, heat resistance, weight tolerance, heat build-up, Shore D Hardness and lead content.
"Cellular PVC exterior profiles are an important part of the vinyl fenestration system offerings," says Ammer. "We are happy to release AAMA 308-15 which now has all the latest terminology and updated AAMA and ASTM test standards."
AAMA 308-15, as well as other AAMA documents, may be purchased from AAMA's Publication Store.
###
---
Filed under: FGIA
---
Story Resources
Request high res photographs for publication