Client News: Kolbe's entrance doors offer innovative solutions for generous openings
Posted on February 11th, 2019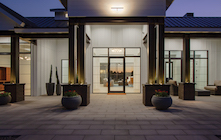 Kolbe Windows & Doors is showcasing entrance door systems at the National Association of Home Builders International Builders' Show (NAHB IBS) in booth # C2519, with emphasis on design, large openings, customization and sustainability.
"The entrance door is a defining feature of your home and your unique style. Kolbe's built-to-order entrance doors are designed to your specifications, with numerous customization options and an expanded hardware selection," says Cindy Bremer, vice president of marketing at Kolbe Windows & Doors.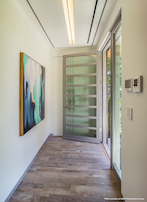 Kolbe's partnership with Baldwin® Hardware yields decorative door hardware options in various styles and finishes to complement any aesthetic. From historical to contemporary, Kolbe offers all-wood Heritage Series doors, and Ultra Series and VistaLuxe® Collection wood doors with extruded aluminum exteriors.
"Our extraordinary entrance doors are created to match your vision, so no two are alike. Custom solutions range from wood species, finishes, sizes and brickmoulds to divided lite patterns, specialty glass, sidelites and transoms," states Bremer.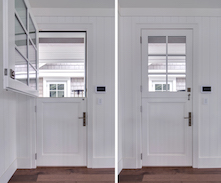 Modifications are available for select products to enhance accessibility, functionality and performance. Options include universal design, automation and impact performance packages for coastal areas prone to hurricanes. Some examples of custom entrances with specialized hardware can be seen on display in booth #C2519.
* A 3-1/2-by-10-foot reclaimed barnwood door presents a sustainable solution for an entrance that blends rustic character with modern design. Constructed of reclaimed wood, this outswing door offers a natural contrast with the onyx extruded aluminum exterior. Direct set sidelites and transom admit light and views around the door, and are finished on the interior with double clear coat. Equipped with an electronic multi-point lock, this impressive entrance door features a stylish Hoppe pull handle in a brushed stainless finish.
* A mahogany wood pivot door with a Rockwood® GeoMetek locking pull handle in a satin stainless finish, and energy-efficient, tempered LoE²-270 reeded glass shows Kolbe's breadth of capabilities. Specialized pivoting hardware allows easy operation of this stately 5-by-9-foot door, and prevents it from impeding into the opening.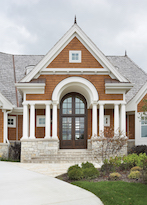 "The entrance to your home is an outward expression of your personality," says Bremer. "With Kolbe's numerous options, innovations and custom solutions, your entrance door will be sure to make a lasting impression."
For complete information and product details on Kolbe's extraordinary entrance doors, please visit www.kolbewindows.com.
What began in 1946 as a two-brother team has grown into an internationally respected manufacturing company. Kolbe Windows & Doors is one of the nation's leading manufacturers of windows and doors for residential and commercial markets. After more than 70 years, Kolbe products are best known for superior quality, custom craftsmanship, attention to detail, as well as innovative and unique designs.
###
---
Filed under: Events, Kolbe Windows & Doors, Products
---
Story Resources
Word document
Request high res photographs for publication