Client News: New York's Pier 17 revitalized and resilient with façade featuring RHEINZINK prePATINA panels
Posted on July 30th, 2020 by Heather West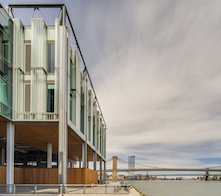 Following the devastation of Hurricane Sandy, the South Street Seaport was revitalized as an entertainment and retail destination for Manhattan locals and New York visitors. Within this re-emerging East River waterfront community, Pier 17 rises as a beacon of shops, restaurants and public spaces. Designed by SHoP Architects for The Howard Hughes Corporation, the 300,000-square-foot building showcases an attractive, resilient four-story façade featuring wall panels made with RHEINZINK prePATINA® zinc.
SHoP selected RHEINZINK prePATINA blue-grey and graphite-grey products to complement Pier 17's nautical heritage, coastal palette and natural materials. Supporting the project's sustainability and durability, RHEINZINK wall panels maintain their self-healing, low-to-no-maintenance, corrosion-resistant performance with a potential lifespan of 100 years or more.
RHEINZINK supplied 68.4 tons of zinc material to its distributor Long Island Tinsmith Supply Corp. (LITSCO). LITSCO also fabricated the material into façade, reveal and sinusoidal wall panels for the exterior. RHEINZINK prePATINA products are specially processed to achieve the natural, pre-weathered patina during production. The zinc material's natural finish will continue to weather and patina over time. For the interior cladding, zinc corrugated panels from RHEINZINK were combined with fish-scaled, diamond-shaped panels to contrast each other in texture and color.
"LITSCO's Streamline Flushwall TG panels and Streamline diamond pattern Flatwall panels were the perfect design for Pier 17," said Joey Maiello, architectural metal specialist, LITSCO.
The Jobin Organization installed all of the zinc wall cladding on Pier 17. Joseph Lombardi, project manager at Jobin, noted that zinc was chosen for its distinctiveness and creates a "unique earth tone feel." He added that the project delivers "something truly unique that will be admired for generations to come."
Maiello added, "We take pride in understanding the local market and everyone worked together to restore this historical pier. I was proud to be a part of it."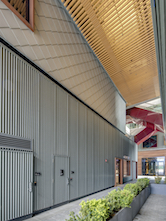 Achieving the intended architectural vision, Pier 17's façade seems to transcend both exterior and interior. The envelope wraps to form a two-story building dedicated to shops and restaurants within the main, four-story structure. The box-within-a-box shape maximizes window seat opportunities to enjoy the views of the Brooklyn Bridge and surrounding skyline.
Capitalizing on the seasonal panoramic experience, The Rooftop, Pier 17's 1.5-acre, top-floor offers the city's first open-air rooftop ice skating rink in winter and an outdoor performance venue in summer.
"SHoP's design for the Seaport's Pier 17 combines the density needed to support active street life on the waterfront with intimately-scaled retail corridors," said SHoP Architects' principal Gregg Pasquarelli, AIA. "The building's network of interior streets connects to its historic context, as well as a series of public spaces... The new building will be a beautiful space for New Yorkers to connect to their iconic waterfront."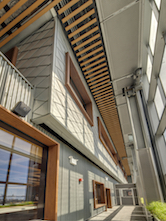 "Our main goal here has been to allow New Yorkers to reclaim the water," explained Saul Scherl, president of the New York Tri-State Region for The Howard Hughes Corporation, in a TimeOut article. "We really tried to bring the river back to the pier and not just have people feel like they're in these closed-off, indoor spaces."
"After superstorm Sandy, it was important that we invite New Yorkers back to Pier 17 to reclaim their relationship with this iconic waterfront," Scherl told amNewYork. "By thoughtfully curating an array of unique experiences that span retail, culinary, fashion and entertainment—the antithesis of a predictable mall experience—we are establishing a new creative hub, encouraging visitors to continuously rediscover the Seaport and all it has to offer."
The re-envisioned Pier 17 opened in 2018. As part of the Seaport District, an essential hub of commerce and entertainment for more than 300 years, it serves as a community anchor and port of discovery for the rapidly growing population of Lower Manhattan.
**
Pier 17, 89 South Street, Manhattan, NY 10038; https://www.pier17ny.com
RHEINZINK America, Inc. led the introduction of architectural zinc in North America and continues to offer one of the industry's most reliable, trusted brands. Architects and contractors are supported by unparalleled customer service and technical assistance. RHEINZINK is readily available through an established network of qualified distributors and systems partners across the United States, Canada and Mexico. Ideal for roofing, façade, gutter and interior applications. RHEINZINK is environmentally friendly, 100% recyclable and offers a potential lifespan of 100 years or more.
For more information on RHEINZINK, call 781-729-0812 or visit www.rheinzink.us.
###
---
Filed under: Projects, RHEINZINK
---
Story Resources
Word document
Request high res photographs for publication