Association News: FGIA releases new Surface Temperature Assessment for Condensation Evaluation of Exterior Wall Systems
Posted on February 20th, 2020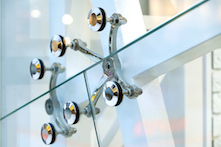 The Fenestration and Glazing Industry Alliance (FGIA) has developed a new document providing a standard procedure for the measurement of surface temperatures to be used in the condensation evaluation of exterior walls under laboratory conditions. AAMA 501.9, "Surface Temperature Assessment for Condensation Evaluation of Exterior Wall Systems," an FGIA standard, is now available for purchase.
"AAMA 501.9 is another optional test that can be performed in conjunction with a project specific curtain wall mock-up," said Greg McKenna (Kawneer), vice chair of the Wall Mock-up Condensation Evaluation Work Group. "It uses a similar test apparatus to that used in AAMA 501.5, 'Test Method for Thermal Cycling of Exterior Walls.'"
However, said McKenna, while AAMA 501.5 is only concerned with the effect of temperature cycling and thermal movement on the wall system, AAMA 501.9 is used to measure temperatures on the interior surface of the wall at designated exterior and interior ambient air temperatures.
"The resulting surface temperatures can then be compared to anticipated dew point temperatures that may occur in the actual building at similar, as tested, temperatures on the interior and exterior and a defined interior relative humidity," he said.
McKenna also noted that AAMA 501.9 is not a replacement for AAMA 1503, another FGIA voluntary test method, which determines a condensation resistance factor (CRF) rating on a standardized size and standardized conditions.
AAMA 501.9 can be used to evaluate the potential for interior condensation formation under wintertime conditions only.
AAMA 501.9, as well as other AAMA documents available from FGIA, may be purchased from the online store.
More information about FGIA and its activities can be found at https://fgiaonline.org.
Your trusted industry resource, setting the standards for fenestration and glazing.
###
---
---
Story Resources
Word document
Request high res photographs for publication