Association News: AAMA reorganizing InstallationMasters training content, hosting webinar June 13
Posted on June 2nd, 2017 by Heather West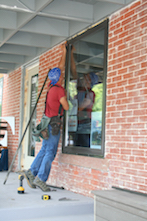 As the owner and developer of the InstallationMasters® Program, the American Architectural Manufacturers Association (AAMA) is now also the administrator of InstallationMasters. To get industry representatives up to speed, an overview of AAMA's longest-running education effort will be held Tues., June 13 at 12:30 p.m. Eastern in a complimentary webinar open to the industry. The InstallationMasters Program is designed to provide training and certification to industry professionals installing windows and exterior glass doors in residential and light commercial construction applications.

In 2001, AAMA announced the nationwide launch of the InstallationMasters program. Since that time, over 11,000 installers have achieved certification, according to AAMA.

"As we all know, construction methods have evolved as have fenestration product designs, installation materials and code requirements, so it was time to take a fresh look at the InstallationMasters Program training content," says AAMA Association Services Director Janice Yglesias. "Last year, the training manual was reviewed in detail and revised, and the program was given a facelift to refresh the brand. In March, the redesigned website, installationmasters.com, was launched to align with that branding, but that was just the first phase of the program overhaul."

Due to the inherent differences in installation practices for new construction versus remodeling and in response to industry input, AAMA is reorganizing the InstallationMasters course content into focused segments to better address market needs. This dedicated focus is represented in replacement-only and new construction-only classes. Because some installers may cover both applications, a new combined class also is being developed, but the existing program will continue to be operated until the new combined class is available.

During the webinar, Yglesias will provide an overview of the enhancements that have been implemented since the administration of the program was brought in-house earlier this year and those slated for future release, continuing AAMA's strategic focus on industry education.
InstallationMasters Replacement Program* (available now)
InstallationMasters New Construction Program* (coming in 2018)
Online Bridge Programs - will allow instructors accredited for the existing program to add accreditation for the new Replacement Program (2017) and, eventually, the New Construction Program (2018)
*These programs also will be offered in a combined class for those who are interested in installation methods for both markets.
Sit in to learn how companies and individuals can benefit from InstallationMasters. Register for the webinar today to secure a spot.

"After 15 years of service and dedication as the InstallationMasters Program Administrator, we would like to extend a tremendous thank you to Intertek-ATI for their commitment to the training of installers," says Yglesias.


About the Speaker
Janice Yglesias began her career with AAMA in 1999 serving in an administrative support role related to meeting planning and marketing. In 2008, she was named one of the 50 most influential people in the glass industry by USGlass magazine. Currently, she serves as the association services director overseeing education, marketing and membership as well as providing guidance on operations and product certification with a specific overall focus on strategic planning, work flow efficiency, systems capabilities, program development and customer needs assessment.

For more information about AAMA's events, visit the association's event page.
AAMA is the source of performance standards, product certification, and educational programs for the fenestration industry.SM
###
---
---
Story Resources
Request high res photographs for publication