Client News: Navajo Tribal Utility Authority's office blends Tubelite's modern, high-performance systems with traditional, culturally inspired design
Posted on April 28th, 2020 by Heather West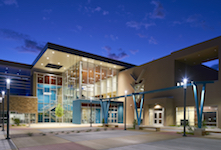 The Navajo Tribal Utility Authority (NTUA) was established in 1959 to address the absence of utilities on the 27,000-square-mile Navajo Nation, which extends into Arizona, New Mexico and Utah. After 60 years, the NTUA has grown into the largest multi-utility enterprise owned and operated by an American Indian tribe.
The NTUA's new headquarters brings together administrative departments within its 80,000-square-foot offices located in Fort Defiance, Arizona. Dyron Murphy Architects, a Native-American owned business, said its design was inspired by Navajo cultural elements. Traditional building materials are complemented by modern, high-performance, aluminum-framed curtainwall, storefront and entrance systems manufactured by Tubelite Inc. and installed by Southwest Glass & Glazing.
The project broke ground in 2017 with a ceremonial blessing of the site, emphasizing the importance of the project's connection to the local community and Navajo culture. Construction was led by Flintco and was substantially completed in August 2018. Aligned with energy-efficient practices, sustainable features are incorporated throughout the building.
"The physical environments of indigenous communities tend to be harsher than an established metropolis or city might be," observed Dyron Murphy. "When rural communities are involved, the environment takes over as a very important factor. If a building is not designed with environmental factors in mind, it might not perform well in the future against winds, rain, heat, cold, etc. A great deal of thought has to go into how the facility or the construction of the buildings is going to stand up over time in local climatic conditions."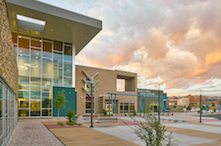 Meeting the NTUA's unique project performance requirements, Tubelite provided its T24650 Series Thermal Storefront and its 400SS Screw Spline Thermal Curtainwall. These high-performance, thermal systems are engineered to support today's stringent energy codes. Even in extreme climates, these products provide superior energy and condensation resistance, while delivering structural integrity and aesthetic flexibility.
Optimizing thermal performance helps lower the load on HVAC systems and reduce associated energy costs, while keeping occupants productive at a comfortable interior temperature. Reducing condensation can improve a building's appearance, sanitation and indoor air quality, which contributes to minimal maintenance and better occupant health.
The curtainwall and storefront systems' lattice pattern of aluminum framework enhances the building's attractive appearance. Presenting a clean, modern exterior façade, Linetec finished the aluminum framing members in Class I Clear anodized to highlight the natural metallic appearance.
Helping meet stricter energy codes, the high-performance, gray-tinted glass also reduces reflectivity and glare, and lowers the solar heat gain coefficient by 20% compared with coated clear glass. The decorative spandrel glass features a custom Burning Tomato color coating.
Bold red and blue accents on the building also are reminiscent of the NTUA's brand identity. Dyron Murphy Architects added, "A color palette of earth tones, drawn from the surrounding geography, seamlessly integrates the building into the natural environment."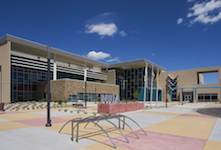 In addition to the building's colorful, contemporary glass and metal exterior, Dyron Murphy Architects noted that the wood, stone and clay plaster materials used throughout the building emulate a Navajo Hogan. These traditional dwellings currently represent approximately 25% of the homes of the Navajo Nation. "Traditional forms and colors throughout the interior become important design elements that weave together the various departments within the building."
A new customer service call center within the complex also enhances the services provided by the NTUA. A new cafeteria, kitchen and conference center serves employees, as well as being available for the community's use. A training field and fleet vehicle parking has been included within the site development.
"The space planning and interior layout fosters human interaction and collaboration between departments that would otherwise function independently," elaborated Dyron Murphy Architects. "Open spaces and meeting rooms are strategically placed at centralized locations to equalize access. Dedicated areas within each department provide space for focused work."
A self-sustaining, not-for-profit, it is organized for the operation, maintenance and expansion of electric, communications, natural gas, water, wastewater and generation, including photovoltaic (solar) services for the Navajo people at a low and reasonable cost.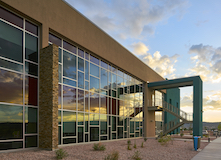 In addition to providing multi-utility services, other objectives of the NTUA are to promote employment opportunities on the Navajo Nation, and to improve the health and welfare of the 186,500 residents of the Navajo Nation, while raising the standard of life.
**
Navajo Tribal Utility Authority Headquarters; Indian Route 12, Fort Defiance, AZ 86504
* Owner: Navajo Tribal Utility Authority; Fort Defiance, Arizona; http://www.ntua.com
* Architect: Dyron Murphy Architects, P.C.; Albuquerque, New Mexico; http://dyronmurphy.com
* General contractor: Flintco LLC; Albuquerque, New Mexico; https://flintco.com
* Curtainwall and storefront – glazing contractor: Southwest Glass & Glazing; Albuquerque, New Mexico; http://www.southwestglass.com
* Curtainwall and storefront – glass: Guardian Glass; Auburn Hills, Michigan; https://www.guardianglass.com
* Curtainwall and storefront – manufacturer: Tubelite Inc.; Walker, Michigan; https://www.tubeliteinc.com
* Curtainwall and storefront – finishing: Linetec; Wausau, Wisconsin; https://linetec.com
* Photos: Patrick Coulie Architectural Photography
About Tubelite Inc.
For 75 years, glazing contractors have counted on Tubelite's dependable service, fabrication and distribution of architectural aluminum products. Part of Apogee Enterprises, Inc., the company is an industry leader in eco-efficient storefront, curtainwall and entrance systems, and recognized for its fast, reliable and consistent delivery.
Tubelite's corporate office, fabrication, warehouse and shipping operations are located in Walker, Michigan. Its Dallas location provides additional fabrication, warehouse and shipping operations. Its facility in Reed City, Michigan, houses the company's aluminum extrusion operation. The company also has an office in Warwick, Rhode Island.
Tubelite and its staff are members of the American Architectural Manufacturers Association (AAMA), the American Institute of Architects (AIA), the Construction Specifications Institute (CSI), the Fenestration and Glazing Industry Alliance (FGIA) , the National Glass Association (NGA), the National Fenestration Rating Council (NFRC), the Society of Military Engineers (SAME) and the U.S. Green Building Council (USGBC).
To learn more about Tubelite's products, please visit www.tubeliteinc.com.
###
---
Filed under: Linetec, Projects, Tubelite
---
Story Resources
Word document
Request high res photographs for publication