Association News: AAMA recognizes member leadership during milestone 80th Annual Conference
Posted on February 14th, 2017 by Heather West
The American Architectural Manufacturers Association (AAMA) recognized the contributions and achievements of its members and congratulated award winners at the 80th Annual Conference Awards Banquet held Monday night in Phoenix. Award presenters noted the importance of these member contributions as they serve to further the industry as a whole.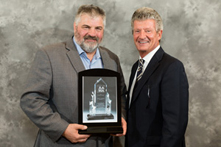 Outstanding Member Award – Steve Strawn (JELD-WEN)
Steve Strawn, codes and regulatory manager for JELD-WEN (Portland, Oregon), was named Outstanding Member, as presented by the outgoing AAMA Board of Directors Chairman Georges Thiret (Graham Architectural Products).
The Outstanding Member Award is given to individuals who has distinguished themselves in their work and dedication to the advancement of AAMA and the industry as a whole.
Strawn, a current co-chair of the Code Action Committee and treasurer of the AAMA Board, maintains 91 active committee and task group memberships, bringing the total to 182 over the course of his many years of service.
"In addition to his many responsibilities, Steve also provides a very important service to AAMA Western Region with his knowledge of code changes in those states," said former award winner Kim Flanary. "There is not a meeting or conference call that I participate in that does not involve Steve."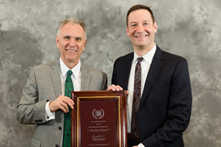 Chairman's Award – Milgard
Milgard (Tacoma, Washington) was honored with the 2017 Chairman's Award, which is given to an AAMA member company by the current or outgoing AAMA chairman of the board. Milgard was selected for distinguishing itself over the past two years, with outstanding commitment and dedicated support to the association and the fenestration industry.
Milgard joined AAMA in 1995 and today its employees collectively participate in over 80 AAMA committees, task groups and councils.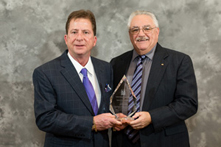 Architectural Products Group Distinguished Service Award – Brent Slaton (Keymark)
The Distinguished Service Award for the Architectural Products Group was presented to Brent Slaton, national sales coordinator for Keymark (Fonda, New York), by Roger LeBrun (VELUX).
This award is given to an individual who accomplishes formative work on behalf of the association and the Architectural Products Group.
Slaton is currently involved in the work of 17 AAMA committees and task groups spanning subject matter ranging from aluminum finishes to regulatory affairs.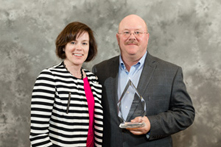 Residential Products Group Distinguished Service Award – Rob Luter (Lippert Components)
The Distinguished Service Award for the Residential Products Group was presented to Rob Luter, director of engineering for Lippert Components (Elkhart, Indiana), by former recipient Cristen Baca (Simonton).
This award is given to an individual who accomplishes formative work on behalf of the association and the Residential Products Group.
Luter currently serves on 34 committees and task groups, and previously served on 29 formerly active ones.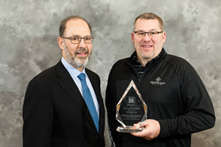 Marketing Distinguished Service Award – Jerry Schwabauer (Azon)
The Marketing Distinguished Service Award was awarded to Jerry Schwabauer, vice president of sales and marketing at Azon (Kalamazoo, Michigan). Schwabauer, who could not attend due to a trip to China, was represented at the banquet by colleague Patrick Muessig.
This award is presented to acknowledge a single individual who has exhibited leadership and outstanding service in marketing activities for the association.
Schwabauer has been active in 29 committees, councils and task groups. He is involved in the Regulatory Affairs Committee and Aluminum Material Council (AMC) Marketing, as well as the Marketing Steering Committee.
"Jerry has demonstrated a tireless effort in leading and guiding the AMC marketing initiatives for years," said Slaton. "Azon's continued commitment to the overall success of AAMA has been steered by Jerry."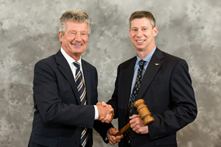 In other actions, the passing of the gavel occurred between outgoing Chairman of the Board Georges Thiret and incoming Chairman Mike DeSoto (MI Windows and Doors).
###
---
Filed under: Events, FGIA, People
---
Story Resources
Photo 1: Steve Strawn named Outstanding Member, presented by the outgoing AAMA Board of Directors Chairman Georges Thiret
AAMA 2017 Award Winners: Zipped file of high- and low-resolution images
Word document
Request high res photographs for publication